Holidays, birthdays, swimming a new PB–do you really need a reason to pick up some new gear? Here is a collection of our favorite gifts for swimmers.
Whether you are shopping for the swimmer in your life or looking to pick yourself up a little something-something (no judgment here), I got ya covered with this guide to the best gifts for swimmers.
All seven of the following things are on repeat in my training rotation, so the answer is yes, I actually use and love this stuff.
From swim goggles to dryland gear to mental training here are the best gifts for swimmers.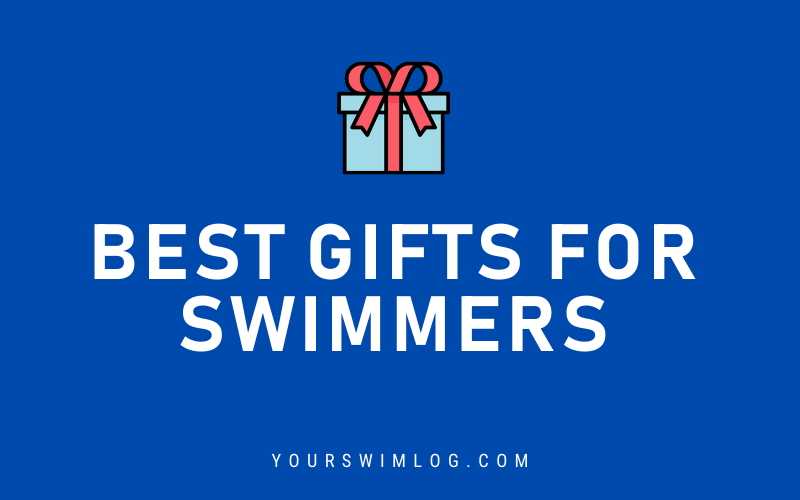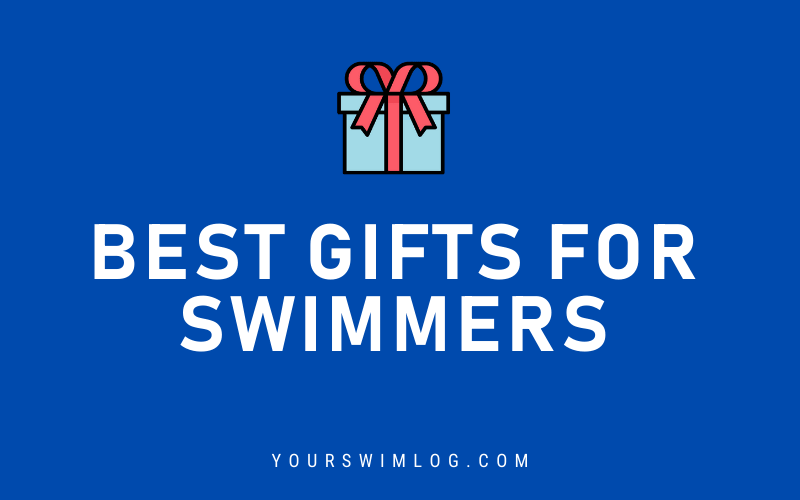 1. DragSox.
Probably my favorite tool that I have added to my swim equipment this year are these genius, and yet super low-tech foot nets created by California-based AquaVolo.
DragSox are exactly as they sound—socks designed to create a sizable amount of drag on your feet.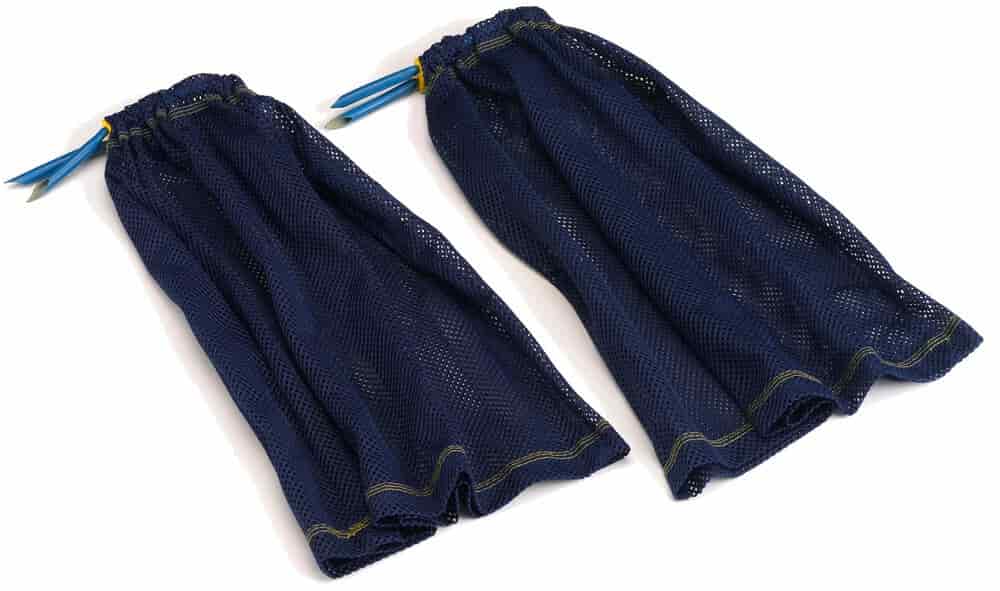 And why would you want to do that?
For a few different reasons my chlorinated homeslice:
Develop power in your legs. Kicking is massively important in swimming—for balance in the water, for propulsion, and for your starts and walls. In a short course race, underwater kicking can take up to 60% of the race.
It's highly swimming specific. Unlike doing an endless number of squats, leg extensions and lunges outside of the pool, strapping on a pair of DragSox is as swim-specific as it gets in terms of swimming equipment, especially given that they don't inhibit range-of-motion as some fins or shoes do. Think of it as resistance training for your kick.
You'll feel like a beast when you slip them off. Do them for a set in the middle of your workout, and the next time you push off the wall you will feel like someone attached an outboard to your hips.
Develop a way faster kick. Swimming with training fins or doing kick with a board will never feel the same after you use these bad boys. Not only will your kick feel smoother and more powerful, but it will be faster, and that's the best gift you can give.
The only downside? Prepare to field regular questions mid-set from curious onlookers in the next lane.
You can pick up a pair of these bad boys at AquaVolo's site for $29.
2. Finis Stability Snorkel.
I wish I had had one of these during my age group swimming days.
As a habitual one-sided breather, I developed some pretty ludicrous muscle imbalances in my chest, shoulder, and back as a result of breathing to one side for years of distance workouts.
Since getting back in the water a couple of years ago rarely have I done a practice without strapping on the swim snorkel for a set or two.
After all, with it, you can…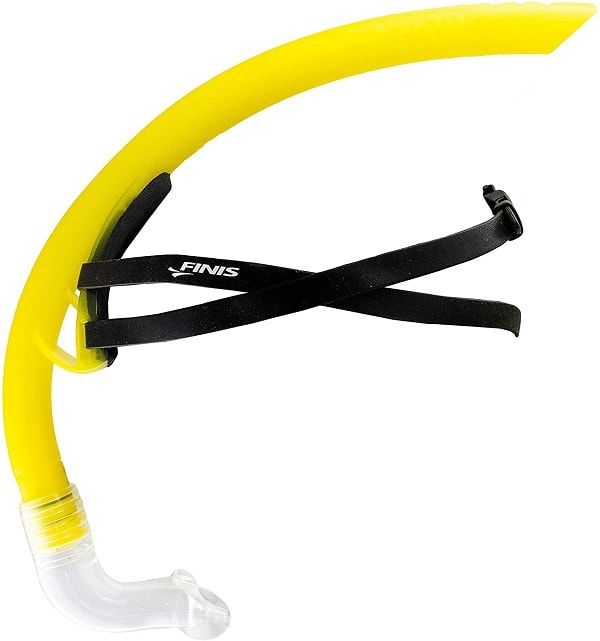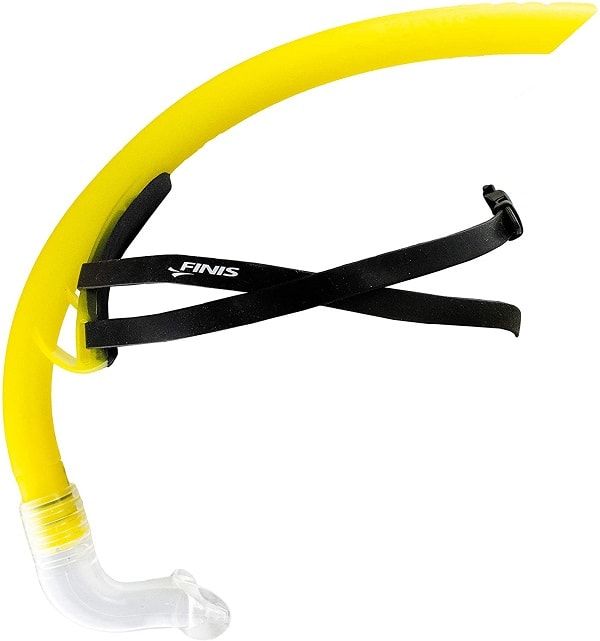 Do streamlined kicking. Hard to do this without a snorkel without breaking streamline and having your hips sink straight to the bottom of the pool.
Improved hand entry. The result of those years of one-sided breathing left me with a left-arm catch that dropped—a lot. Using a snorkel while doing long bouts of freestyle (especially in a long course pool) helped me correct this, restoring balance to what had become a galloping stroke.
Easier to hit a desired tempo. For those swimmers trying to achieve a smooth, even, kayak-like stroke, breathing presents a unique problem—it breaks our cadence and rhythm, especially if we favor one side over the other (which, I assume, is just about everybody). With a snorkel mounted on your face, you don't roll your body to interrupt your stroke, giving you more time to swim with the technique you want.
(On a side-note, throw it in the dishwasher once a week to keep it nice and clean. The mouthpiece will get moldy hanging out in that mesh swim bag of yours after a while. You are breathing through it, after all.)
The FINIS Stability snorkel is their latest iteration of the popular swimmer's snorkel. WIth dual straps for maximum stability and an adjustable mouth-piece, this gift for swimmers results in better body position, tempo, and technique in the water.
The Finis snorkel is available at Amazon for around $30.


---
3. TYR Socket Rocket goggles.
There are about a kajillion different kind of swim goggles out there for all types.
From the old school Swedes, to the $80ish dollar Speedo FastSkins there is a set of goggle for every swimmer.
But after years and years of swimming wanna know my favorite?
The TYR Socket Rocket.


Besides the fact that the name rhymes, the mirrored goggles look certified gangster, and provide a surprisingly clear view from the inside out, something that is key given that I swim at the local Y where the lighting leaves something to be desired.
The goggles come ready to wear right out of the package and they are coated with an anti-leak "Thermo Plastic Rubber" that is surprisingly comfortable, especially during those long workouts when you don't have a chance to peel your goggles off your face too often.
The indented-goggles-in-the-face look isn't a particularly appealing one, even for the most ardent of swimmer.
Oh, and they are only about $20. When it comes to gifts for swimmers, being able to see properly in the pool with a leak-free swim goggle is right up there!
Pick yourself up a pair over and be the snazziest looking swimmer in the pool.


---
4. YourSwimBook: The Ultimate Logbook for Swimmers.
The swimmer's logbook is a classic weapon for faster swimming in the water. Tracking and logging your swim practices helps to build accountability and ownership. Builds self-awareness. And gives swimmers a tool for endless motivation and confidence.
YourSwimBook supercharges the old-school logbook, giving swimmers a 10-month training journal to attack and dominate their swimming.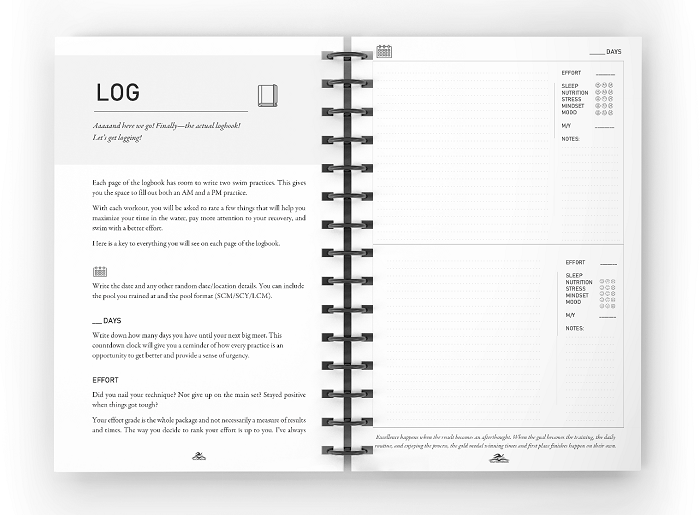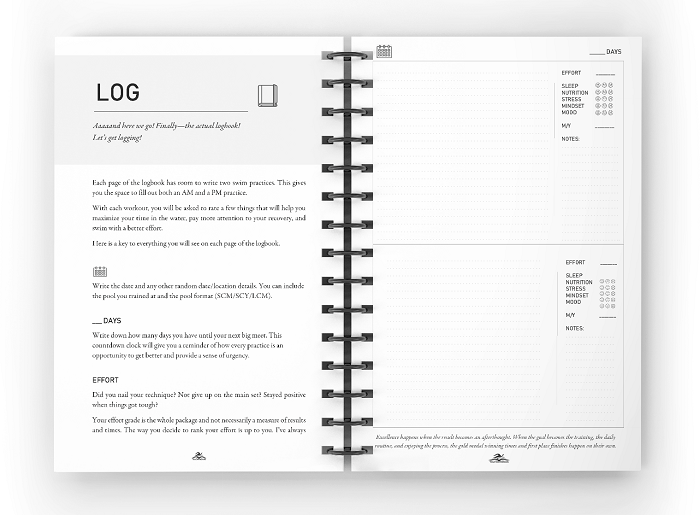 Auburn University's whole team got one last year. So did the Nations Capital Swim Club (Katie Ledecky's swim team). As well as St. Peters Western Swim Club (home of Olympian Stephanie Rice and coach Michael Bohl).
Mel Stewart, Olympic champion, had some pretty good things to say about the book. Oakville head coach Sean Baker (2012 National Club Coach of the Year) had some praise as well.
The benefits of using YourSwimBook are pretty simple:
Better swim practices. Logging your workouts, and tracking the things that matter, means that you are able to pinpoint patterns and habits that lead to great, good and bad workouts. Less wasted time on things that don't work, more attention spent on the things that do.
Five-star motivation. There are fewer things more rewarding than sitting down on looking over a well-executed practice. Having your training history at your fingertips helps swimmers stay focused on the road ahead by recognizing what they have done in the past.
Sections on goal setting, mental toughness and more.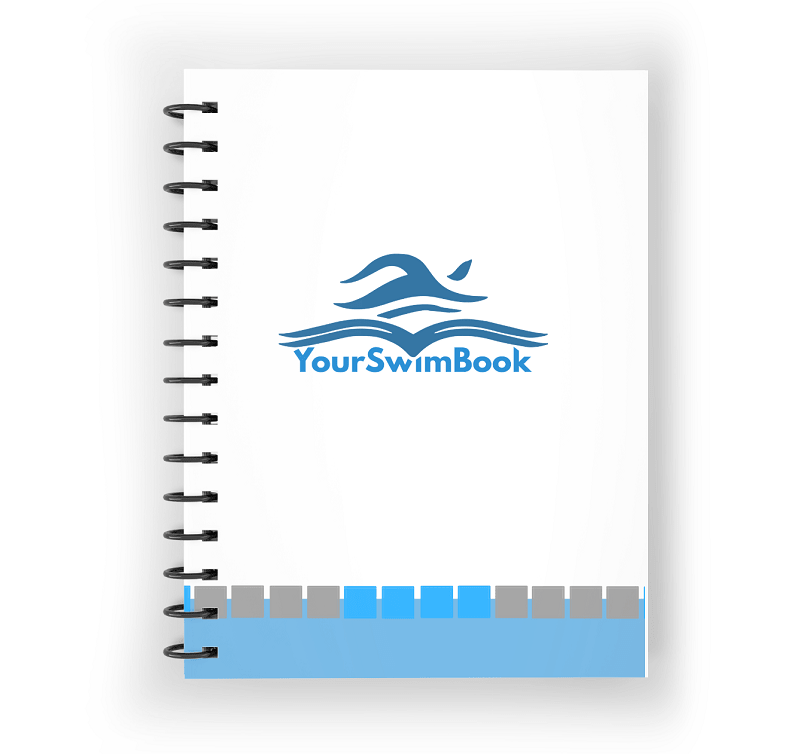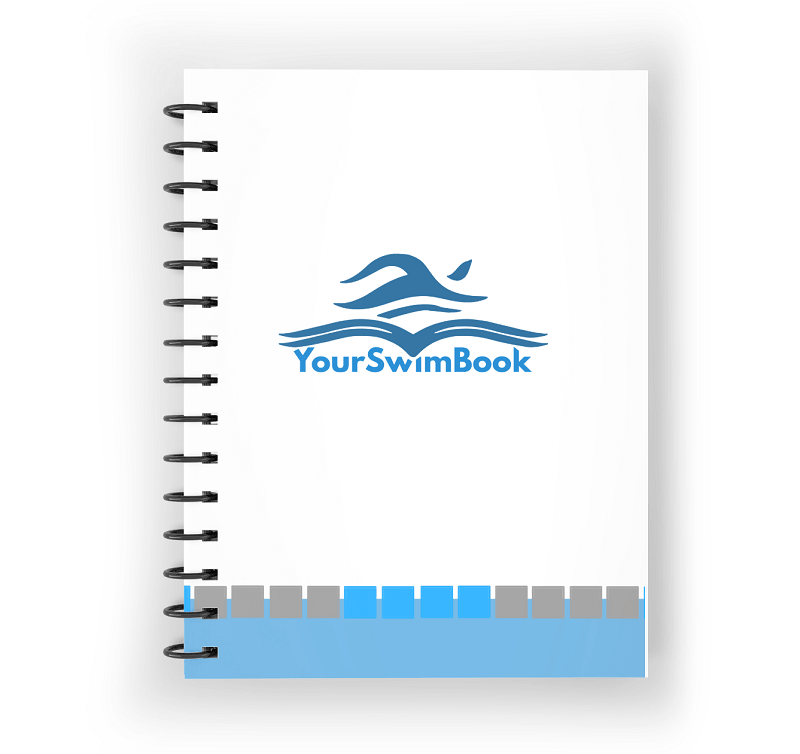 Ultimately, with YourSwimBook you are giving the gift of better swim practices, and what swimmer doesn't want that?
YourSwimBook retails for $39. You can learn a lot more about it by clicking over here.
---
6. StretchCordz with Paddles
With the reduced training opportunities in the pool this year has come greater attention paid to doing dryland exercises to maintain and improve swimming performance.
Another old-school piece of swimming gear is StretchCordz, which is simply a heavy-duty rubber tube with handles or paddles at the ends.
StretchCordz make a particularly great gift for swimmers because:
Swimmers can simulate the pulling motion of their stroke from just about anywhere with a pair of these bad boys. They can be tied up around a doorknob, require little space for storage, and are light enough to tote around in your swim bag.
StretchCordz allow swimmers to make technical adjustments out of the water. Being able to properly master the high elbow pull is crucial for swimmers, and being out of the water and having the instant feedback of the cords allows for rapid progression.
Additionally, swimmers can significantly strengthen their pull with these kinds of cords, which come in a variety of resistance levels. Along with improving your technique, StretchCordz can help you become a stronger swimmer.
StrechCordz are used by the USA National Swim team and countless swimmers and swim teams across the planet. (Including me!)
When it comes to gifts for swimmers, a stronger pull, better technique, and out-of-the-water training sound pretty good!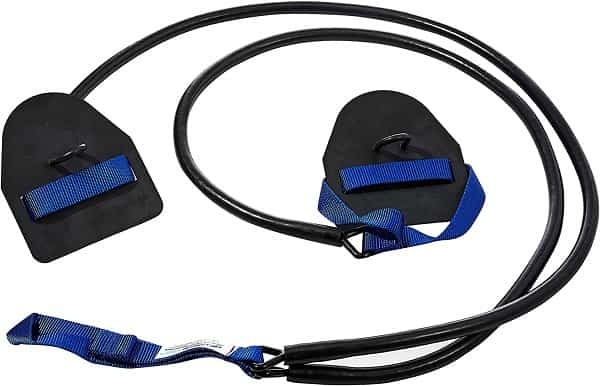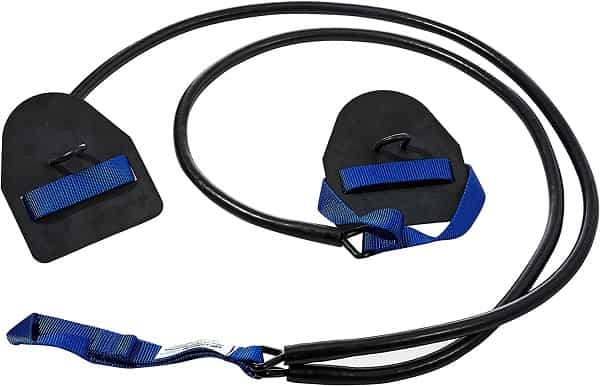 ---
6. Mental training for swimmers made simple.
For a lot of swimmers, the most challenging part of the sport isn't the endless miles, or the mastery of technique or those brutal lung-buster pull sets (although those are plenty difficult).
It's getting a grip on the mental aspect of the sport.
For any swimmer that has ever gotten up on the block and choked they know just how mental the sport can be. Same goes for the swimmer who is a yo-yo when it comes to their swim practices–one day they are ripping across the surface of the water, the next they are down in the dumps because their swimming isn't going as well as they'd like.
So what's the answer?
There is so much information out there that it can feel overwhelming. Particularly when most of the material is written in a dense and inaccessible format that only makes sense to academics and experts in the field.
Enter Conquer the Pool: The Swimmer's Ultimate Guide to a High-Performance Mindset.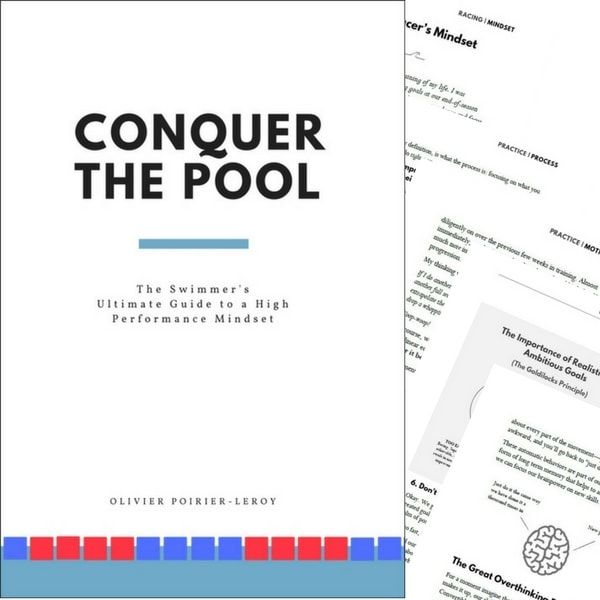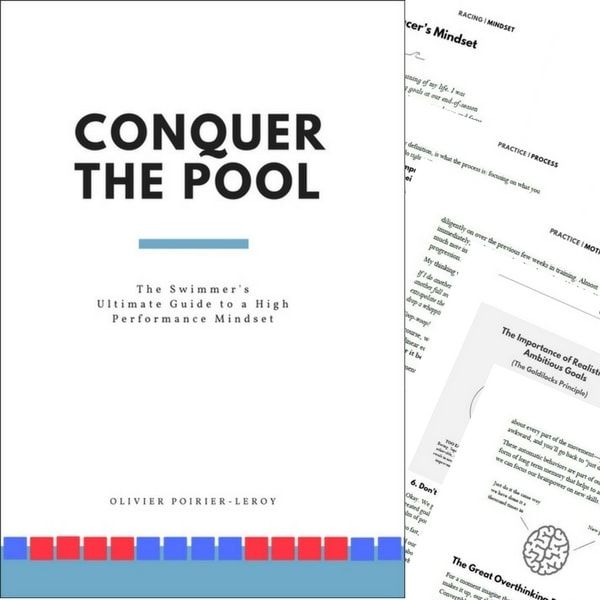 It's the first book for swimmers of its kind, a mental training manual that covers everything the enterprising young swimmer needs to dominate their mindset (and as a result, their PB's). The book comes in 3 parts, each designed to help you master your brain:
Part 1 shows  you how to set goals that are not only awesome but will also keep you motivated over the long term. You'll pick up some valuable new goal setting techniques proven by research and studies.
Part 2 helps you become the swimmer that crushes it in practice. From how to suffer like a champion, how to mentally get through injury, how to be tougher and grittier during those painful main sets, how to improve your focus and concentration, and much, much more.
And part 3–you guessed it–helps you to have a bulletproof mindset in competition. You will learn exactly what it takes for you to perform at your best consistently. Wanna take a guess at how confidant you are going to feel when you know exactly what you need to swim like a chlorinated monster?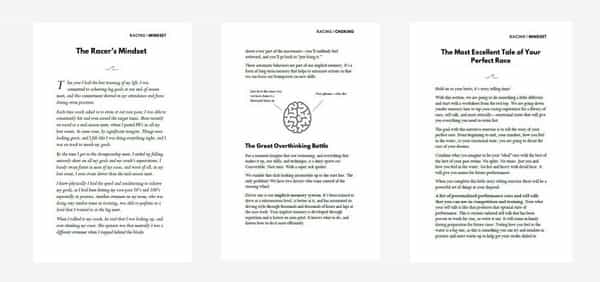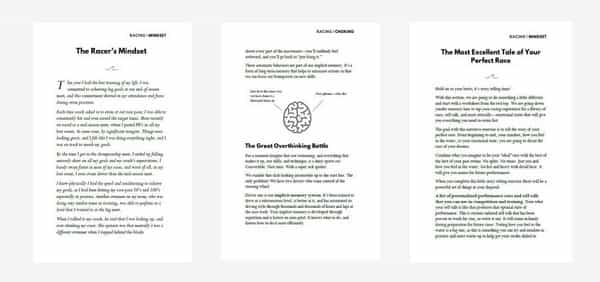 Conquer the Pool is currently being used by teams across the country, with NCAA programs such as Notre Dame, Auburn, and Indiana using it with their swimmers, as well as dozens of club teams including the London Aquatic Club, Sandpipers of Nevada, Shaker Heights Swimming, and many more.
Give your swimmer the gift of a better mindset in the pool this year.
The book retails for $39 and comes with a 30-day money-back guarantee. Learn more about it here.
---
7. FINIS Duo Underwater MP3 Player
For a long time, listening to music while training at the swimming pool was limited to whatever was playing on the pool's PA system. No more. Nowadays, there is a wide variety of awesome underwater music players and waterproof headphones for swimming.
But my favorite has to be the FINIS Duo Underwater MP3 Player.
Why?
Because instead of relying on headphones to pipe music into the ears, the Duo uses bone conduction to deliver clear sound through the jaw to the ear. Swimming with earbuds is tough, as water can seep in, making the music sound tinny and quiet.
The Duo can pack up around 1,000 songs, a clip keeps the player secured on your goggle strap, and is charged and loaded quickly through a USB cable.
You might not be able to give the swimmer in your life a personal best time this year, but when it comes to gifts for swimmers, music while training is a close second.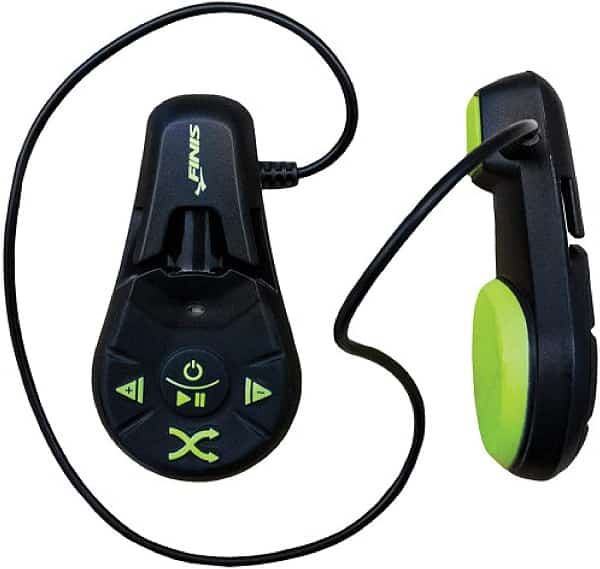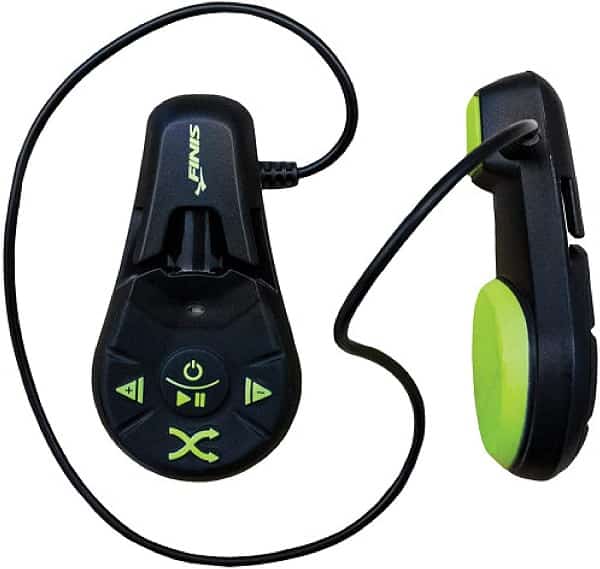 ---
More Stuff Like This:
The 6 Best Gifts for Swim Coaches. Looking for a way to thank your coach for all of their hard work? Here is our list of awesome gift ideas for swimming coaches.