Here's your guide to picking the perfect pair of Speedo goggles for whatever kind of swimming you are into.
Speedo has long been one of the dominant apparel and swimming equipment companies for competitive swimmers.
Along with their infamous "Speedo", they produce a full line of gear for the aquatic athlete. Speedo has a line of top tier tech suits, paddles, fins, snorkel, ear plugs, and more.
The familiar looking Speedo logo is especially familiar as being plastered on the side of swimming goggles.
In this guide we are going to break down the best type of Speedo goggle for your aquatic pursuits, whether that means you are lacing them up for your first international meet, doing some open water swimming, or just want to crush some laps down at the local pool.
---
How to Choose the Best Speedo Goggle for You
While goggles *generally* look the same, form and function vary from goggle to goggle. Which pair you end up choosing will depend on what your goals are in the water, what kind of swimming you are doing, and what kind of water you are swimming in.
The basics on picking a pair of Speedo goggle:
The more "elite" the goggle, the slimmer and more hydrodynamic the profile. And typically more expensive, as well.
Open water goggles have a much wider fields of view. This is so that you can sight easily without having to crane your neck to look up or having to turn your head any more than necessary to find the shoreline or your boat
Choose a lens color based on the pool or water. A darker, indoor pool and you will want to go for a clearer or blue-tinted lens. (That being said, darker and polarized goggles will work wonders for the first few weeks as well—at least until the anti-fog starts to wear off.) Darker and mirrored lenses are better suited for outdoors.
Most Speedo goggles have silicone straps. Why does this matter? Silicone (compared to the old school latex) is extremely durable. Most of their goggles are produced with silicone, with a couple exceptions, most notably the Swedes, which figure prominently in my rotation of swimming gear.
---
Speedo Goggles for Training and Day-to-Day Use
The Vanquishers
The Vanquishers are probably Speedo's most popular goggle. They are comfortable, durable, stylish, and are versatile enough that they can be used at the highest levels of the sport as well as in the casual lap lane.
There are two current editions of the Vanquishers that are popular among swimmers: the Vanquisher 2.0 (which I have a half dozen pairs of) and the most recent update, the Vanquisher EV.
The EV promises a little more peripheral vision compared to the 2.0's (Speedo says 20% more), but to be honest I couldn't really tell that much of a difference between the two. The EV also a slightly boxier look compared to the 2.0's, and you can get two-toned goggle straps.
Both goggles are made with silicone straps, have multiple nose pieces for a custom fit, and a comfortable rubberized gasket that has never once leaked on me in years of use.
SPEEDO VANQUISHER 2.0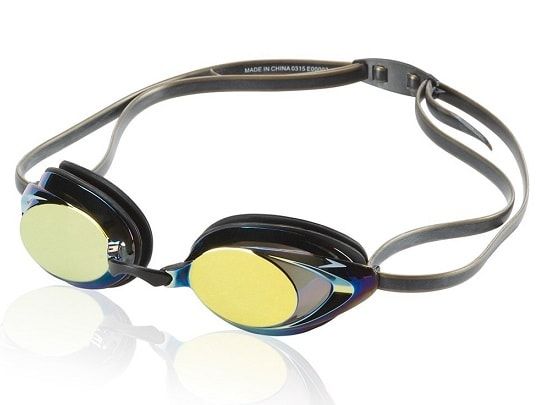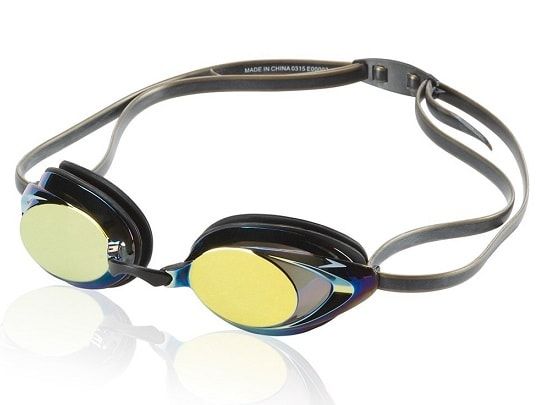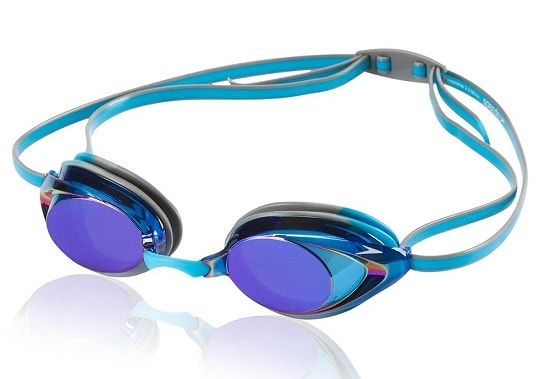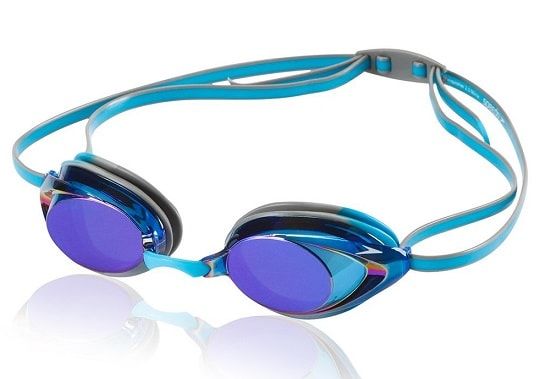 SPEEDO VANQUISHER EV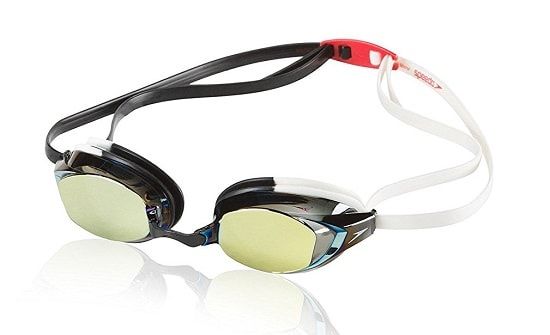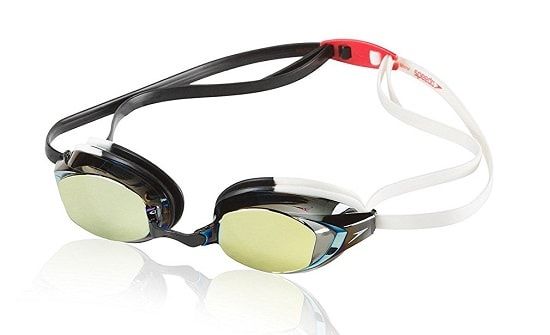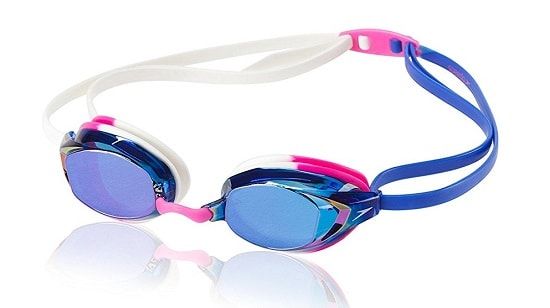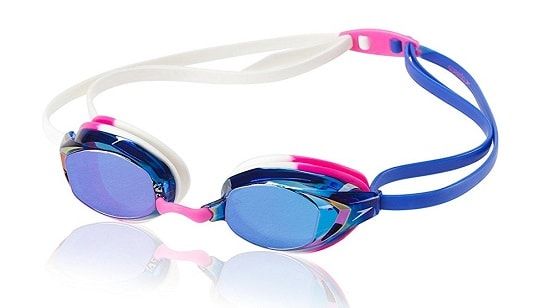 Speed Socket 2.0
The Speedo Speed Socket 2.0 is a great looking goggle and at first glance it doesn't look much different from the Vanquisher.
There are two big differences: first, the Speed Socket is a tiny bit smaller. It's got a slimmer profile, but not by much. The second big thing that the Speed Socket has over the Vanquisher is that with a curved lens you have better peripheral vision, making it another example of a Speedo goggle that is awesome for both training and competition.
The Speed Socket 2.0 comes with multiple nose pieces (the goggles out of the box fit my borderline-average face straight away), there is no latex built into the goggles anywhere (making them durable), and they are comfortable.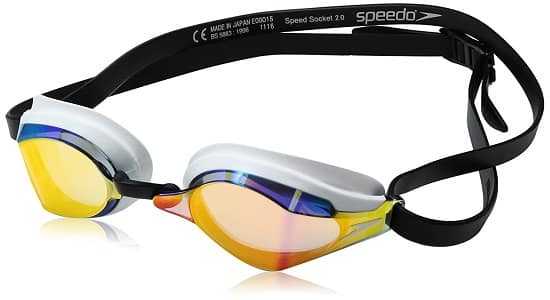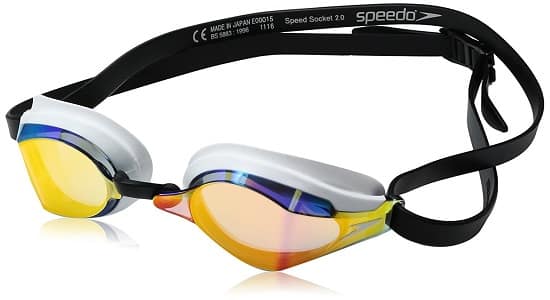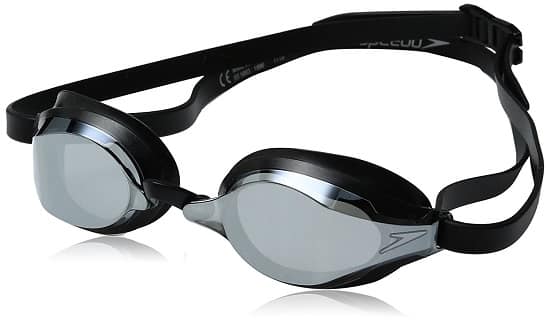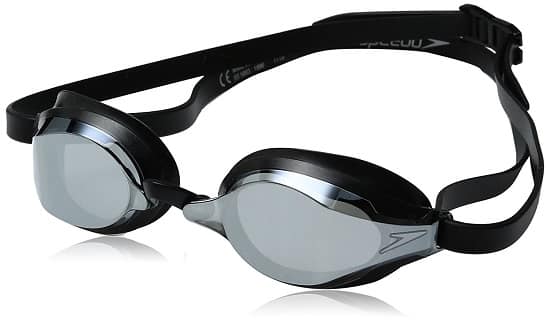 ---
Speedo Swedish Goggles (2-pack)
One of the most popular type of goggles with competitive swimmers, Swedish goggles are dirt-cheap, provide great field of view with their simple and frame-free socket, and look particularly badass.
Speedo offers their own take on Swedish goggles with a two pack that includes a light and mirrored tint. The idea is that you have a pair for indoor and outdoor swimming.
Because the goggles don't arrive assembled, they are not ready to rock and roll straight out of the packaging. But putting together the goggles yourself means you get a fit that is as customized to your face if you like.
I buy these goggles in six-packs because I go through them so fast: the straps are made of latex (compared to silicone like almost every other goggle on this list) which means they degrade quickly if you don't take time to rinse them after use (which I clearly never do–derp).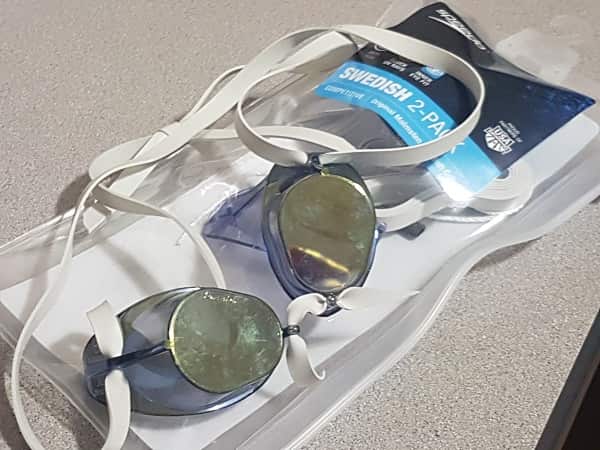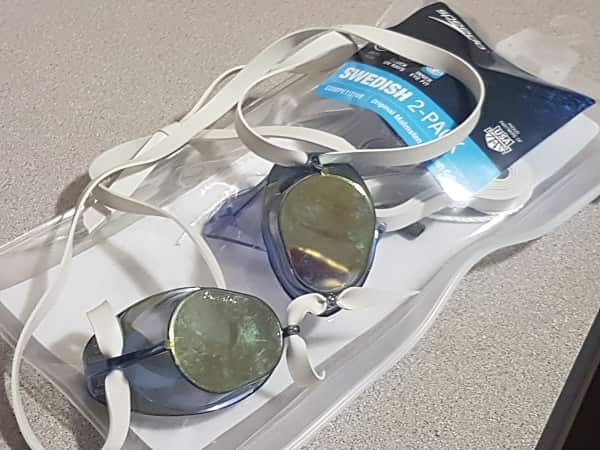 I also go through them so quickly because they get a lot of wear and tear: between 2-4 hours of pool time a day and getting stored in the bottom of my swim bag between sessions, they get beaten up pretty good.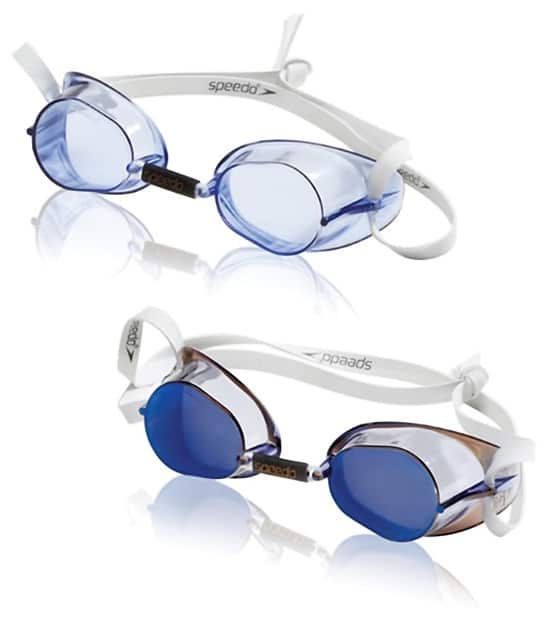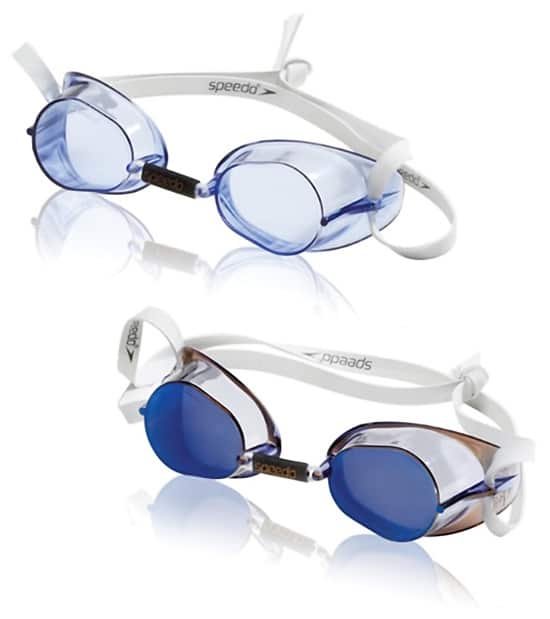 ---
Speedo Goggles for Competition
Fastskin3 Elite
The Fastskin3 Elite is Speedo's top-of-the-line racing goggle. It's been worn by countless Olympians and world record holders including Cam McEvoy, Nathan Adrian, Missy Franklin, Florent Manaudou, Sun Yang, and many more.
The goggle is designed to be worn as part of the "Fastskin System" along with their high performance swim cap and one of Speedo's tech suits. (Getting the full package is of course not a requirement–it's not like the goggles aren't as effective or comfortable with caps and suits of other brands.)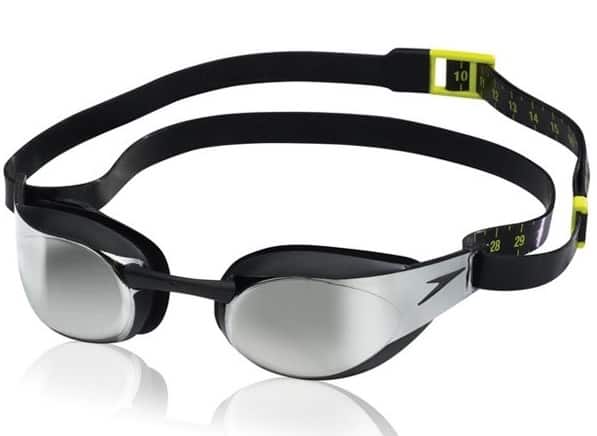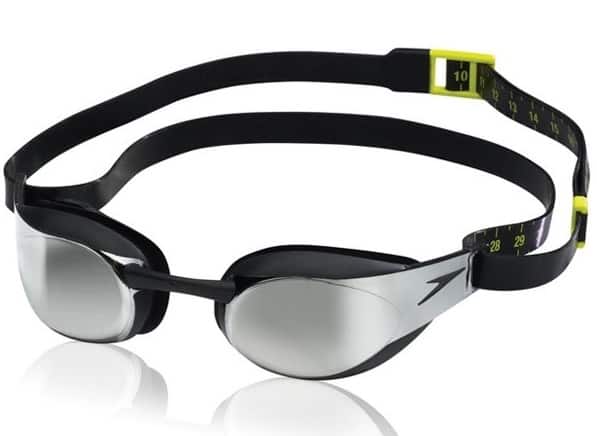 ---
Speedo Goggles for Open Water Swimming
Speedo MDR 2.4
Outside of the fact that these goggles sound like they were named after a software update, they are tough, have great field of vision, and are great to look at (and out of). While Speedo isn't as known within triathlon and open water circles, they do produce an outstanding open water goggle that ranks among the best.
The rubberized gasket of the goggle flares out, creating a leak-proof seal that also makes it comfortably for longer bouts of wear. The silicone goggle straps can be quickly adjusted using those little pink buttons on the side of the housing, and the wide lens gives you excellent forward and peripheral vision for sighting.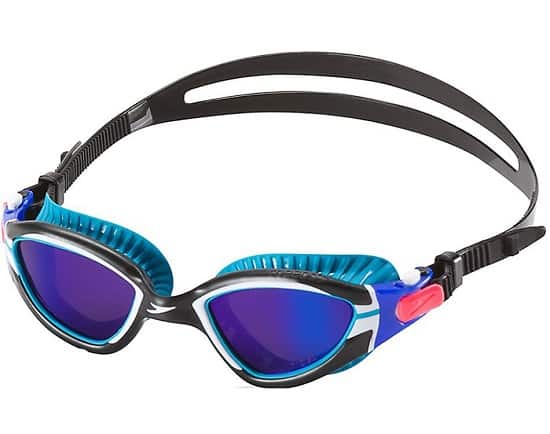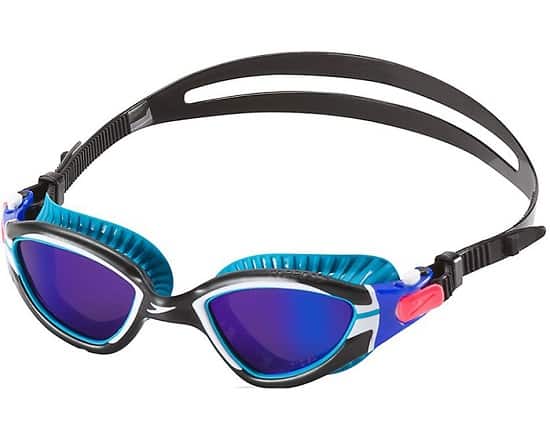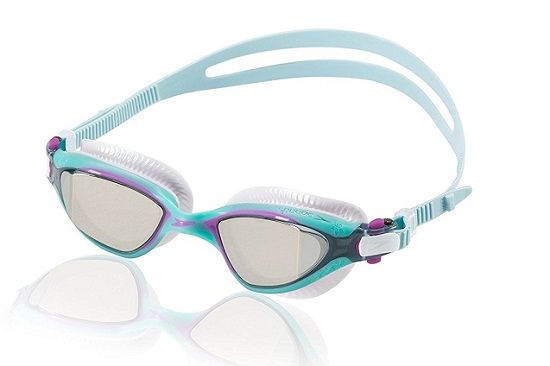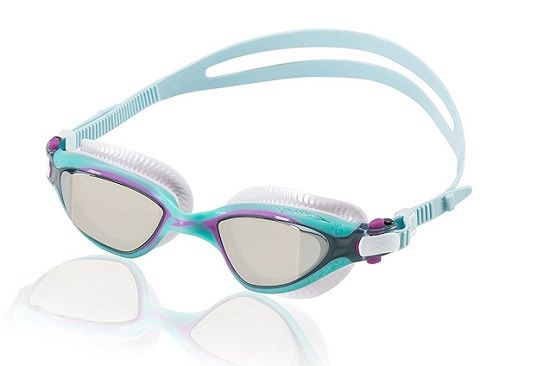 ---
Prescription Speedo Goggles
Vanquisher Optical Goggle
For swimmers who require goggles with a prescription, Speedo offers their flagship Vanquisher.
They come in a smoke and clear lens, and are priced hilariously far below what you would pay for a custom pair of swim goggles.
The goggles can be taken apart and mix and matched. So if you have different prescriptions buy two pairs, one at each prescription level and reassemble. It should be noted that the Vanquisher Optical goggles are only available in negative diopter.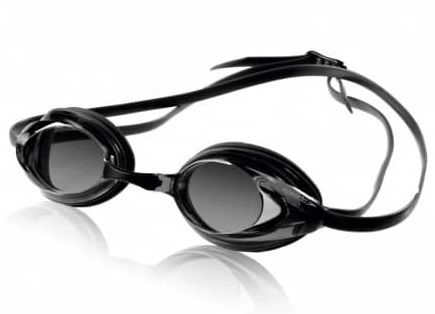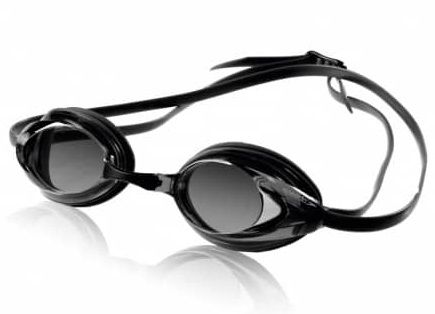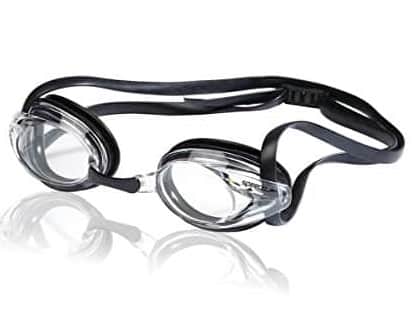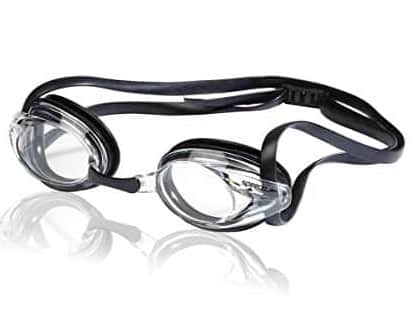 ---
More Goggle Resources
The 7 Best Goggles for Swimmers. Looking for the ultimate pair of goggles to dominate the pool? Our comprehensive guide of training and competition goggles has got you covered.
The 5 Best Prescription Goggles for Swimmers. Ready to take on the pool, but want to be able to take your prescription with you? Here are the best prescription goggles for swimming.