Swim caps are one of the lesser understood pieces of gear that swimmers wear at the pool.
The big misconception is that wearing a swim cap will keep your hair completely dry. Or that wearing a cap will keep water from going into your ears. (If you want to protect your ears from getting water-logged in the pool, hit the pool with a set of swimmer's earplugs–they are the only true way to prevent water from getting into your ears.)
The fact that they don't is a big surprise for new swimmers who want to enjoy the water without getting their hair wet and/or soaked.
This leads to many new swimmers to wonder why they should wear a cap at all.
Why should you wear a swim cap in the pool?
Because it will keep your hair out of the pool, keep hair out of your face so that you can focus on your workout, protect your hair from chlorine, keep your head warm, keep you safe, and it will help you swim faster.
Let's dive into these reasons real quick.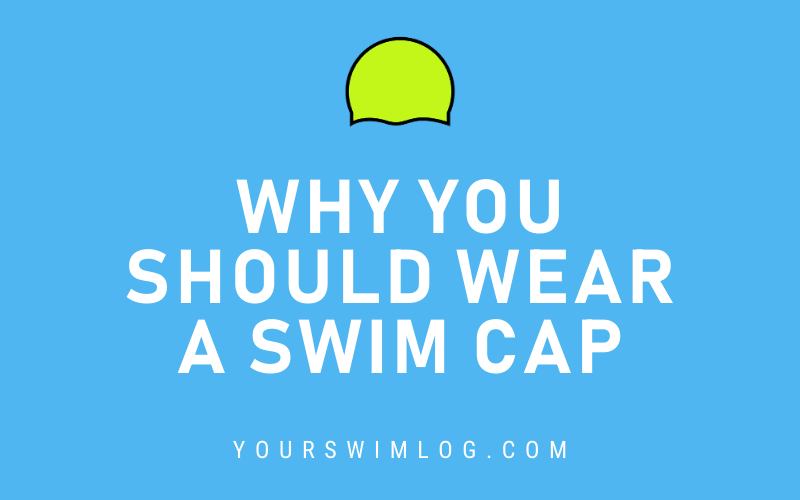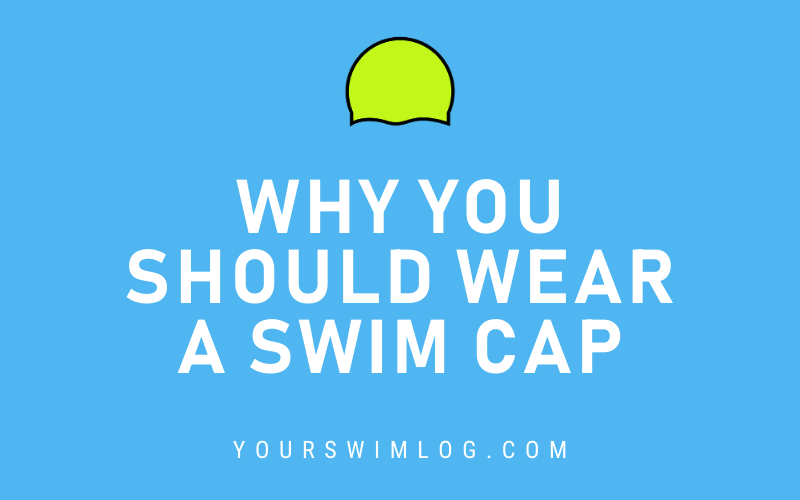 Wearing a swim cap keeps your hair out of the pool.
One of the grosser things that I have encountered in the pool over the years—and it's happened more times than I care to remember—is swimming along and catching a ball of someone else's hair across my hand and fingers.
Loose hair clogs pool filters, tangles up the pool drains, collects at the bottom of the pool like tumbleweeds, and is generally gross.
Hair falls out. For you, for me, for everyone. The least we can do for our fellow swimmers is keep our hair from shedding in the pool, a shared space.
If you have long hair, there are swim caps that are made specifically for you and that bundle of hair up top.
Swim caps help protect your ears (a little)
For the swimmer who needs to keep water out of their ears, swim caps might seem like a great option. Just pull the cap tightly over your ears, and bingo, right?
Not so fast. Swim caps can help keep your swimming earplugs in place (although swimmer ear bands are a little more effective at this).
Where I have found swim caps to be helpful in protecting my ears is by helping keep my earplugs in place versus completely blocking water from entering the ear canal.
Swim caps keep hair out of your face.
When you are churning away in the water, you want your focus and concentration to be on your workout and not having to windshield-wipe hair from your face at the end of each length.
Swim caps keep your hair packed up and out of your eyes so that you can better see where other swimmers are, judge the walls so that you can hit your turns like a champion, and you spend more time actually swimming versus removing hair from your swim goggles and face.
Beyond lap swimming, a toddler swimming cap can help keep hair out of your child's face so that they can better navigate their activities in the water.
Wearing a swim cap protects your hair from chlorine.
Although a swim cap won't keep your hair perfectly dry, there is a sneaky little way that you can protect your hair from the harsh (but necessary) chemicals that pools are treated with.
And this starts by soaking your hair before you get into the water. Your hair can only absorb so much water. And if it's going to get wet, you might as well get it wet in the shower with clean water and then wrapping it up with a swim cap before hopping into the pool.
Rinsing off your hair before you swim will also keep the pool water cleaner (rinsing sweat and excess hair products from your hair), but pre-soaking it with clean water reduces the amount of chlorinated water that will seep into your hair.
Keeps your head warm.
For swimmers who train in a hot pool, wearing a swim cap can quickly become uncomfortable, as your body (and head) temperature rise, the heat gets trapped inside your swim cap, making you even warmer. I've trained in some pools where I have ditched my swim cap mid-workout because I was getting uncomfortably hot.
But for swimmers who don't run as warm, or who are swimming in pools with cooler temperatures (or even open water, for that matter), wearing a swim cap will keep you a little bit warmer.
Here's how to choose the best swimming cap for you based on how hot your head and the water are:
For the pool swimmer who is regularly chilly, look for a silicone cap, as they are thicker and retain heat better.
Open water swimmers should lean towards neoprene caps (same material that wet-suits are made of) for even more heat protection.
And for the swimmer who gets a little toasty in the water, a latex swim cap is thinner, lighter, and is a little more breathable.
Swim caps make you visible.
When swimming in open water, whether it's a lake or the ocean, being visible to other swimmers and boaters is absolutely critical. Wearing a bright swim cap helps make you stand out as you cruise along.
(You should also strongly consider using an open water swim buoy when swimming outdoors. They are bright, create very little drag or resistance behind you, and are great for storing your valuable, like car keys, as you swim.)
Wearing a swim cap helps you swim a little faster.
Swim caps can make you feel like your head is the tip of a speeding bullet. And this feeling is not wrong! Swimmers with longer hair will likely notice a slight improvement in speed from having their hair wrapped up in a swim cap, instead of soaking up water and creating extra drag.
One paper found that wearing a silicone swim cap increased compression and reduced drag compared to a lycra swim cap. Another study found that even just having wrinkles in a cap could produce a significant amount of passive drag! The researchers found that when a silicone swim cap was pulled taut over the head, with no wrinkles in the cap, it produced 4.4% less speed-specific drag.
So yes, wearing a swim cap (properly!) will make you swim a little bit faster!
More Swim Cap Stuff:
8 Best Swimming Caps for Swimmers. Looking for the best swim cap for training and competition? Here's your ultimate guide to picking out the best swimming cap for you.
How to Protect Your Hair from Chlorine. Fed up with dry, brittle hair that's been damaged by pool water? Here is a three-step plan for protecting your hair and skin from chlorine.
Best Swimmer's Ear Drops for Drying Your Ears. Protect yourself from earaches with our collection of the best drops for swimmer's ear.