FINIS Swim makes some of the best gear for competitive swimmers. Here are six pieces of gear that FINIS makes to help you boost your swimming.
FINIS Swim, founded by legendary butterflyer Pablo Morales (whose story is particularly awesome—read about it in full here), is one of the most swimmer-centric companies out there for the aquatic athlete.
From their patent-holding swimmer's snorkel, to the Tempo Trainer, to their underwater mp3 player, FINIS can be counted upon to crush it when they release their take on a piece of swimming equipment.
Here are 6 of my favorite products that FINIS swim produces.
1. The FINIS Swimmer's Snorkel
I've made no secret of my love for training with a snorkel. Strapping on one to your face helps you to keep your face down, get a better body position in the water, and develop a fuller, more balanced stroke.
In other words, all sorts of awesomeness.
The swim snorkel is now one of the most common pieces of swim equipment found in swim bags.
FINIS led the charge with this, filing the first patent for a front-mounted snorkel back in the early 1990's.
Since then they've released a couple different types of the FINIS, one designed specifically for freestylers, and the other a more general type of snorkel.
The most popular snorkel is the FINIS Swimmer's Snorkel, and for good reason, it works exactly as advertised!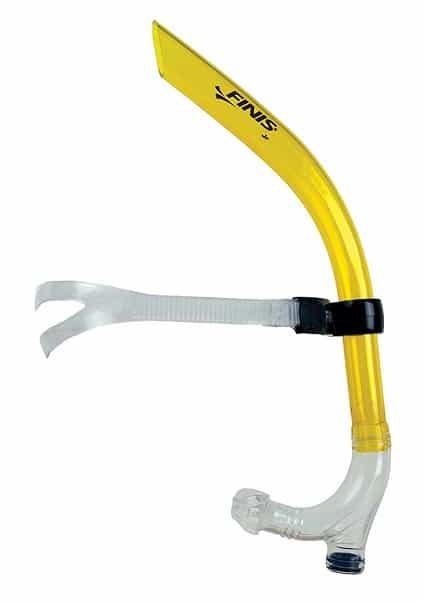 ---
2. The FINIS Tempo Trainer Pro
It's a stroke rate tool. It's a stroke counting tool. It's an interval timer. The only thing it doesn't do is wash your dishes or hang your towel to dry after practice.
Why do those things matter? Well, if you are serious about being a faster swimmer you know that it's not just about getting into ridiculous shape, you need to also become a master of efficiency. Being able to cross the length of the pool with fewer strokes means you are expending less effort.
Having the beep-beep of the FINIS Tempo Trainer Pro helps you stay on point with stroke count (and even rhythm!) so that you are sticking to the number of strokes you are aiming to do within each length.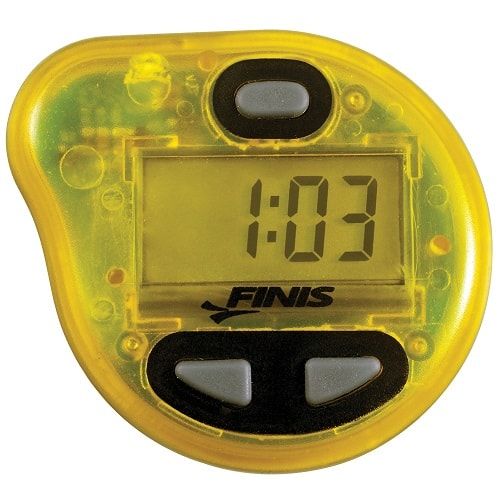 ---
3. The FINIS Swim Sense Waterproof Fitness Tracker
Although the FINIS Swim Sense looks bulky (which is kind of surprising given how well the rest of their product line is designed), within is a waterproof fitness tracker that is designed specifically for swimmers. The read-out is easy to read and the battery is rechargeable, unlike the Garmin swim watch and the Misfit 2 which require batteries to be replaced.
What makes it one of the best waterproof fitness tracker for swimmers is this: it's the only waterproof tracker that I've tested that can measure the "other" strokes, including butterfly and breaststroke.
The FINIS Swim Sense is about as accurate as fitness trackers get, making it the swim watch of choice for competitive and recreational swimmers alike.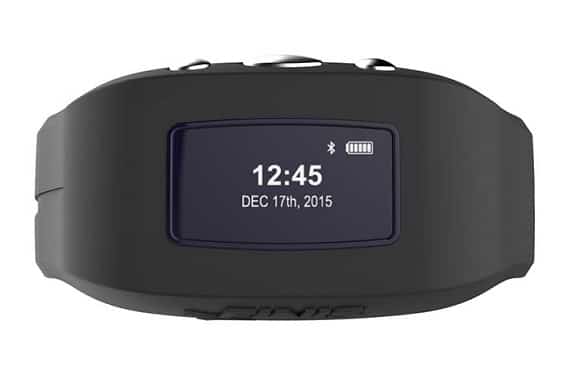 ---
4. The FINIS Foil Monofin.
While there is disagreement about who makes the best swim fins, there is only one champion of Monofin, and that is FINIS. They make a series of them, including the Foil.
Why would you want to add this particular type of fin to your swim bag?
Simply: the Monofin is designed to help you develop a mega-watt underwater dolphin kick. They have a larger surface area than two short fins, so they will tax your legs more than regular fins. When you use it on your side you will develop the often neglected part of every swimmer's kicking motion—the up-kick.
Misty Hyman, Olympic champion in the 200m butterfly at the Sydney Olympics, regularly used this type of fin to do long bouts of underwater kicking. Until FINA restricted the amount of meters swimmers could swim underwater, she would dolphin kick on her side, kicking with tremendous force in both directions (creatively known as "fish kicking"). Her coach, Bob Gillett, helped to develop the FINIS Foil, the Monofin designed particularly for competitive swimmers.
The FINIS Foil Monofin features open heels (less blisters) and is available in sizes as large as 15 for men.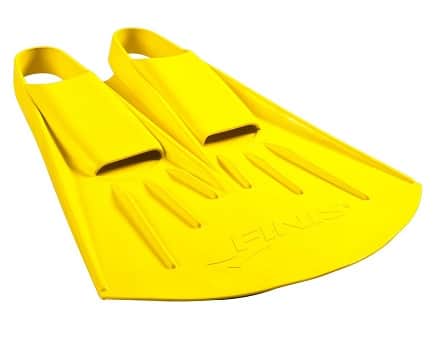 ---
5. FINIS Zoomers
Any swimmer can tell you the abject joy of wearing swim fins. For a few moments, we get to swim at speeds that our idols swim at, giving us a fleeting taste of what it's like to swim at hyper-speed. They can also help stretch out our ankles, develop a stronger up-kick, and teach us better body position in the water.
One of the best fin makers—surprise, surprise—is FINIS with their Zoomers fins. With a short blade that is designed to emulate our natural kicking tempo, you can get the power benefits while mimicking the way you actually swim (compared to swimming and kicking with a long blade fin which will only crater your kick tempo).
Recommendation: if you do decide to buy a pair of these, and you have never worn them before, go for the yellow/gold Zoomers. They are far more forgiving than the stiffer red ones. I have a long history of brutal blisters from the red ones to prove it.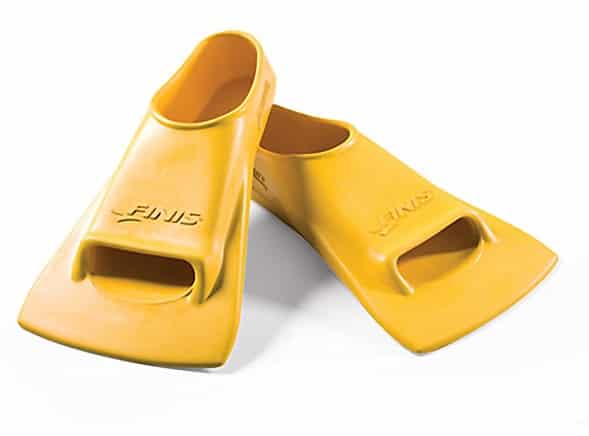 ---
6. FINIS Duo Underwater MP3 Player
One of the drawbacks of swimming is the lack of music. Getting tunes in your workout simply makes things more enjoyable, and a good song can actually help improve endurance (up to 15% according to a study at Brunel University).
In the past if we wanted music we depended on the musical tastes of the lifeguard on duty, or were subject to the music being played by the synchro team in the next lane.
No more.
The FINIS Duo underwater MP3 player gives you great sound quality to help you crush your laps on the regular. I've reviewed and tested numerous of these types of devices, and it is by far the best underwater MP3 player out there.
The coolest feature of the Duo?
It doesn't have pesky headphones to jiggle loose when you push off or start tacking on some speed. Music is conducted to your inner via your cheek bone.
For swimmers who wear earplugs (present company included), the tunes actually sound better with earplugs in. Finally, a benefit to wearing ear plugs besides not having head-cracking earaches!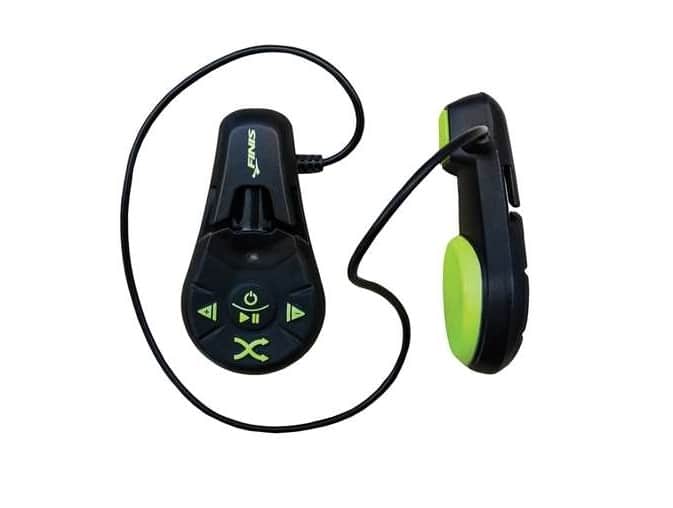 ---
More Stuff Like This:
The 7 Best Goggles for Swimmers. Check out our list of the best goggles for swimming, whether it's practice, competition, or both!
Swim Paddles: The Ultimate Guide to Training Paddles. Swimmers love using paddles–here's how to make the best of them, and a buyer's guide for swimmers.
Swim Gear Guide: FINIS Tempo Trainer Pro. It's one of the simplest and effective tools for swimmers looking to master their stroke rate, stroke distance, and more. Here's the dealio on this popular device.
Swim Gear Guide: The Best Waterproof Fitness Trackers. Ready to take your swim workout to the next level? Here's your guide to the best waterproof fitness trackers for swimming.