Pool slides are a great way to boost the fun and excitement of your swimming pool. Read on for a detailed look at the best pool slides for every budget and pool.
Let's just come right out and say it: pool slides are a blast!
You climb up the ladder, feeling the anticipation beating in your chest, give yourself a little countdown, hurl yourself down the flume, wind blasting by your ears before launching into space.
Annnnd sploosh!
Slides are an excellent addition to your swimming pool, for both adults and children.
Whether you are looking for a slide for an above-ground swimming pool, something that is on the budget-friendly side, or you want a corkscrew-shaped permanent slide for your inground pool, there is a slide out there for you.
Let's slide right in.
Choosing the Right Slide for Your Pool
There is a lot of things to look into when choosing the right pool slide for your backyard swimming pool.
? Space. Slides require deck space for installation. Some have larger footprints than others.
? Anchors. Depending on whether you are using an inflatable slide or a more permanent solution, you will want to be able to anchor the slide to something so that it doesn't slide (ha!) around when being used.
? Color and flume direction. The right pool slide should match the look of your pool, whether you have an Intex above ground pool or a 50' inground swimming pool. Some of the slides here have options with color and direction of the flume to match the look and design of your pool.
? Cost. Pool slides are all over the map in terms of price, with inflatable slides costing $200-400 and the larger, overbuilt one's costing in the thousands.
Let's take a look at the best pool slides on the market.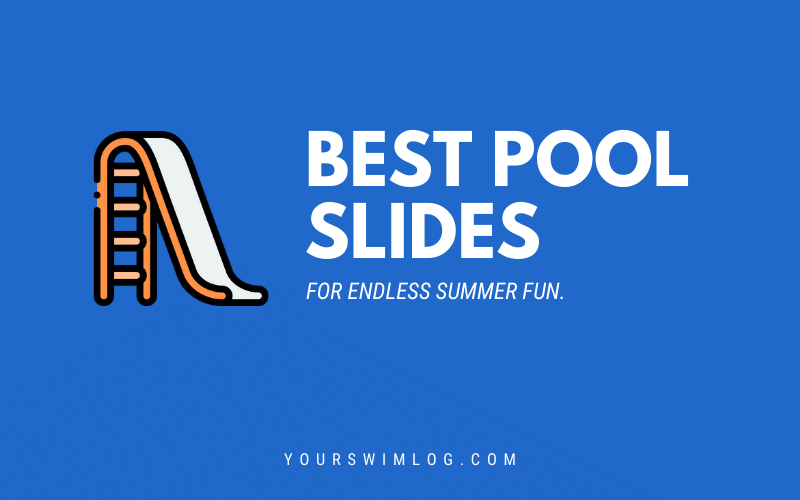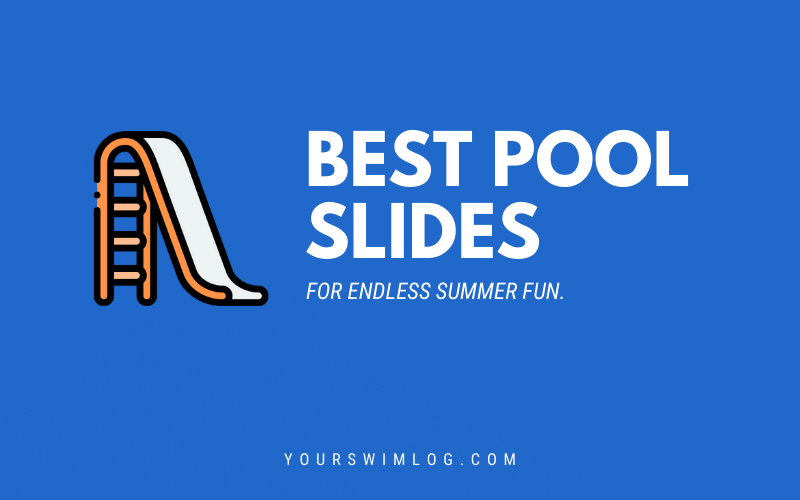 Intex Inflatable Pool Slide
Intex is a leader when it comes to backyard swimming pools and accessories. From above-ground swim pools, to inflatable pools, to pool pumps, Intex makes it all for the backyard pool enthusiast.
The Intex Inflatable Water Slide is designed for endless summer fun. With an inflatable stepping mat, climbing steps and handles, and a quick attachment to your garden hose for sprayers on the slide, it's a quick way to turn your backyard into a water park.
Intex ships it with a repair kit, and users note that with moderate to heavy use you will have to reinflate the slide every few days to retain its shape and form. Weight limit is listed at 175lbs and the shell is made of heavy-duty 20-gauge vinyl.
When it's in stock, it costs just under $400 (check Amazon for current pricing and availability) so pick one up when you have the chance and crank up the fun.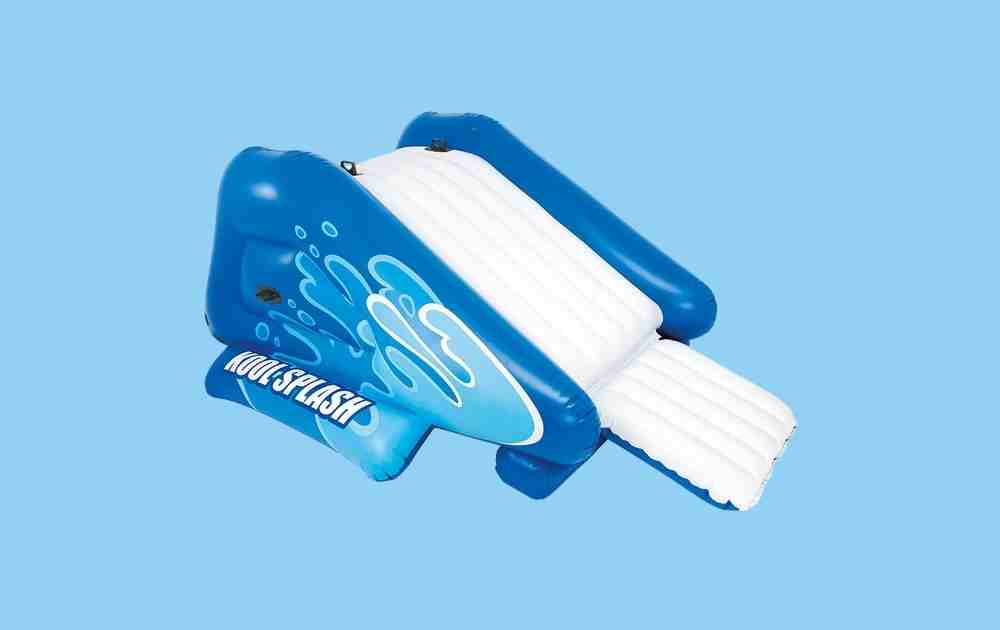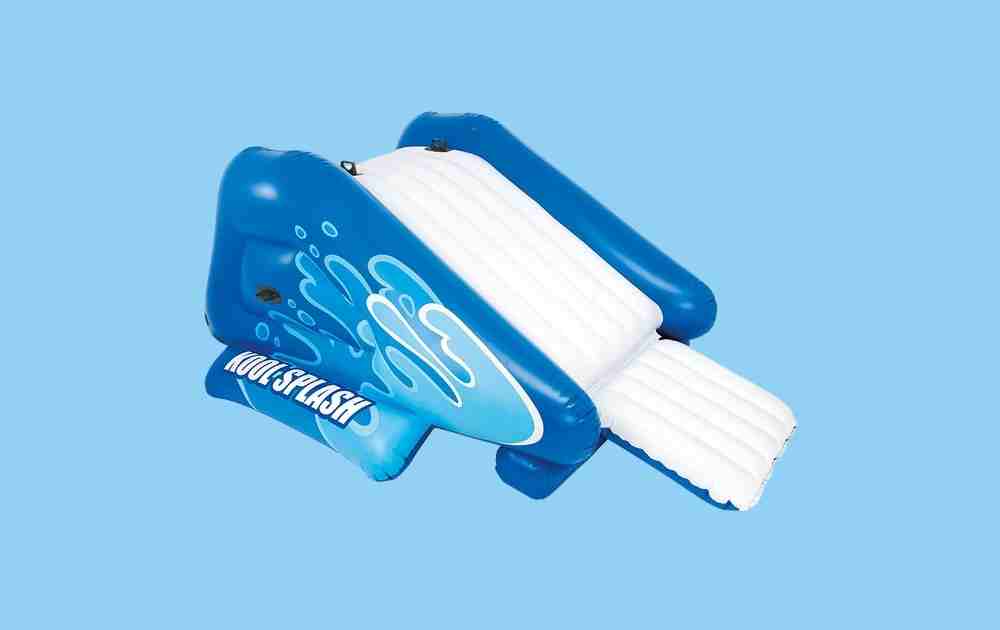 WOW Watersports Inflatable Water Slide
Best pool slide you can take to the lake
With the WOW Watersports Inflatable Water Slide you can increase the amount of fun being had—the slide is wide enough that a couple riders can go down at the same time, making it ideal for impromptu races (loser gets the next round of drinks?).
Made with heavy-duty, puncture-proof PVC nylon, the slide has guardrails, bright, impossible-to-miss graphics for easy visibility, and several different options when it comes to colors and graphics.
The best part about this waterslide is that you can use the grommets to lasso it up to your dock or boat, making this nine-foot, two-lane slide ready for the lake and the pool.
The slide can also be easily attached—with its zippered connection system—to other WOW Watersports products like their Water Walkway or Water Mat for even more summer fun.
Available from Amazon for $249 (check Amazon for current pricing and availability), pick up a WOW Watersports Inflatable Water Slide and crank up the fun at the pool and the lake.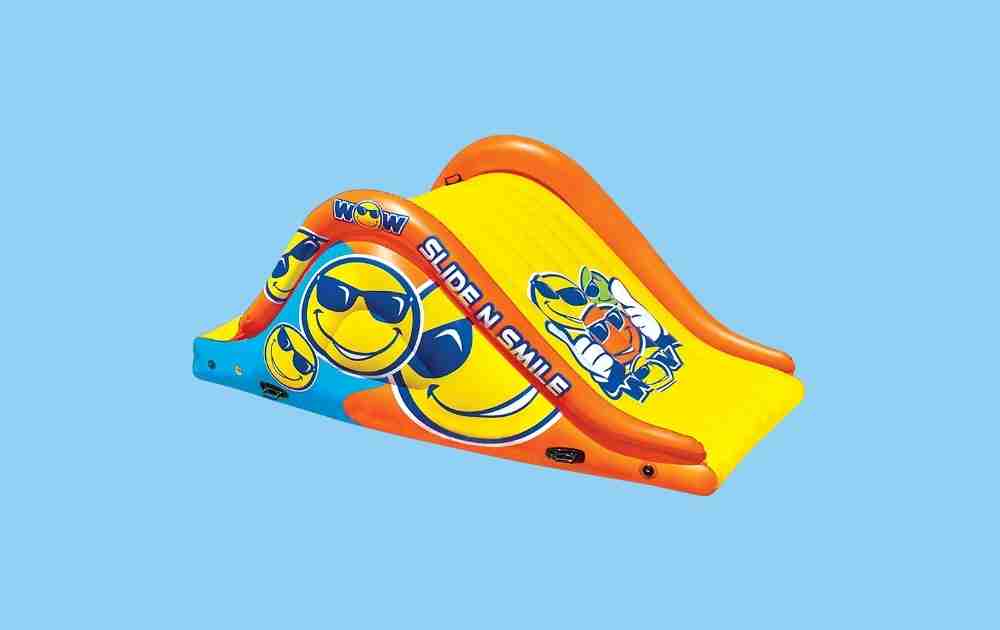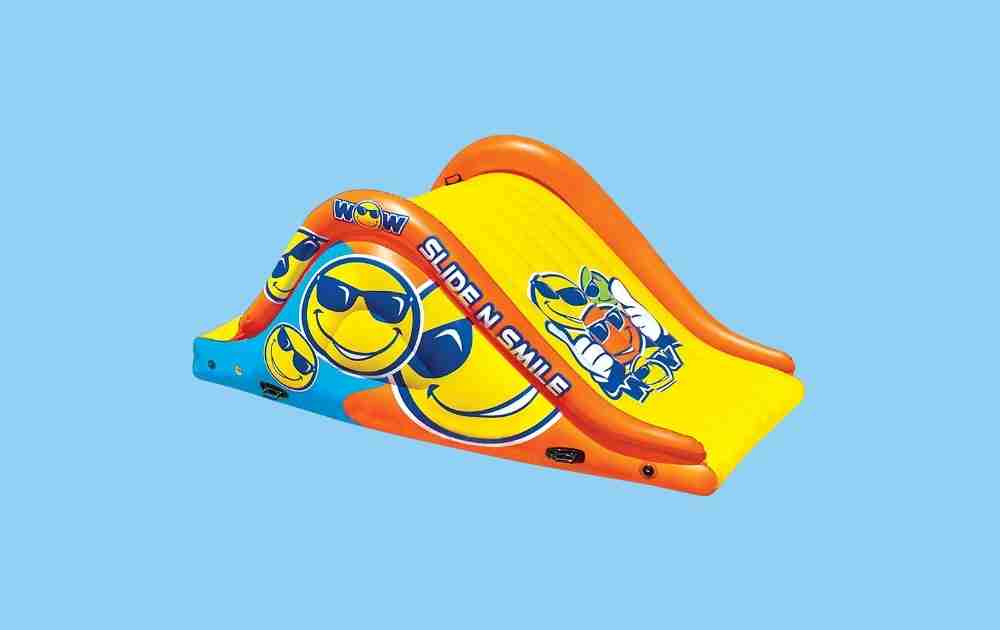 Poolmaster Aqua Launch Swimming Pool Slide
Poolmaster makes a ton of accessories and equipment for backyard swimming pools, including pool vacuum hoses, pool loungers, poolside basketball hoops, and this pool slide that looks like a split-open hot dog.
While not as tall as some of the other slides on this list, the Aqua Launch is part slip-and-slide and part, err, slide. Easily attached to any standard garden hose, the slide has extra large bumper rails to keep users sliding forward.
Built with heavy-duty 14-gauge vinyl, the slide has a ballast to keep the slide stable.
That all said, reviewers either love or hate the slide, with a lot of the one-star reviews noting that the slide was flimsy and the seams came apart after just a few uses.
The slide is relatively low-cost, retailing for around $160 (pump not included, as well).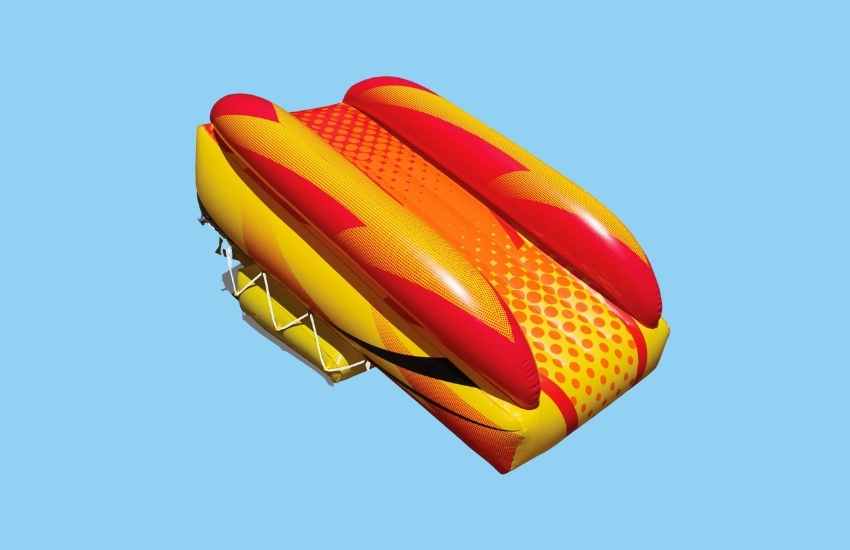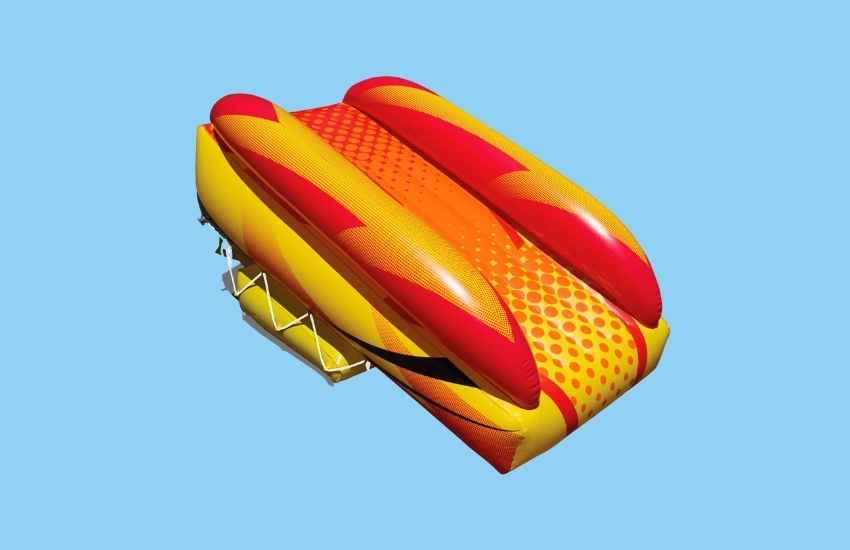 Inter-Fab Water Pool Slide
Best water slide for inground pools
The Inter-Fab Water Pool Slide has a more classic design and shape, with swimmers doing a quick drop, slope, and shooting out the lip of the slide. The slide starts at a height of six feet, and heavy-duty and corrosion-resistant aluminum is used on the handrails and steps to give swimmers young and old a sense of stability when climbing the slide.
The slide is rated for swimmers up to 225lbs and is available with a right or left curve. Additional customization options include color choices (white, blue, gray or tan) and an additional adapter kit that allows you to hook up a garden hose to add spraying splashes to the side.
The Inter-Fab Water Pool Slide is designed for inground swim pools (installation instructions are included and available on Inter Fab's website), is made in the United States, and is backed by a twelve-month warranty.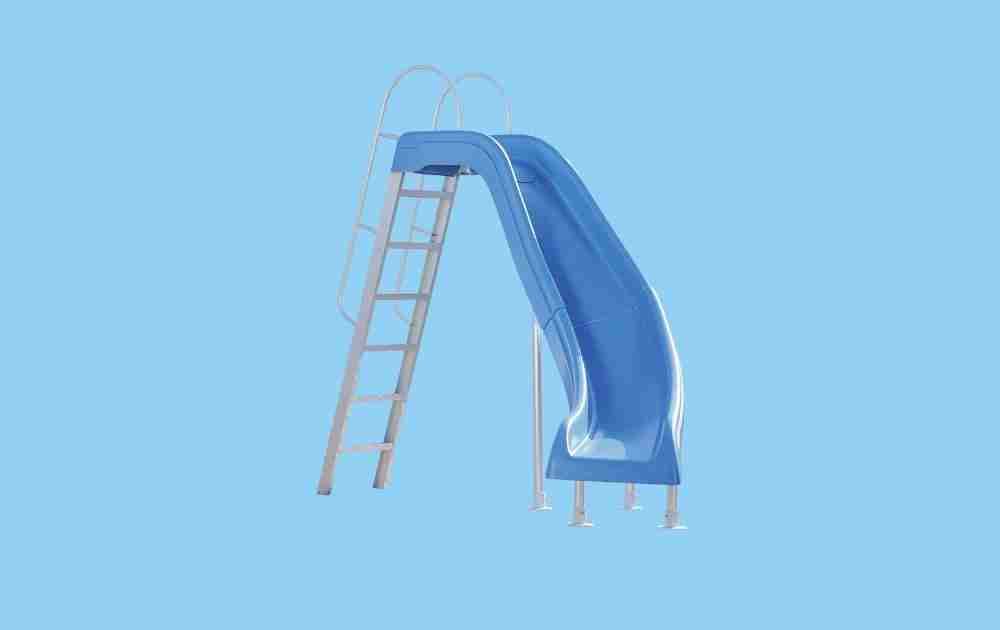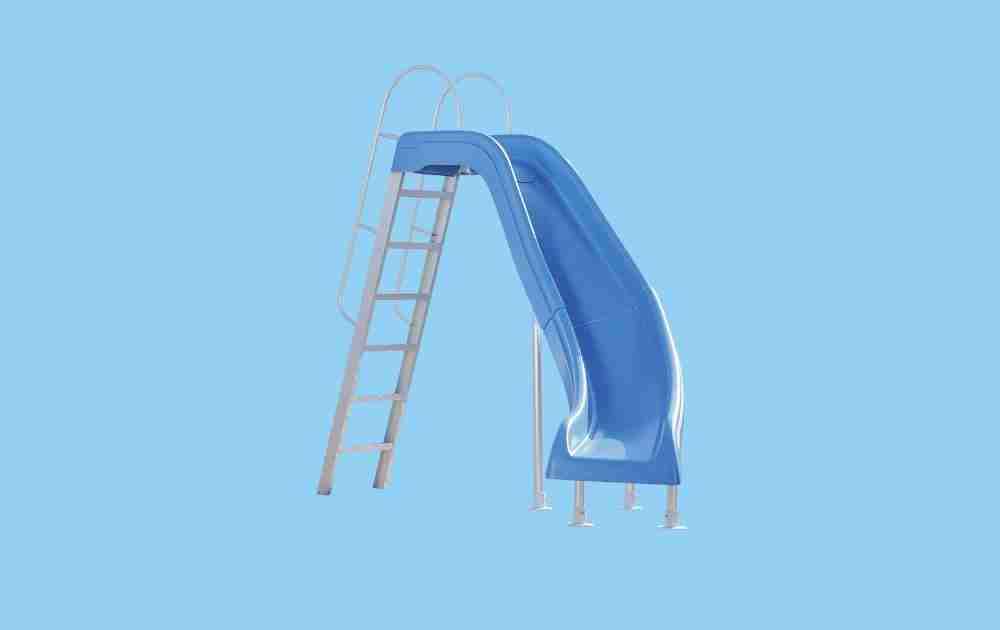 S.R. Smith Rogue2 Water Pool Slide
Another inground pool slide comes from S.R. Smith and the Rogue2.
S.R. Smith makes a range of extraordinarily well-built pool slides, including a full corkscrew slide (the TurboTwister) and a smaller, removable pool slide (the SlideAway—we'll look at it next).
The Rogue2 is your classic pool slide, taller than the Inter-Fab Slide, with a 7ft height and a 9ft flume, which is extra wide. A garden hose can be easily attached to the side and can deliver up to 30 gallons of water per minute. Conversely, you can attach it to your pool's plumbing with PVC pipe (sold separately).
Related: 6 Best Pool Umbrellas and Accessories for Maximum Shade
Available in four different color options (gray, blue, white, and taupe) and with the option of left or right-facing flumes, the Rogue2 combines a retro look with a modern flume that will take your backyard pool to the next level.
One thing reviewers note is that the Rogue2 does not come with the anchors necessary to bolt the water slide to your pool deck.
S.R. Smith backs the slide with a three-year warranty and the slide can handle kids and adults up to 250lbs for endless summer fun in the backyard.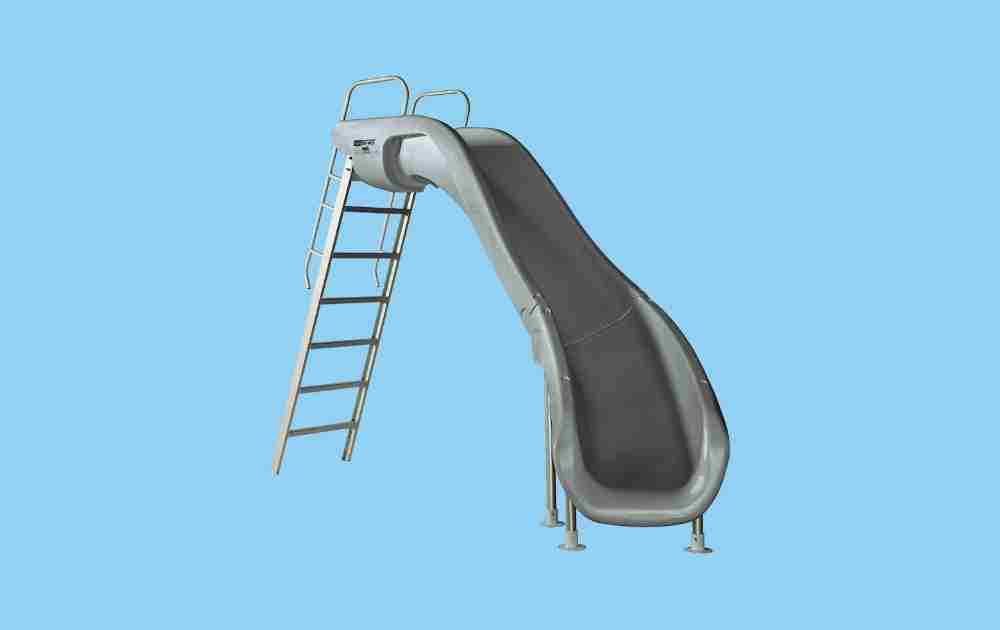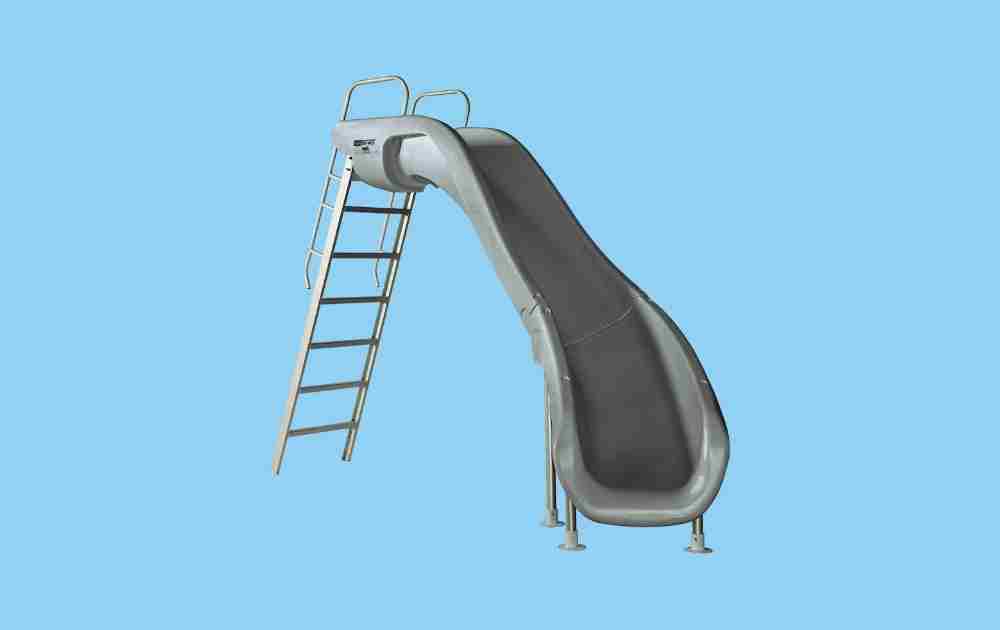 S.R. Smith SlideAway Removable Pool Slide
Want a pool slide that you can wheel out for those hot summer days and then tuck it away when the pool isn't in use?
If so, S.R. Smith's SlideAway Removable Pool Slide is exactly what you are looking for.
While not as tall as the Rogue2, this child-focused water slide comes with a dolly inside of the slide that you can use to roll it off of the pool deck between uses.
Available in taupe and gray, the slide is perfect for kids (the slide is designed for children up to 125lbs) and requires 3'x7' of pool deck to properly set-up.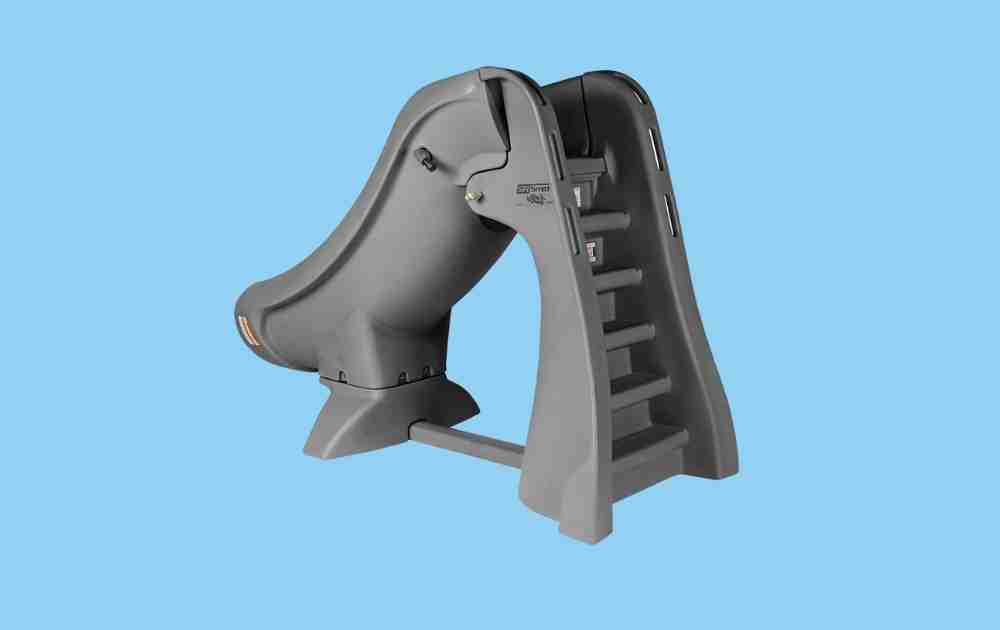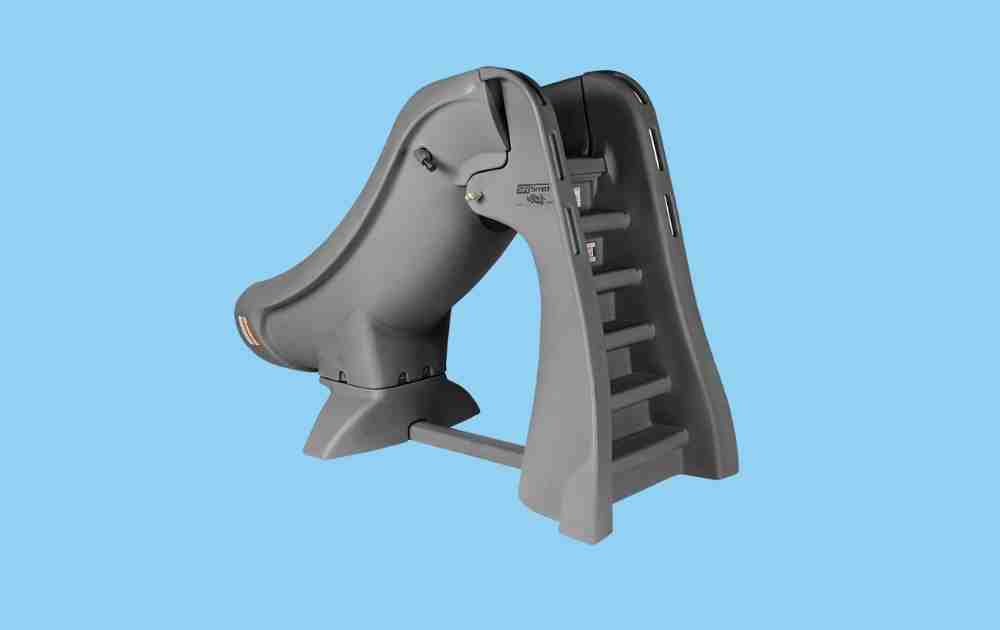 ---
Pool Slides – FAQs
What do I need to know before buying a pool slide?
Pool slides can provide a ton of enjoyment and lots of thrills when adding one to your backyard swimming pool. When on the hunt for the right pool slide for your aquatic oasis, there are a few things to consider before clicking on add to cart.
Load rating.
The heavy-duty, permanent pool slides that you most often see at your local swim pool are suitable for kids and adults of almost every size and weight.
With a sturdier construction comes with a higher load rating. But for inflatable pool slides, there is a maximum weight capacity to consider.
Some pool slides are designed specifically for children, while others are suitable for adults.
Ultimately, the pool slide that you choose should line up with the use that it is going to get, and that means paying attention to the load rating.
Pool depth.
The primary concern of every pool owner is safety for the swimmers who splash around in it.
When installing or setting up your new pool slide, pick a spot where swimmers will exit the chute into deep enough water so that they aren't crashing into the pool bottom or the side of the pool.
During the 1970s, pool slides were causing so many injuries (mostly spinal injuries from slide users going headfirst down the slide and hitting the bottom) that the U.S. Consumer Product Safety Commission put together a mandatory safety standard [1] for manufacturers and pool installers.
Depending on the angle of the slide, the length of the slide, and the age and swimming ability of people using it, you should aim to allow at least 3-5ft of pool depth where the slide chute meets the water.
The U.S. Consumer Product Safety Commission recommends that "slides should not be installed over water less than three feet deep; and people 13 years of age and over should not use slides over water four feet deep or less."
Safety note: Pool slide manufacturers are required to include specs for where the chute should aim and recommended pool depth. Always follow them to make sure your pool slide is not only a lot of fun, but safe.
Slide placement.
When choosing where to place the pool slide, you will want to think about not only pool depth, but also giving enough of a landing space that slide users/riders have lots of room to land safely.
Ensure space for a safe landing, as well as to the sides of the landing area so that swimmers can move out of the way and allow the next user to rip down the slide.
Also, think about having an exit for swimmers that is relatively close to the landing area so that swimmers can get out (and go down the slide again!).
What water sources can I use for my pool slide?
Slides that have a water feature or attachment to add running water down the slide are awesome.
Swimmers get some extra speed zipping down the slide and it also reduces some of that dry burn from skin going down an unlubricated pool slide.
Larger, inground pool slides are typically plumbed directly into the pool's pump system to move enough water.
For smaller above-ground pool slides, usually a garden hose is more than enough—just make sure that the hose has enough yardage to reach the pool.
---
Recommended Reading
5 Best Poolside Basketball Hoops. Pump up the fun in the pool with our collection of the best poolside basketball hoops.
7 Best Swimming Pool Games. Crank up the fun in the water with our collection of the best games for your swimming pool.