Ready for summer and building your own backyard oasis? Here's a look and comparison of Bestway's above-ground pools, including the pros and cons of each. Next stop–summer splashin'!
Bestway is one of the leading manufacturers of affordable and durable above-ground pools for summer-time fun.
They have a wide range of pools for backyards, including inflatable and steel-frame pools in an array of sizes and shapes.
Which begs the question: which Bestway above-ground pool is going to be best for you and your summer plans?
That's where we can help. Take advantage of our 30+ years in the swim biz and pick our experience owning and maintaining above-ground pools to make the right decision for you.
In this comparison of Bestway's above-ground pools, we will highlight the pros and cons of each and how they compare to each other so that you can shop with total confidence.
Unleash the cannonballs!
Bestway Above Ground Pools
Bestway has four different types of above-ground pools:
Fast Set Inflatable Top Ring Pools
Steel Pro Frame Pools
Steel Pro Max Frame Pools
Power Steel Frame Pools
Here is a deeper look at each type of pool, the pros and cons of each, and more.
Bestway Fast Set Inflatable Pools
⭐ Best for quick and easy set-up and moderate use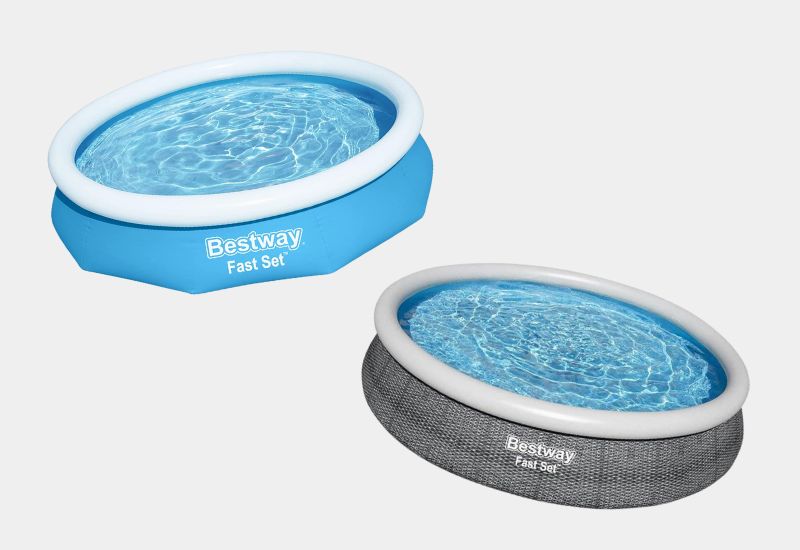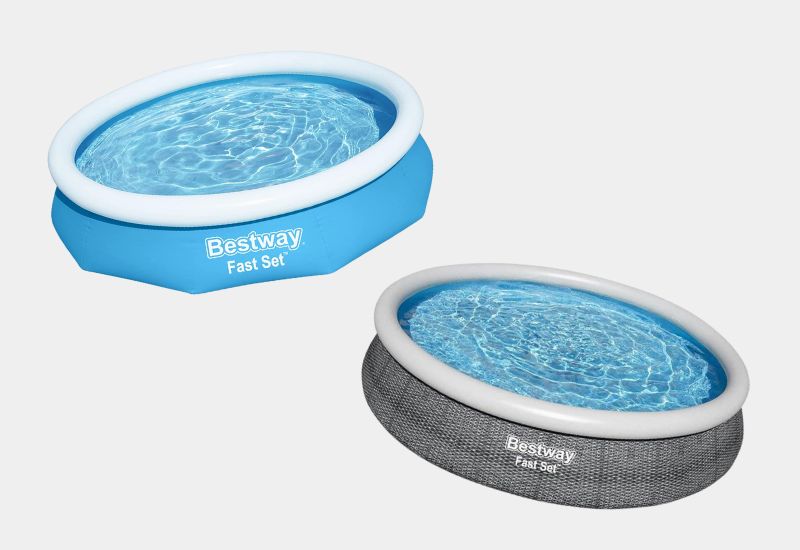 The Bestway Fast Set Inflatable Pools are primarily designed to be used very quickly (hence the name, Fast Set). In just a few minutes, as a matter of fact.
They range in size from a bath-tub sized 6ft long x 20" deep that is best for small families and small kids looking for a respite from the sun to larger 15ft round models that have a pool pump and filter for keeping the water clean.
The Fast Set pools are made with very durable PVC liners that are puncture-resistant (resistant—not proof) and are portable, making them an ideal option for families who plan on moving the pool a lot.
Additionally, the Bestway Fast Set pools are extremely affordable, with the largest model costing just $120 (with the pool pump and filter!).
| | |
| --- | --- |
| ✅ PROS | ❌ CONS |
| Easy to set-up; takes literally mintues | Difficult to climb in and out of without "tipping" water out |
| Wide range of sizes, from 6ft long to 15ft round | |
| Larger models come with pump and filter for easy cleaning | |
| Portable | |
---
Bestway Steel Pro Frame Pools
⭐ Best entry-level Bestway frame above-ground pool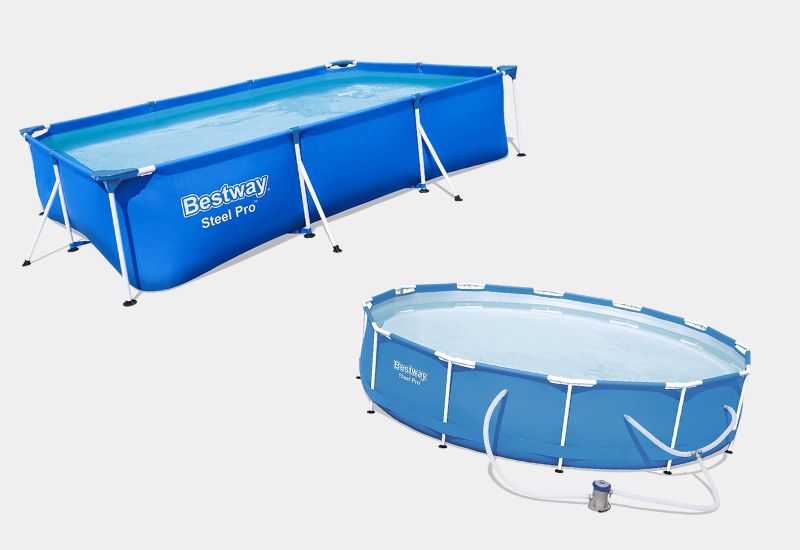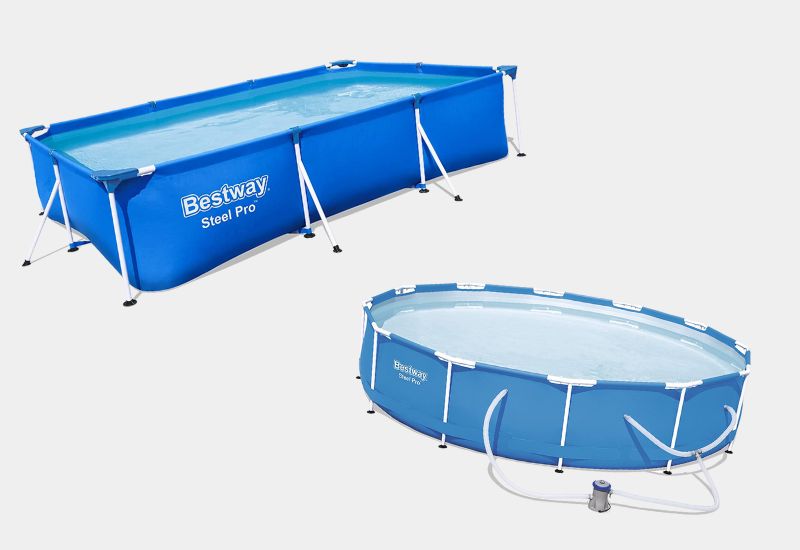 The Bestway Steel Pro is the entry-level framed above-ground pool in Bestway's collection.
It comes in either a rectangular or round shape, and are on the smaller side compared to the Bestway pools we will look at later.
For smaller families who don't need a huge pool to get their splash on, the Steel Pro is an excellent budget-friendly and easy-to-assemble option.
The pools can be assembled without tools, utilizing a snap-together steel frame that takes around 20 minutes, plus however long it takes to fill the pool.
The Steel Pro pools come both in sets and as individual units and rarely cost more than $200, making them an awesome choice for families looking for a quick and simple backyard pool for cooling off in those blisteringly hot days of summer.
| | |
| --- | --- |
| ✅ PROS | ❌ CONS |
| Entry-level pricing; budget-friendly | Limited sizes |
| Steel frame; coated to be resistant to rust | |
| Easy to assemble; no tools required | |
---
Bestway Steel Pro Max
⭐ Best for families who want more pool size options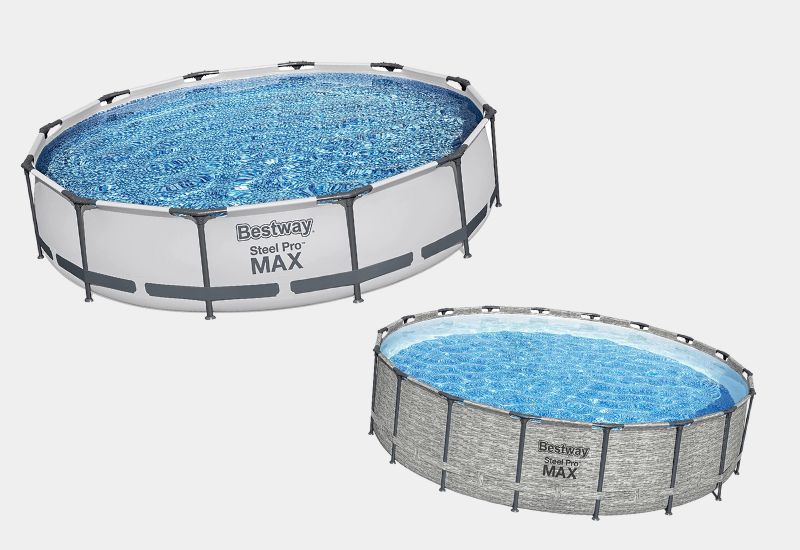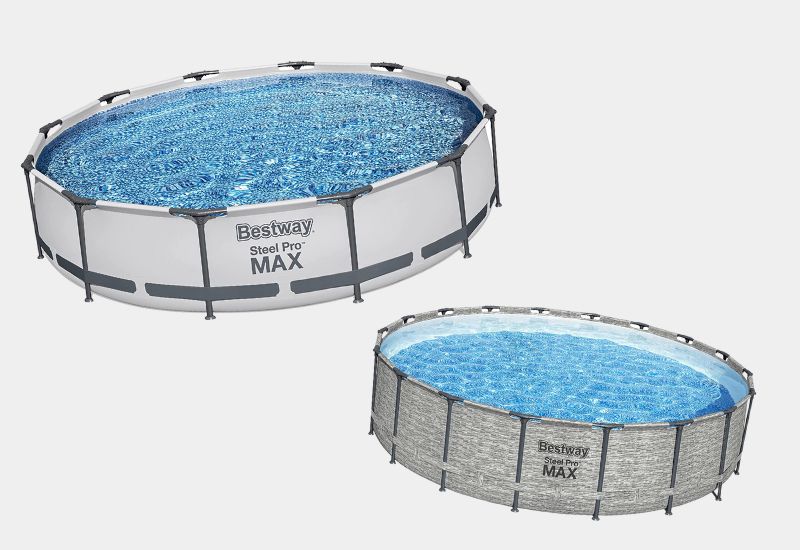 The Bestway Steel Pro MAX, as you can surmise from the name, is an upgraded version of the Steel Pro.
It has the same rust-resistant steel frame that can be assembled without tools and in a relatively short amount of time. The liner is triple-ply blend with PVC on the outside and mesh in the middle.
The main difference between the Steel Pro and the Steel Pro Max is that the Max pools are larger and come in more size options.
Pro Tip: To avoid the liner at the bottom from the pool from remaining wrinkled on assembly, add a couple of inches of water into the pool and then smooth out the wrinkles at the bottom from the center out in a clockwise motion.
As an example, when it comes to round-shaped pools, the Pro Max has 12 different size options, from 10ft x 30" to 18ft x 48". The Steel Pro has just five size options when it comes to the round model, with the largest 14ft x 33" deep.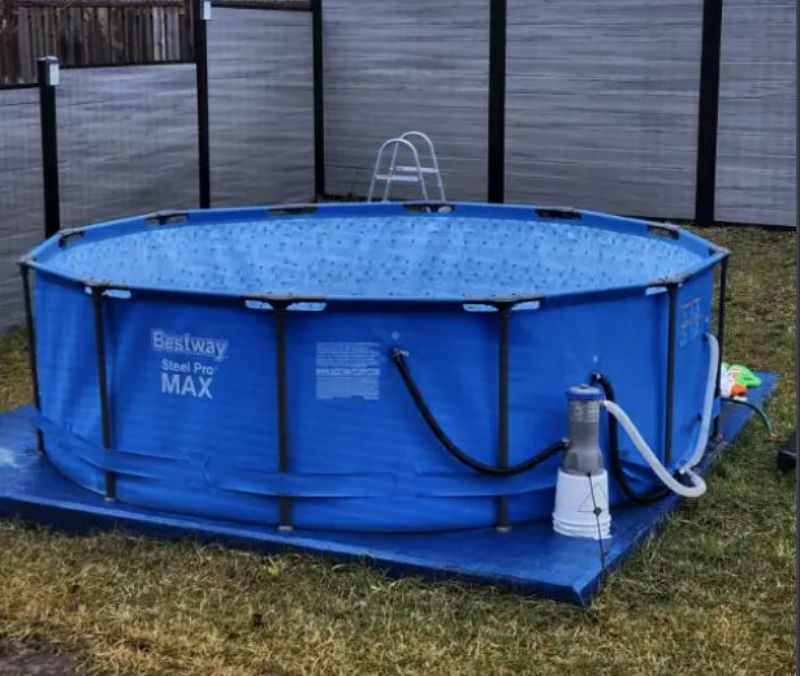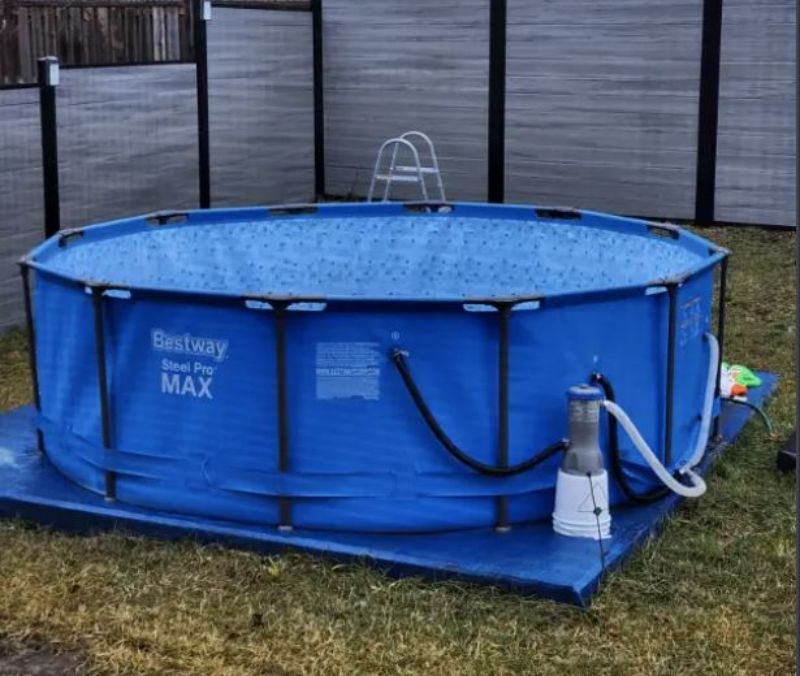 Because the Max is larger and deeper, it usually comes with cleaning and maintenance accessories like a pump & filter, pool cover, and a pool ladder.
Make sure to double-check when ordering as the Steel Pro Max comes in sets (with some or all the accessories listed above) and sometimes without any accessories at all.
| | |
| --- | --- |
| ✅ PROS | ❌ CONS |
| More stable compared to the Steel Pro pools | Reviews consistently note the pump isn't strong enough |
| Deeper and larger than the Steel Pro; up to 18ft x 48" in size | |
| Usually comes with cleaning and maintenance accessories | |
| Different print options (camo, floral, etc) | |
---
Bestway Power Steel Above Ground Pools
⭐ Best heavy-duty Bestway above ground pool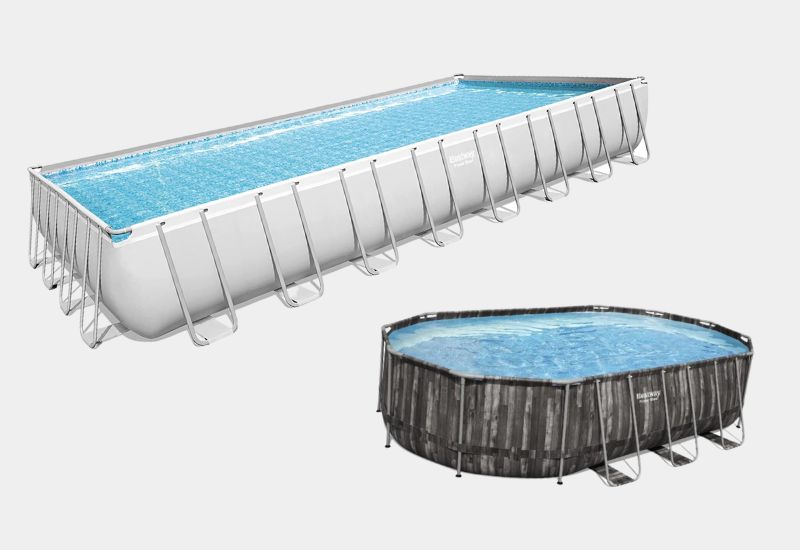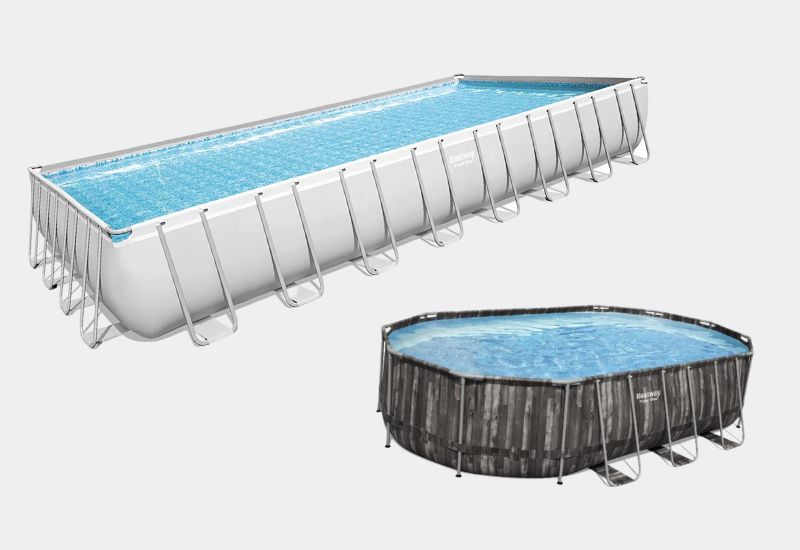 The Bestway Power Steel Above-Ground Pool is their top-of-the line pool. IT comes in a variety of sizes, from round to oval to rectangular, and is built with the same heavy-duty steel frame that can be bolted together.
The Power Steel Pools give the greatest amount of flexibility when it comes to pool size.
There is a 9.3ft long pool that is perfect for small backyards and tight corners (it can be tucked flush into a corner, for example) as well as the biggest Bestway above-ground pool has to offer, a mammoth 31ft pool that is about nearly half the size of a regular 25yard swim pool.
The Power Steel pools are more durable and sturdier than the other steel frame pools as they have more legs and supports surrounding the pool, making them an ideal choice for high volume use.
Note: This pool is a direct competitor to the Intex Ultra XTR Above-Ground pool and compares almost identically.
Like the other Bestway pools, the frame is built with rust-resistant steel, can be assembled without tools (one exception is if you opt for the Hayward skimmer, which will need to be bolted into the side of the pool), and a 3-layer liner that is resistant to punctures.
Another nice upgrade on the Power Steel pools is a chemical dispenser that can be hooked up straight into a valve on the side of the pool.
No more floating pool dispensers bobbing around the pool and getting stuck under the ladder or not distributing pool chemicals evenly.
As you can imagine, if you end up going for one of the larger pools, the maintenance and cleaning tasks increase proportionally. Which means investing in a pool vacuum, pool brush, chlorine tablets, and so on.
Additionally, one recurring complaint about this pool is that the pump that comes with it isn't strong enough to generate adequate water circulation.
| | |
| --- | --- |
| ✅ PROS | ❌ CONS |
| Top-of-the-line build quality at affordable pricing | Requires more maintenance and cleaning |
| Awesome for smaller backyards and putting the pool in a corner or flush against a deck | Larger models will require an upgraded pump |
| Rust-resistant steel frame | |
| Snap-together design; no tools required | |
| Largest Bestway pool on the market | |
| Optional prints (tropical, stone, etc) | |
---
Bestway Above-Ground Pools — FAQs
Do Bestway pools come assembled?
Bestway pools do not come assembled. They can, however, be assembled very quickly and nearly every model can be put together without tools.
The inflatable Bestway pools require absolutely no tools, and the steel frame pools are bolted together using steel T-joints and legs that snap together.
The larger Bestway Steel Max pools that have a Hayward skimmer will require a screwdriver for installation.
Is Bestway the same as Intex?
Bestway and Intex are not owned by the same company, but they are very identical in the pools and equipment that they offer. Both have a line of above-ground pools that include inflatable and steel-frame pools from kiddie pool size to 30ft+ pools.
If you want to see how Intex's line of above-ground pools perform, we've covered their swim pools extensively on this site.
What is the largest Bestway pool?
The largest Bestway pool is the 31ft rectangular Bestway Power Steel pool. It's the longest Bestway pool available and is also the deepest, with a depth of 52".
The Bottom Line
There is a lot to love about summertime, including the myriad ways we try to cool off, whether it's jumping in the river, the lake, or your own backyard swimming pool.
Although backyard swimming pools scream EXPENSIVE, that's not the case with the line of Bestway above-ground pools, which have a little something to offer every budget.
Whether you want a no-frills inflatable pool or the King Daddy 31ft Power Steel rectangular above-ground pool, Bestway can help you make the most of summer while staying cool.
Pick the Bestway pool that matches your needs and budget, and get your cannonball on!
---
More Pool Guides and Resources
The Best Solar Cover Reels for Backyard Swim Pools. Solar covers are essential for regulating water temperature and saving on water costs. Here's a look at the top solar cover reels on the market.
How Hard is it to Maintain an Above-Ground Pool? Wondering how much work and elbow grease that new pool is going to require? Here's what you need to know about keeping your above-ground pool in tip-top shape.
5 Best Heaters for Above Ground Swimming Pools. Want to get more time and use from your backyard pool? Here are our hand-picked selections of the best heaters for above-ground swimming pools.