Here's a full rundown on the swimming equipment you will need to dominate the pool, as well as our top picks for types of swimming accessories that work best.
The swim pool can be a daunting place for the beginner swimmer. Beyond the whole technical and speed aspects of swimming, which will cause you confusion and accomplishment no matter how good you get, there are also the swimming gear considerations.
What kind of goggles should you wear? What kind of cap should you put on your head? And what about fins, paddles, and the other myriad of pieces of equipment that you see at the end of the pool deck?
Here's the essential swim equipment you need in order to crush some laps in style and with speed: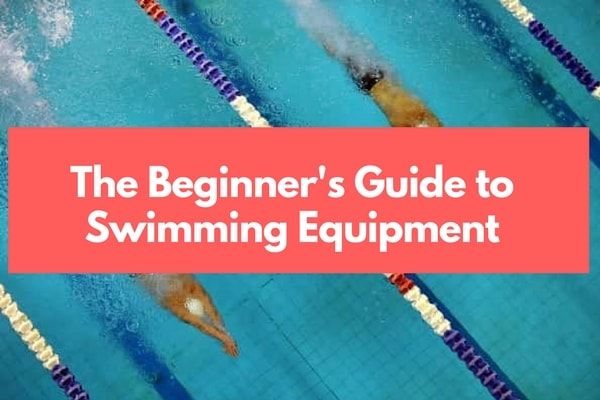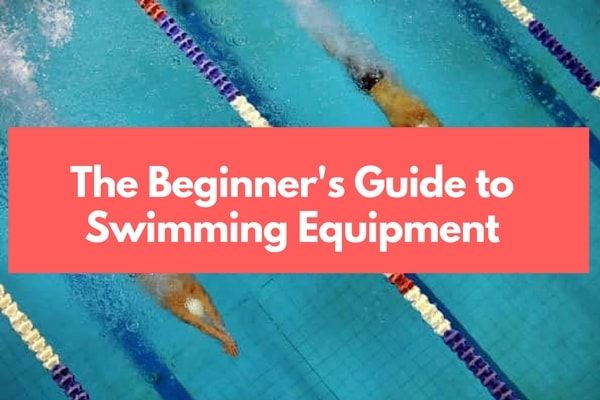 Swimming Equipment: The Bare Essentials
Swimming looks like a cheap sport, and when performed with the bare minimum of equipment, it totally is. All you absolutely need are three things: Goggles, cap, and a suit.
Swimming Goggles.
The old-school purists will argue that they don't need no stinkin' goggles, and while they aren't mandatory, I can't recommend them enough.
There are two critical reasons why you should always wear goggles in the pool.
First, you need to have a good field of vision so that you can safely navigate around other swimmers and properly judge the distance between you and the wall. The human eye doesn't see well underwater. Safety first and all that.
Second, it will protect your eyes from getting red and irritated. While the blotchy redness passes relatively quickly after you get out of the pool, the reason it happens in the first place is nasty. When chlorine and human waste (sweat, and uh, other stuff) interact, they create chloramines. This is what typically causes our eyes to get all fired up and irritated.
Best Googles for Beginner Swimmers:
The Speedo Vanquishers 2.0. Comfortable and stylish, the Vanquishers are a fan-favorite for its versatility, comfort, and aesthetic appeal. They are also crazy durable.


More Goggle Guides and Resources:
Swimming cap.
Now, I can hear what some of you are thinking: why would I need to wear that? And especially once I notice that it doesn't exactly keep my hair dry?
Swim caps are worn for a few different reasons; keeping your hair out of your face while swimming is one. The other is to somewhat protect it from the corrosive effects of the chemicals (which you should also pair with a swimmer's shampoo as well) that swim pools are laced with. (True story: Half my body hair wilted off my body over the course of swimming at a local swim pool. Membership canceled.) There are also the hydrodynamic benefits (slight, but helpful further down the road).
And finally, there is the whole keeping your hair on your head thing. While swim pools are cesspools for anti-social behavior (peeing in the pool, for instance), giant hairballs floating around like meteors in space are avoidable if more people wore swim caps while in the water.
Of course, there are situations where you'd much rather not where a cap. Some pools are regulated really warmly, so wearing a cap makes your head feel like it's being nuked.
In terms of picking out the ideal swim cap for you and your particular brand of swimming, here's a quick rundown of what you need to know.
Generally speaking there are two kinds of swim caps you see at your local pool: silicone and latex caps. Silicone is more durable, usually more comfortable, slightly more expensive, and will leave your head running a little warmer. Latex caps are cheap, not as durable, but more breathable compared to their silicone cousins.
Best Swim Cap for Beginner Swimmers:
Arena Classic Silicone Cap. This has been my preferred training cap for the past few years. It lasts, it's breathable (especially for a silicone cap), and is soft enough that it doesn't rip on your hair when going on or coming off.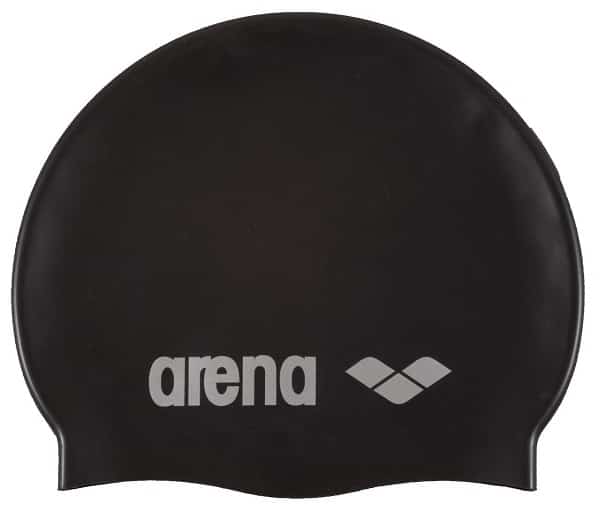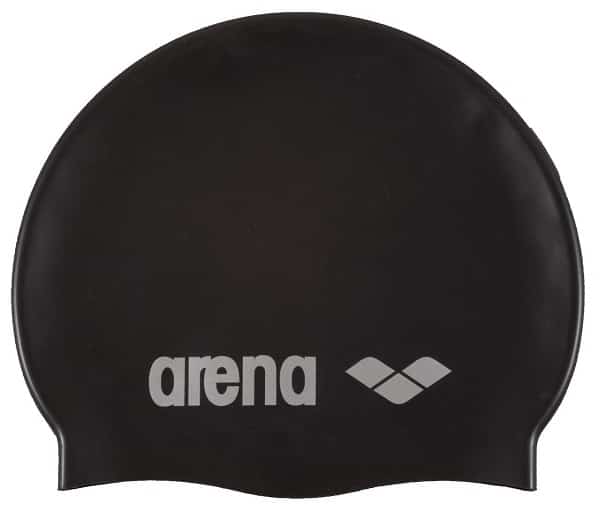 More Swim Cap Guides and Resources:
Training suit.
Here's where the guys are going to get a little weird. Speedos, or swim briefs makes many of our North American fellas a little weird.
Swimming with board shorts is ridiculous: sure, you might feel more comfortable while walking around the pool deck, but in the water it will be like swimming with a weight belt around your hips. There are square-shaped training suits for men that are a little less "Speedoish" than swim briefs.
At the end of the day, it's about comfort.
If you don't mind wearing shorts that leave your hips sinking to the bottom of the pool go for it—but once you see how much speed there is to be had in wearing something a little more hydrodynamic it will be hard to go back.
When picking out a training suit choose one that is made of nylon (they are the most durable of swim suits), and make sure they are comfortable and give you a free range of motion in your hips and shoulders.
We've put together a few different guides on the best training suits for the pool:
**Ear Plugs.
For swimmers who need to wear earplugs, this can also fall under the mandatory category. As a lifelong wearer of earplugs, I know the deal. Wearing them (for some people, at least) is necessary to avoid getting water in the ear canals, which can lead to infection.
Earaches are my nightmare.
They are the worst.
There are two things you can do to protect yourself against them.
First, plug your ears.
The best ear plugs for swimmers, hands-down, are Mack's silicone pillow-soft earplugs. I've tried them all over the years, and the Mack's Pillow Soft silicone earplugs are easily the best.
Second, you can use ear drops for swimmer's ear if you've gotten water in there and want to "dry" it out and avoid infection.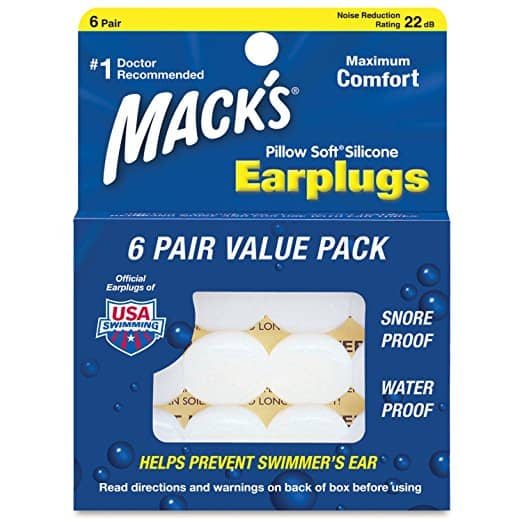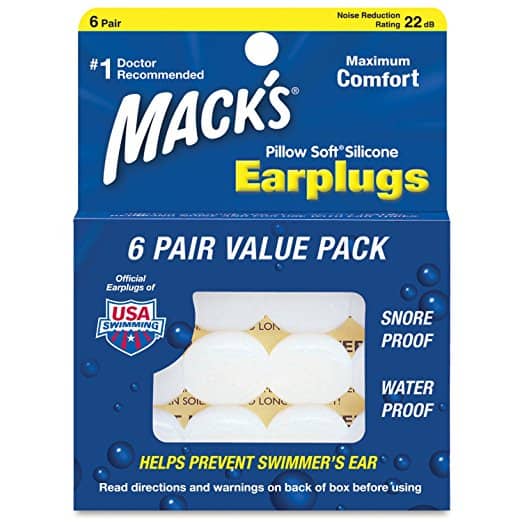 The Novice + Pro Swim Equipment
Now that we have our bases covered, we can get into the fun stuff; things like a pull buoy, kickboard, fins, paddles and fins. Tools that are designed to help us build more power and speed in the water. Fortunately, we have created guides for most of these tools which you can browse below.
Swim Fins. Wearing fins is a lot of fun. You get to speed things up, usually to a pretty gong-showish level. You strengthen your legs via the added surface area on the fins, and for a few moments you get to experience what it's like to swim above and beyond our usual swimming speed. I compiled a breakdown of what you need to know before picking up a pair of swim fins here.
The Best 6 Swim Fins. Ready to drop some of your chlorinated cashola on new fins? Here's our listing of the best swim fins out there for swimmers.
Swim parka. One of the unique things about swimming is the swim parka! Designed with a thick fleece interior and water-resistant outer shell, the swim parka is perfect for staying warm in the early mornings and between races in competition.
Nose clip. While most swimmers will snicker at the idea of wearing a nose clip while training or even racing, the benefits of using one are free-range legit: you will be more buoyant during your breakout, will be able to hold your breath (duh), and even kick out further on your walls. No, the nose clip isn't just for the synchro team anymore.
Swim Snorkel. One of the more popular pieces of swim equipment on pool decks nowadays is the front-mounted swim snorkel. Everyone is rocking these bad boys: from elite-level athletes to the once-a-week rec swimmer, the brightly-colored tubes are a common site in the pool. With good reason—they can help balance out your stroke, help you avoid excess neck and trap tightness from breathing to one side, and more.
Paddles. Think of them as fins for your hands and shoulders. While the natural instinct is to go for the biggest ones you can literally get your hands on, there is a balance to be had: you want added surface area but not so much that your stroke rate plummets and your shoulders get crushed.
Kick-board. Teaching tool and performance aid, the kickboard can help you improve your leg fitness, develop better balance in the water, and mix up your training. It's also one of the most common pieces of equipment seen on local pool decks.
Pull buoy. Let's be honest, most of us welcome using a pull buoy. But not generally for the right reasons. It removes our core from the equation, and doesn't reinforce proper stroke mechanics if we rely on it too much. That being said, like all swim equipment, there is a time and a place for it.
The Best 7 Pull Buoys for Swimmers. Confused about what kind of pull buoy you need for the pool? Here's what you need to know about picking the best pull buoy for crushing it in the pool.
Tech suits. Racing suits have come a long way over the past twenty years. It used to be that you would buy a nylon Speedo, and off ya go. Now, there are literally space scientists working in labs trying to combo together the perfect mixture of compression of water repellant materials to create suits that power ever-faster swimming.
As you can imagine, all that "tech" ain't cheap: most racing suits run upwards of $300 (with some approaching $600 for the ladies). Racing suits, with their compression and water-repelling fabric can help you swim faster on the big stage, but as mentioned, it comes at a cost.
There are a lot of different tech suits on the market, and depending on your event, size, and stroke specialty you will want to pick one that suits your goals in the water. I've put together a comprehensive guide to the best technical suits for swimmers that you can check out here.
---
More Stuff Like This:
7 Pieces of Swimming Gear Every Serious Swimmer Should Have. Here is the swimming gear every serious swimmer should be rocking in their swim bag.
7 Gift Ideas for Competitive Swimmers. Whether you are shopping for yourself or a chlorinated loved one, here are our top picks for gifts for swimmers.
The Best Waterproof Fitbits for Swimmers. Fitbit—one of the most popular wearables on the planet—have two waterproof fitness trackers for swimmers. Here are reviews of both of Fitbits waterproof trackers for swimming.
The Best Waterproof Heart Rate Monitors for Swimming. Heart rate monitors are not all made equal. Some downright suck, in fact. Here is a breakdown of the best waterproof heart rate monitors to take with you to the pool.
8 Best Pool and Water Shoes. Protect your feet in and out of the water with our collection of the best waterproof shoes for conquering the elements.
The Best Stretch Cordz and Resistance Tubes for Swimmers. Level up your power and fitness in the water on dry land with our collection of the best stretch cords for swimmers.
3 Swimming Workouts for Beginners. Looking for some beginner swim workouts that you can easily adjust according to your current fitness and skill level? Here are three of my favorites.