Protect your pool, maintain heat, and save water with our hand-picked guide to the best above-ground pool covers.
While many of the most popular above-ground swimming pools come with their own pool cover, not all do.
Pool owners have a variety of tools at their disposal for keeping the water sparkling and clean. There is no shortage of pool accessories and ways to maintain and clean your pool.
Above-ground pool pump and filter, an above-ground pool vacuum, a basic pool skimmer, and a properly fitting pool cover are your weapons in maintaining and cleaning your above-ground pool.
And while the function of the pool cover is similar—keep debris out of the water—the form, style, size, and price point of pool covers varies greatly.
Solar above-ground pool covers are designed to maintain a comfortable pool temperature. These are made of lighter materials and should be used overnight and when the pool is not in use. Because these pool covers generally float across the surface of the pool, and are designed primarily with the purpose of regulating pool temperature, they don't always provide maximum protection against debris.
Winter above-ground pool covers, made of heavy-duty and weather-resistant materials, protect your above-ground pool from getting filled with debris during cold winter months. If you are taking an extended break from using your pool, a sturdier cover is recommended to reduce algae growth and the replacement of expensive pool chemicals. (Combine with a pool cover pump for max protection.)
Below is a hand-picked selection of our favorite all-time above-ground pool covers.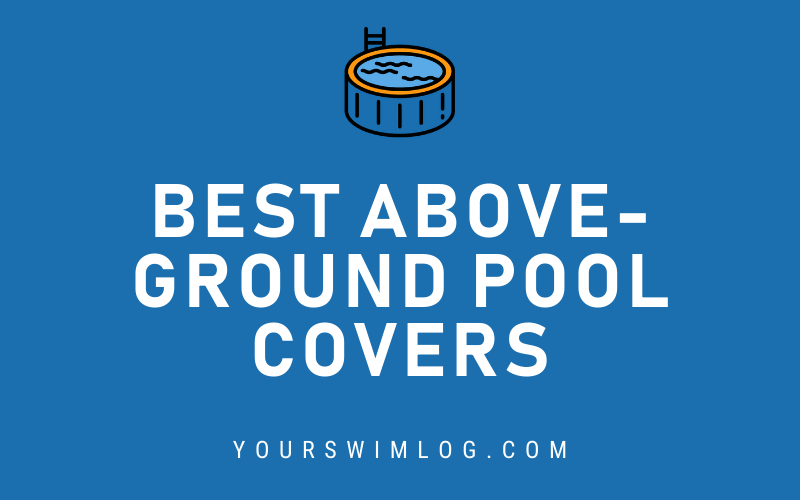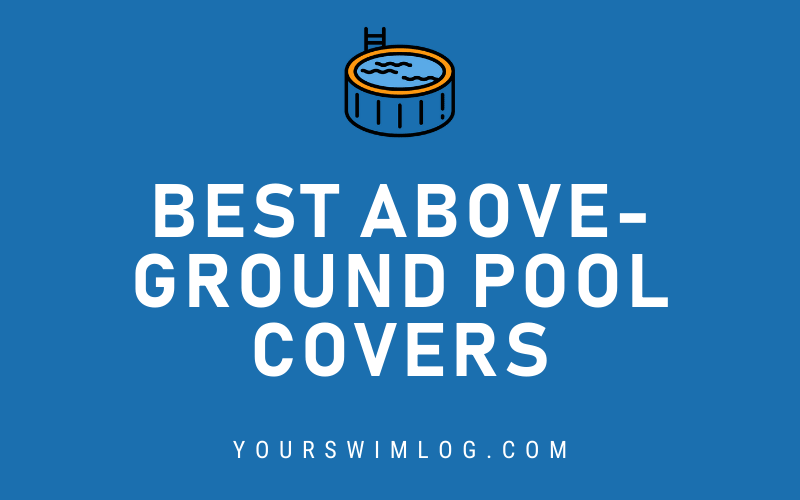 Intex Easy Set Round Pool Cover
Intex is one of the leading makers of backyard swimming pools and swimming pool equipment.
The Intext Easy Set Round Pool Cover is designed specifically for their line of above-ground swimming pools. The pool cover is light, fits snugly over the lip of the pool, and is quickly and easily tightened with a series of 7-gauge rope ties.
Other features include:
Different sizing options. Available for round Intext pools in 8, 12, and 15 feet in diameter.
Draining holes to help drain condensation and water accumulation.
Bestways Solar Above-Ground Pool Cover
Bestways is another leading manufacturer of backyard pools for sun and sun. One of the perks of backyard pools is being able to cool off on a hot summer day.
But something you will quickly see with outdoor pools is that they will cool very quickly when left uncovered overnight or when it goes for long stretches of time not being used. That's why it is so important to have a solar swim pool cover to keep heat in the pool and save valuable energy costs.
The BestWays Solar Above-Ground Pool Cover, when used to cover the pool overnight and when not in use, will help save some of the heat that the sun's rays beat down on your pool over the course of the day.
Designed to float across the surface of the water (as opposed to being fastened to the exterior of the lip of the pool), this pool cover is ideal for maintaining comfortable water temperature in your Bestways pool.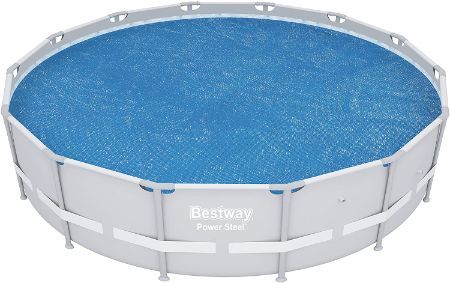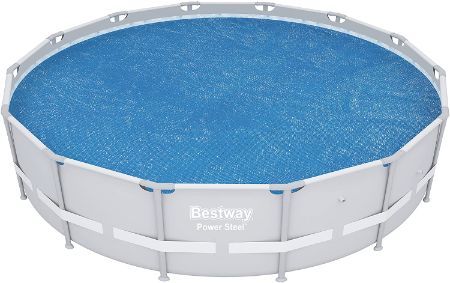 Intex Solar Cover for Easy Set and Metal Frame Above-Ground Pools
Best solar above-ground pool cover
Another solar pool cover–and our favorite solar cover–is the one designed by Intex. The pool cover reduces heat loss, water evaporation, and then the loss of expensive pool chemicals, which helps reduce cost and maintains cleanliness of your above-ground swimming pool.
The cover can be folded up and stored away easily in a plastic carrying bag. Although it fits Intex round pools best, it can be used on any round pool provided the dimensions line up.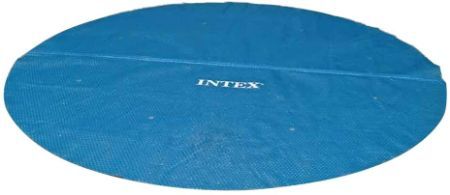 In the Swim Winter Cover for Above Ground Pools
Looking for something a little more durable that will last the cold winter months?
This pool cover is made of highly durable, triple laminated polyethylene sheeting with high-density sheeting.
Purposely designed to be larger than the size of your pool to maximize coverage, the In the Swim Winter Cover includes a turnbuckle and cable along the skirt of the cover so that you can wrap the top of your pool securely.
Available in a variety of colors and sizes, and coming in at a budget-friendly price, the In the Water Winter Pool Cover comes with an 8-year limited warranty will keep your above-ground pool protected over the colder months of the year.



Pool Mate Heavy-Duty Oval Above-Ground Pool Cover
Best oval-shaped winter pool cover
Another one of our favorite winter above-ground pool covers is the Pool Mate Heavy Duty.
Designed specifically for oval-shaped pools, and made of heavy-duty polyethylene, this cover will keep your pool protected from algae growth, winter-sized debris, and has seams which are heat-sealed to reduce leaking and tears. A cable and winch is included, with holes in the cover placed every four inches to make the cover fit tightly around the lip on the pool.
The Pool Mate cover features a ten-year warranty, has a significant overlap (4-feet) to make it easy to wrap your pool, and comes in a dozen sizes. Whether you have a 10×15 foot or 21×41 foot pool, the Pool Mate will keep your above-ground pool protected in fall and winter.



Robelle Above-Ground Winter Pool Cover (Round Pools)
Most versatile winter above-ground pool cover
The Robelle line of winter pool covers is highly rated on Amazon and also come in as an Amazon Choice for best above ground pool winter cover.
Made with high-quality polyethylene that weighs just over a couple of ounces per square yard, the Robelle covers are easy to quickly wrap over the cover of your round above-ground swimming pool.
Much like the Pool Mate covers, Robelle backs their pool covers with a 10-year warranty. Included are a cable and winch to properly secure the cover, and an extra four feet of material extends around the lip of the pool to provide maximum protection.
The best part of the Robelle's covers is the options with colors and sizes. Covers come in over a dozen different color combinations, and sizes range from 12-feet to 33-feet pools in diameter.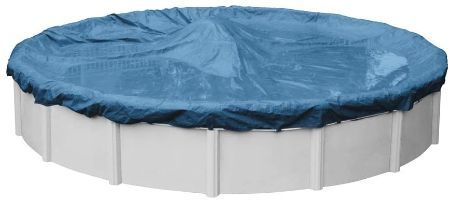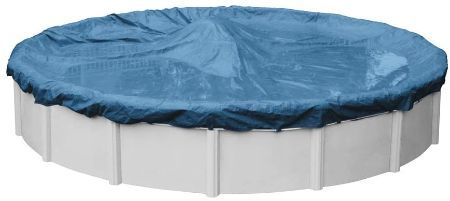 ---
More Stuff Like This
The Best Solar Cover Reels for Every Kind of Swim Pool. Handling your solar pool cover can be a real pain. Spend less time wrestling with your solar pool cover and more time enjoying the water with our top picks for the best solar cover reels for every kind of pool.
5 Best Above Ground Swim Pool Liners. Ready to fix and replace the pool liner in your above-ground swimming pool? Here is a collection of cost-effective and durable pool liners for maximizing the life of your pool.
3 Best Under Pools Mats (and Why You Should Use One). Protect your pool, extend the life of the liner of your swimming pool, and keep the splashing going all summer long with the right under pool mat.