Ready for summer? Here's a detailed look at the best Intex Above Ground Pools, how they compare, and what you need to know before buying.
Intex makes some of the best above-ground pools for staying cool and beating the heat during long, hot summer days.
They have a huge range of pools, from super inexpensive kiddie pools made for dipping your ankles to huge, 14,000+ gallon metal frame swim pools.
So, which Intex Above Ground Pool is best for you?
In this guide, we will highlight each type of Intex above-ground pool, discuss the pros and cons of each, and list our favorite within each category.
We will also list some "good to know" facts to help make buying the right pool easier for you.
By the end, you will have a crystal-clear idea of which Intex above-ground pool is right for you and your family.
Let's jump right in!
Intex Above Ground Pools – Comparison by Type
Intex Kiddie Pools
Let's start off nice and small—the kiddie pool!
Intex's kiddie pools come in a wide range of sizes and shapes (okay, maybe not that wide, but there are lots of options), with a mini frame pool that is 48" x 48" to mini inflatable kiddie pools that can be pumped up in minutes.
Most of Intex's kiddie pools include a repair patch for the inevitable leak and are suitable for kids 2 years and up.
One of the best parts about kiddie and inflatable pools is that both adults and kids can get the cooling effects of a larger pool without the huge footprint and lengthy assembly, fill, and eventual take-down.
Kiddie pools are also highly portable, which means you can take them on the road with you during summer road trips or when going down the road to a friend's house.
| | |
| --- | --- |
| ✅ PROS | ❌ CONS |
| Tons of playful colors and designs to choose from | Not as durable; inflatables are notorious for leaking |
| Portable; easy to move | |
| Lightning-quick set-up | |
| Very inexpensive | |
---
Intex Easy Set Pools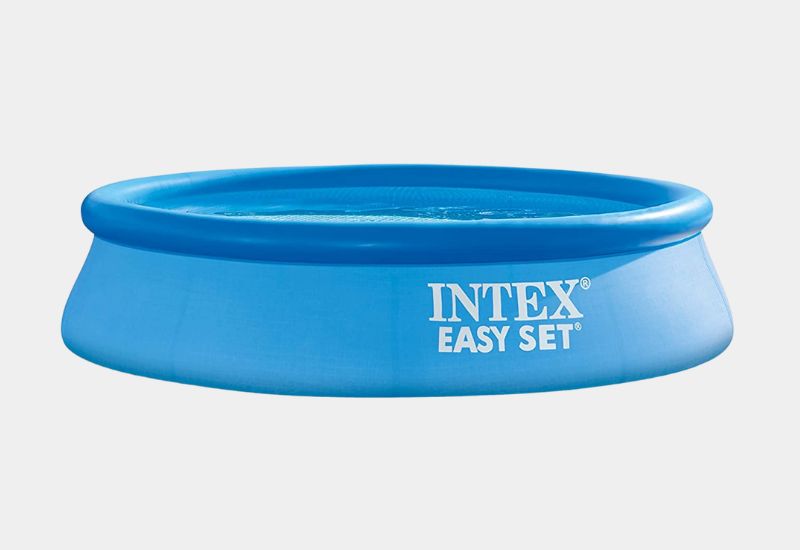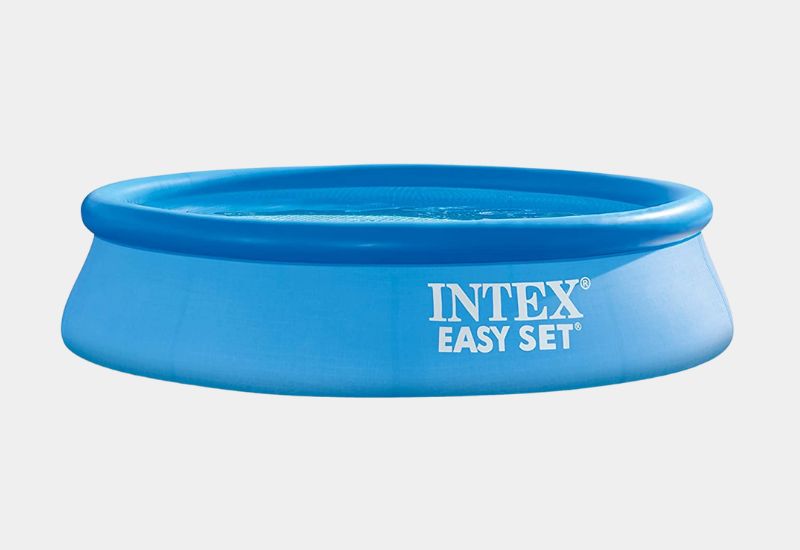 East Set Pools are hilariously fast to set-up (hence the name) thanks to their inflatable ring design that can be erected in less than 10 minutes.
The Intex Easy Set Pools are made with extra tough three-ply liners that are designed to be resistant to scratches and punctures
They area also exceptionally inexpensive, with the Easy Set range of pools starting at just $79 for an 8ft pool.
For families and people looking for a quick, inexpensive backyard pool for chilling out on sweltering summer days, the Intex Easy Set provide an affordable and simple solution for cooling down.
That said, the Easy Set pools don't come with a ground cloth for protecting the underside of the pool from errant rocks and twigs that can scratch and tear at the pool. (A reminder to properly clear and level the area before setting it up.)
Additionally, even the models that have a pool pump included don't include a pool cover, which means you will be firing up the elbow grease with a skimmer and extra chlorine tablets to keep the water clean.
| | |
| --- | --- |
| ✅ PROS | ❌ CONS |
| Least expensive above ground pools | Only circular in shape |
| Get up and running, err, swimming in about 10-15 minutes | Not as sturdy as metal frame pools |
| Up to 15ft large | Cover and ground cloth not included |
| Easy to take down at the end of the summer season | |
---
Intex Metal Frame Pools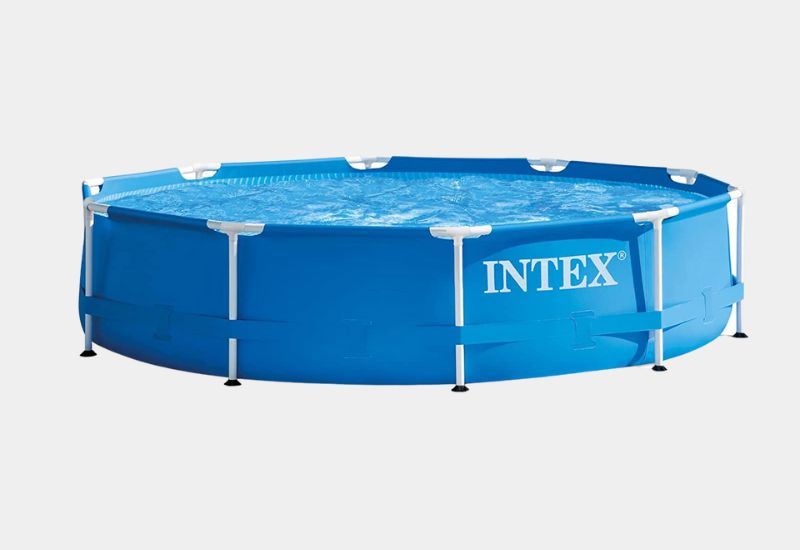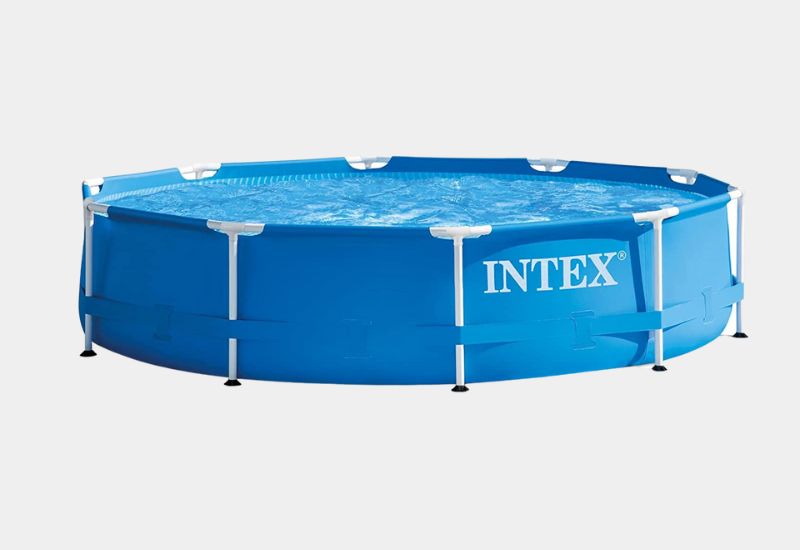 Intex Metal Frame Above Ground Pools are the least expensive of the framed Intex above ground pools, starting at just $99 (!!).
For the pool enthusiast that's wants a "classic" backyard above ground pool, the Intex Metal Frame is gonna be right up your alley.
The Intex Metal Frame Above Ground pools come in 8 different sizes, with each of them shaped octagonally. The smallest pool is 8ft x 20" and the largest a solid 18ft x 48" (with pump included). Some models include a pump and filter, while others don't so double-check before clicking "add to cart."
The triple-layer of PVC coast is puncture resistant, with a layer of mesh on the inside to sturdy up the liner. The pools include a pool ladder for easier access into the pool, a cloth to put under the pool, and a cover to keep pesky debris like twigs and leaves from landing in the water.
Assembly of the Intex Metal Frame Pools is a breeze, with horizontal beams and the pool legs snapped together without tools (although you will probably need a couple extra hands to put the frame together).
If you are looking for a no-frills above ground pool for summer fun that is easy on the wallet, the Intex Metal Frame Pool is an easy winner.
| | |
| --- | --- |
| ✅ PROS | ❌ CONS |
| Best budget option for metal frame above ground pools | Limited shape options |
| Easy assembly; no tools required | |
| Has the "classic" backyard pool look | |
| 9 different size choices | |
---
Intex Prism Frame Pools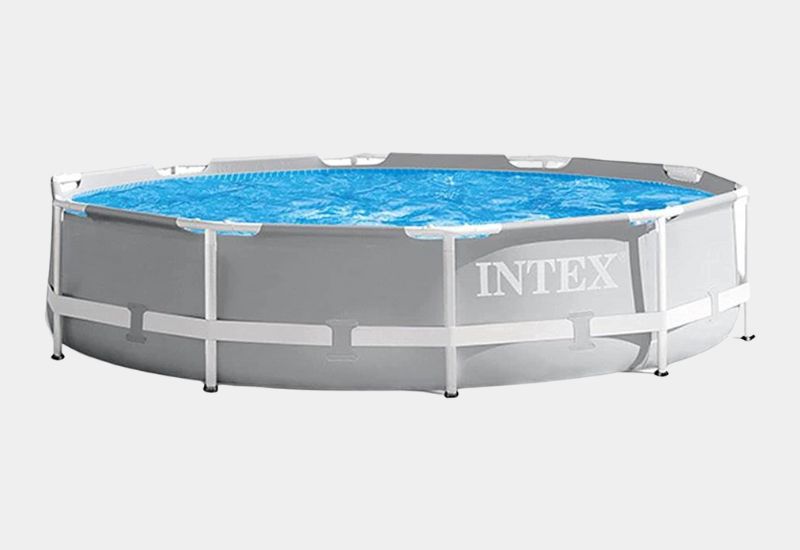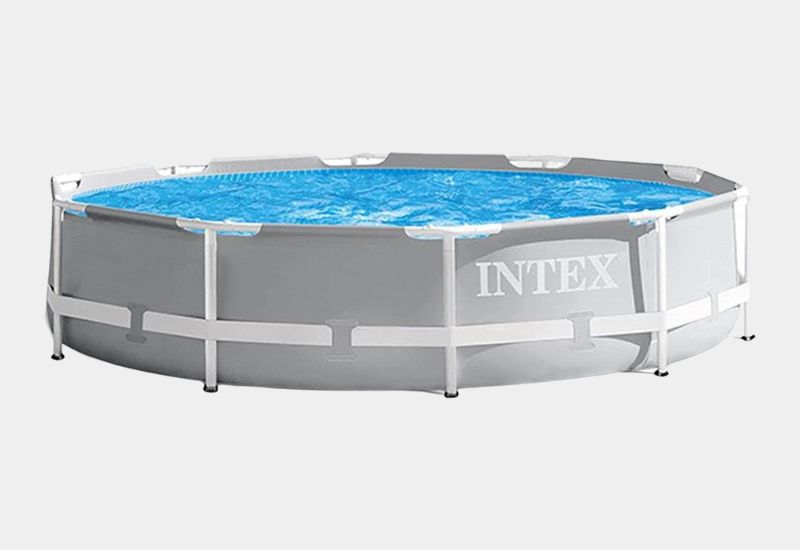 The Intex Prism Frame Pools are an exceptionally budget-friendly option for a backyard above ground pool, starting at just $159 for a no-frills, 10ft x 30" pool (without a pump). All 16 models in the Prism line cost less than $1,000.
The liner is a tear-resistant three-ply and is housed on a powder coated steel tubing frame (it looks like PVC plastic, but it is steel), and the exterior shell has upgraded liner color to match up with your backyard aesthetics.
The Intex Prism features a bolt-together assembly process that doesn't require any tools and is staggeringly simple. Simply snap in some T-joints with heavy-duty plastic leg caps, install the pool filter, and you are in business.
The Prism comes in a HUGE variety of sizes, ranging from a 20ft oval/rectangle or circular pool all the way down to a 10ft circular pool.
In other words, no matter how many cannonballs and kids you have, there is an Intex Prism pool for you.
| | |
| --- | --- |
| ✅ PROS | ❌ CONS |
| Budget-friendly pricing | Some models don't have a pump included |
| Lots of shapes and sizes to choose from | |
| Corrosion-proof steel frame | |
| Super easy to assemble | |
---
Intex Ultra XTR Above Ground Pools
Key features: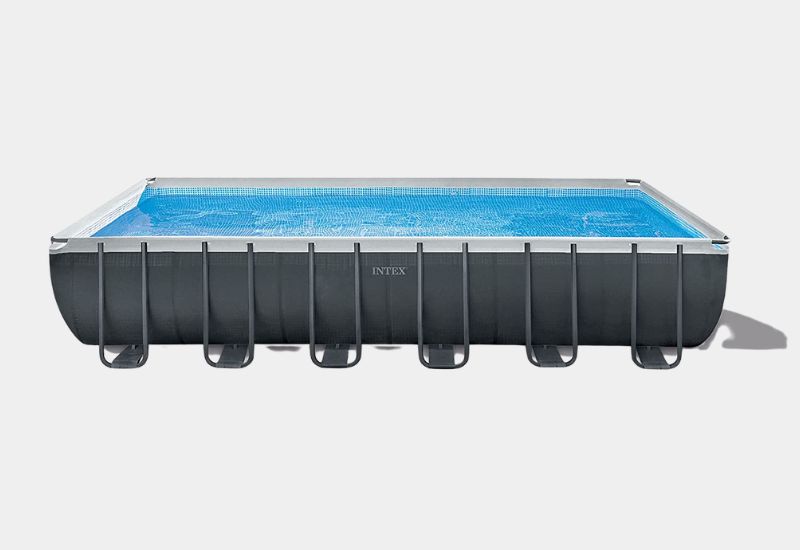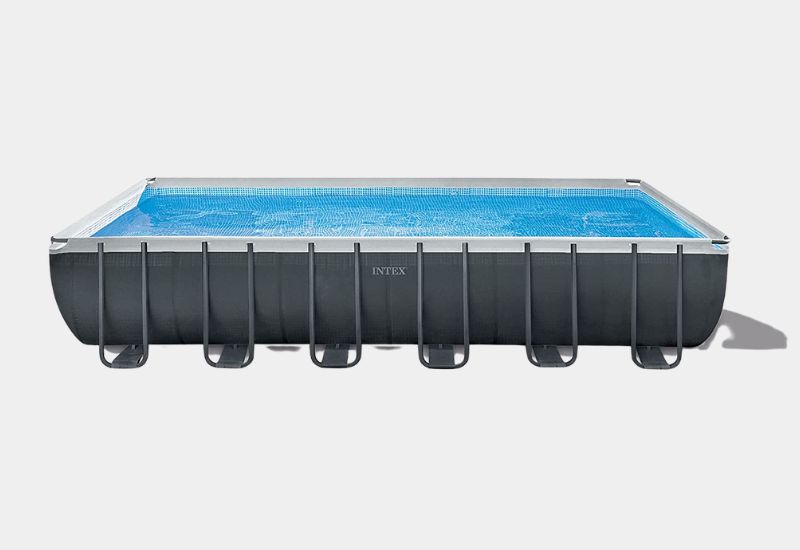 The Intex Ultra XTR Above-Ground Pool is an absolute beast and is as close as you can get to having a legit in-ground pool with the convenience and inexpensive install of an above-ground pool.
The Ultra XTR comes in either a round or rectangular shape, each pool comes with an Intex Krystal Klear pump and filter, a pool cover for protecting the water from debris, and frankly, it just looks good.
(Probably no surprise that the Ultra XTR also ranked #1 on our list of the best rectangular above-ground swim pools.)
The frame is tough; made with durable steel and galvanized to reduce corrosion from water, chlorine and UV exposure. The frame is also hilariously easy to put together using a snap-in system that requires zero tools (but a little bit of elbow grease).
The Ultra XTR is perfect for the family that want a little more space in the pool, want an "all in one" kit for getting the pool up and running, and don't want to mess around with a lengthy and confusing installation process.
| | |
| --- | --- |
| ✅ PROS | ❌ CONS |
| Huge variety of sizes and shapes | Doesn't come with a basic cleaning kit (sold separately here) |
| Biggest metal frame above-ground pool on the market | |
| Includes pump/filter, ladder and cover | |
| No tools required for assembly | |
---
Intex Above Ground Pools – FAQs
What is the biggest Intex above ground swim pool?
The biggest above ground pool in Intex's portfolio of pools is the Ultra XTR with a staggering 32ft x 16ft footprint.
The full-size Intex Ultra XTR has a huge 14,364 gallon capacity when filled to around 90%.
What is the deepest Intex above ground swim pool?
The deepest Intex above ground pools on the market are in the Ultra XTR range of pools, with five of them having a depth of 52".
The Intex Prism has one 52" deep pool in its line-up and the deepest of the Metal Frame pools is just 48".
Do I need a pump and filter for my above ground Intex pool?
Yes! A properly functioning pump and filter keeps the water clean and hygienic for swimmers. Intex recommends a pump and filter for pools that are 8ft and larger.
Pool pumps and filters significantly reduce those big, 2-day pool clean-ups that happen when the pool is neglected for weeks or months at a time by circulating the water and removing organic matter that can cause cloudy pool water.
This article on the best Intex Pool Filters and Pumps can help give you an idea of which one you need for your pool.
The Bottom Line
At the end of the day, choosing the right Intex Above Ground Pool means matching it up with how you are going to use it, your budget, and the time you want to invest in keeping the pool clean and swim-safe.
Consider the size of Intex pool that will fit your backyard, the accessories you will need to keep it ready for swimming, and the shape of the pool you want.
---
More Pool Guides and Resources
The Best Solar Cover Reels for Backyard Swim Pools. Solar covers are essential for regulating water temperature and saving on water costs. Here's a look at the top solar cover reels on the market.
How Hard is it to Maintain an Above-Ground Pool? Wondering how much work and elbow grease that new pool is going to require? Here's what you need to know about keeping your above-ground pool in tip-top shape.
5 Best Heaters for Above Ground Swimming Pools. Want to get more time and use from your backyard pool? Here are our hand-picked selections of the best heaters for above-ground swimming pools.