A solar pool cover saves energy, keeps your pool clean, and regulates the temperature of the water. Here is a breakdown of our favorite solar swim pool covers.
Having a backyard pool, whether an inground or an above-ground swimming pool, is a great way to entertain family and friends, exercise, and cool off on a hot day.
A lot of work goes into maintaining the pool, whether it's using your favorite above ground pool vacuum to keep the pool clean, or hooking up a pool heater to warm it up for those chilly mornings and overcast afternoons.
A powerful way to keep your pool clean, maintain a comfortable pool temperature, and save energy, is to use a solar pool cover.
Although it may be tempting to pick up just any regular old swimming pool cover, solar covers are best used during the warm summer months when the pool is being used.
Unlike heavy-duty winter pool covers, which are designed for extended protection, a solar pool cover is made of light but durable material that can be quickly taken on and off the pool.
This little bit of work, especially when the pool is not in use, and overnight, keeps debris out of your pool, reduces heat loss, and you even save on pool chemicals because water isn't evaporating away.
A lot of wins for a relatively simple piece of material!
If you are on the hunt for a new solar pool cover, I've hand-picked a few of my favorites based on my 30+ years of being around swimming pools.
Here is the full rundown on the best solar pool covers for in-ground and above-ground pools.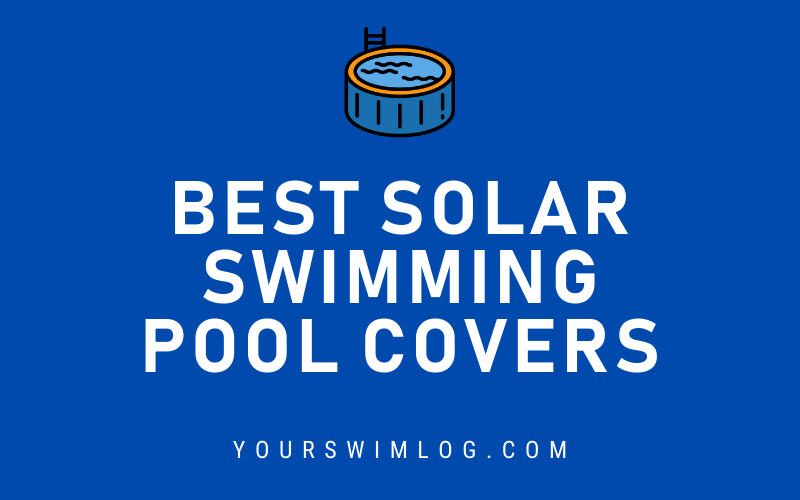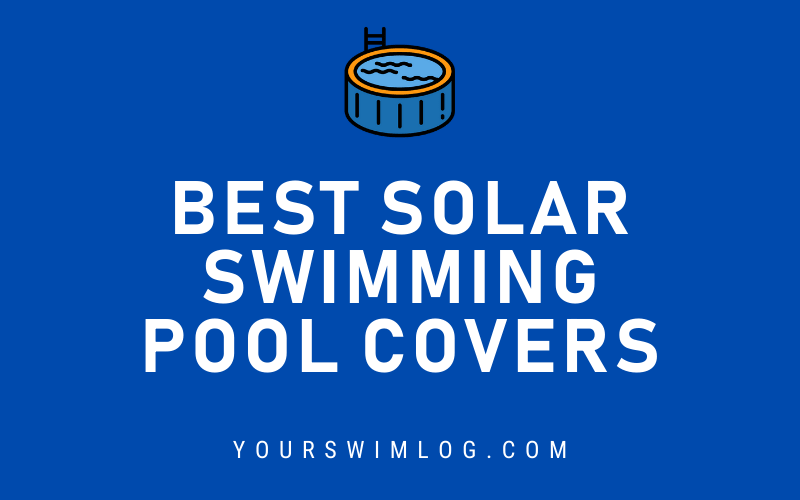 Sun2Solar Solar Swimming Pool Cover
If you are thinking that this pool cover looks like a sheet of bubble wrap, then you would be completely correct. The Sun2Solar covers are made of thousands of little bubbles that keep heat in the water.
When you aren't using the pool during daytime hours, the clear material also allows the sun's rays to shine through, warming the water and reducing your dependency on a heat pump to keep the pool water at a comfortable level.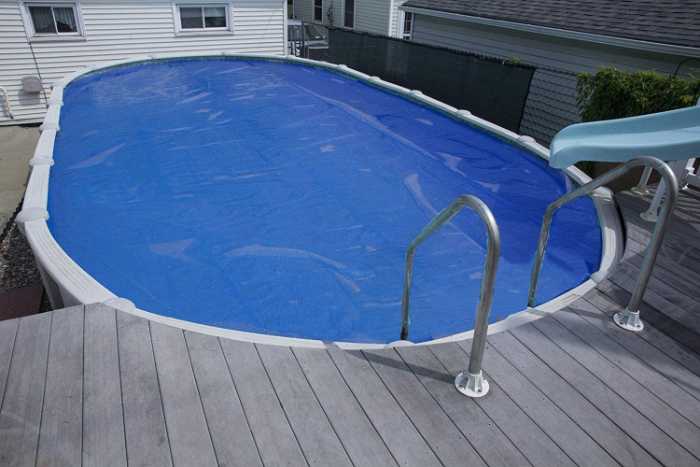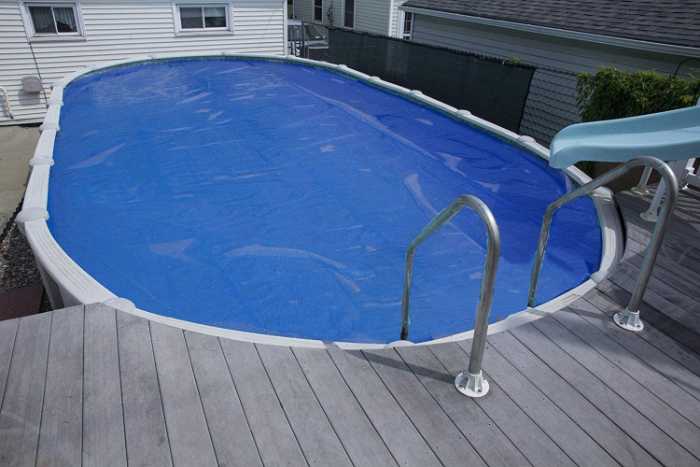 The bubble side is to be pointed at the bottom of the pool to maximize heat retention, and the Sun2Solar Oval Solar Pool Covers come in blue and clear, and in various sizes, from 10'x15' to 21' by 41.'
The cover can easily be trimmed to the unique shape of your pool with a pair of scissors (and no, this doesn't void the manufacturer's warranty).
With a simple and attractive look, thousands of heat-retaining bubbles, and a high level of water vapor retention, the Sun2Solar pool covers are a great way to save a ton of money on heating your pool this season.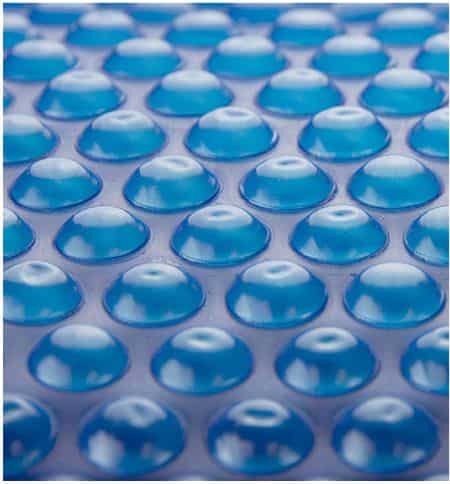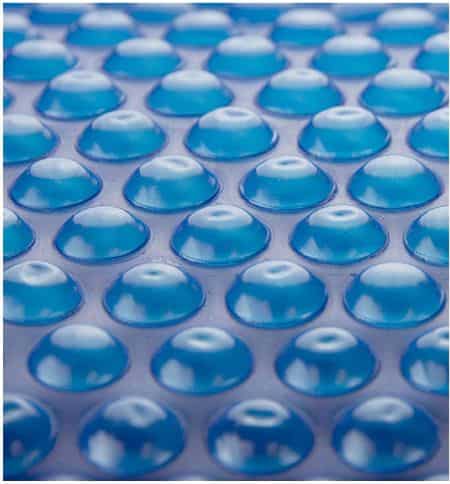 Blue Wave Rectangular Solar Cover for Swim Pools
Blue Wave is one of my favorite makers of pools and accessories, making high-quality pool ladders, under pool mats, and much more.
This solar blanket is super simple–just a clear sheet with thousands of bubbles to trap heat and warm your swim pool. It's built extra thick, at the higher range of thicknesses when it comes to these kinds of pool covers at 14mil.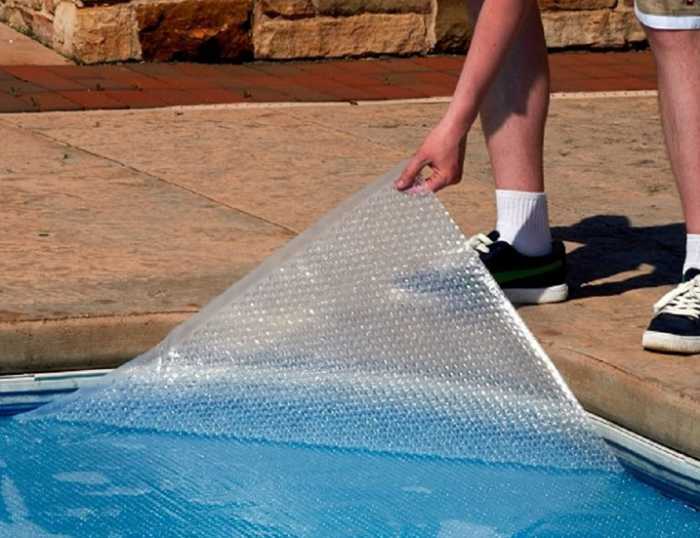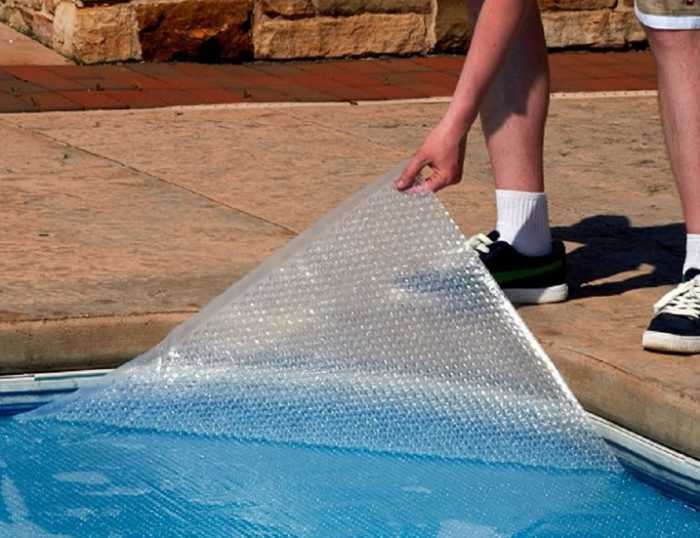 The solar blanket and pool cover is constructed specifically to stand up to harsh pool chemicals and the unrelenting pounding of the sun's rays.
The Blue Wave Rectangular Pool Covers, available in half a dozen sizes for both inground and rectangular above ground swimming pools, minimize the loss of heat by boxing in the heat with thousands of air bubbles.
Blue Wave's covers cut down water evaporation by over 90% and they back their pool covers with a six-year warranty.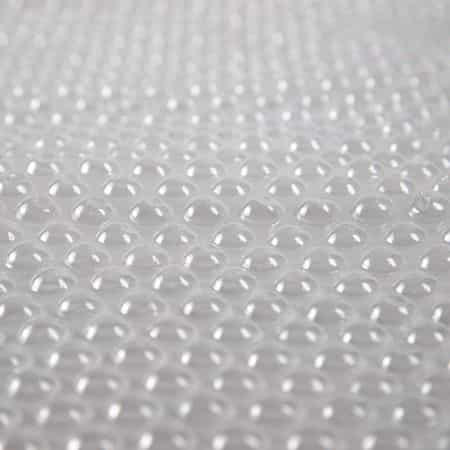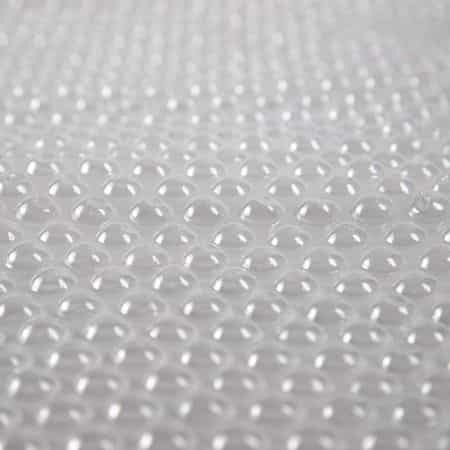 Intex Solar Pool Cover
Intex is one of the most popular manufacturers of backyard swimming pools, including the top above-ground pool on the market, the Intex Ultra XTR Frame Set. Although made for their line of round swim pools, the Intex Solar Cover can just as easily fit into other brands' pools.
The Intex Solar Cover has a good-looking blue finish on the top of the cover with a bottom lining of transparent bubbles that box in the heat from the sun, warming your pool between uses. Used properly, the cover can eliminate up to 95% of water evaporation, saving you a bundle on pool chemicals and water costs over the year.
The cover has small drainage holes in the fabric to allow water to seep through and not sink the cover in the pool. While not meant to securely fasten to the liner or ring of the pool (it's meant to float a little, so don't worry if it doesn't fit "perfectly"), it does a killer job of regulating water temperature and keeping light debris out of the pool.
A plastic carrying bag comes with this pool cover so that you can store it quickly and compactly while enjoying your pool.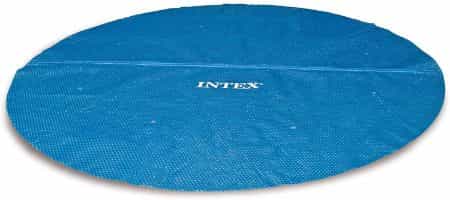 Thermo-Tex Round Swimming Pool Cover
Another no-frills solar pool cover comes from the folks at Thermo-Tex. It's got the same design as the others on our list, with the underbelly lined with heat-retaining bubbles.
The Thermo-Tex Solar Pool Cover does the job when it comes to keeping the heat in the pool, debris out, and comes with a five-year warranty.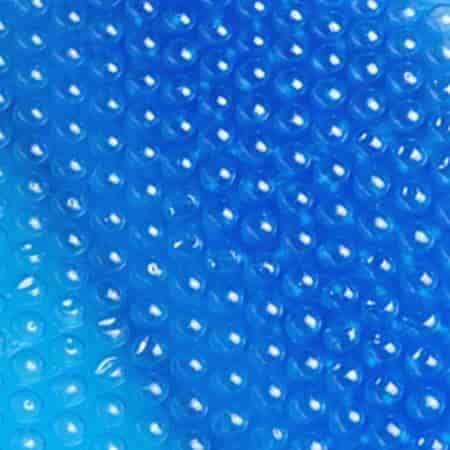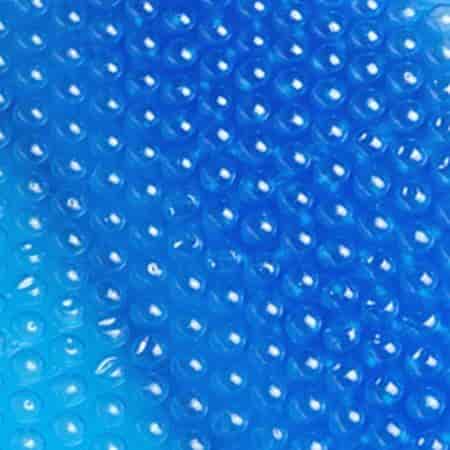 Pool Mate In-Ground Solar Pool Cover
Pool Mate's solar covers come in a pair of formats. They come in the standard round bubble underside as well as a diamond bubble (pictured below).
Pool Mates constructed their pool covers, designed specifically for in-ground pools, with a patented aluminum shield that locks heat in the pool. Because the material is also highly UV resistant, it will also last longer.
Combine that with a five-year warranty, size options from 16×32 to 20×40, and you've got yourself the ideal pool cover for your in-ground swim pool.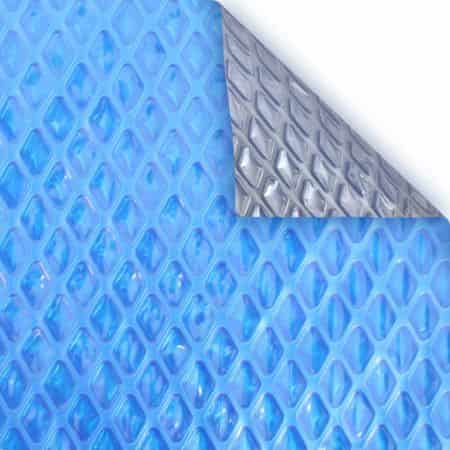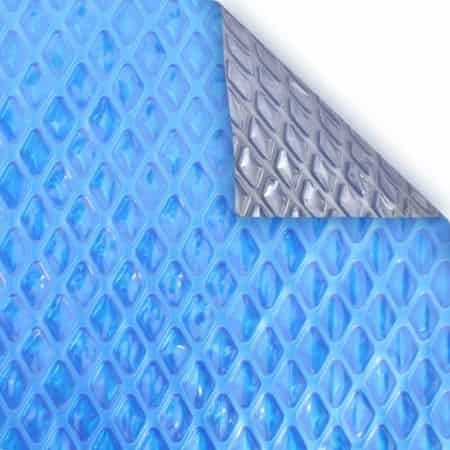 Solar Sun Pool Rings
For peanut-shaped outdoor pools, or simply for people who want something different than your regular circular or rectangular shaped solar cover, there is another option…
Solar rings!
These things are kinda awesome: inflate them, drop 'em into your swim pool, and let them do work. An inflatable ring around the perimeter keeps them on the surface of the water while the transparent bubbles soak up the sun and transfer heat into the pool.
Magnets attract them to each other to cover as much pool as possible and bubbles in the middle of the ring soak up the sun and transfer the heat into the water.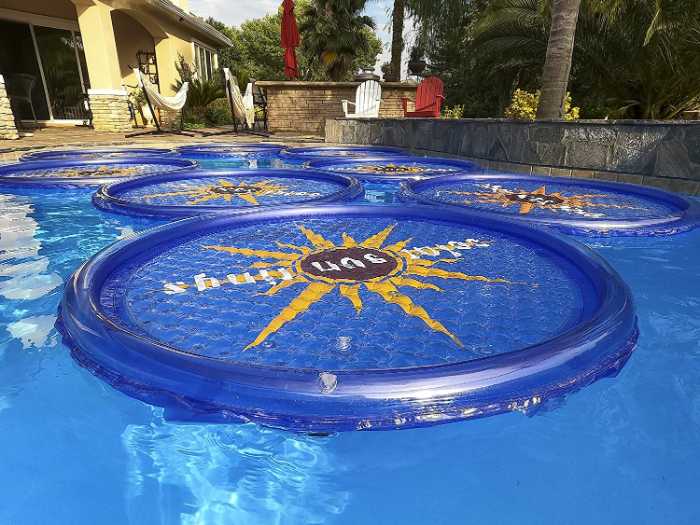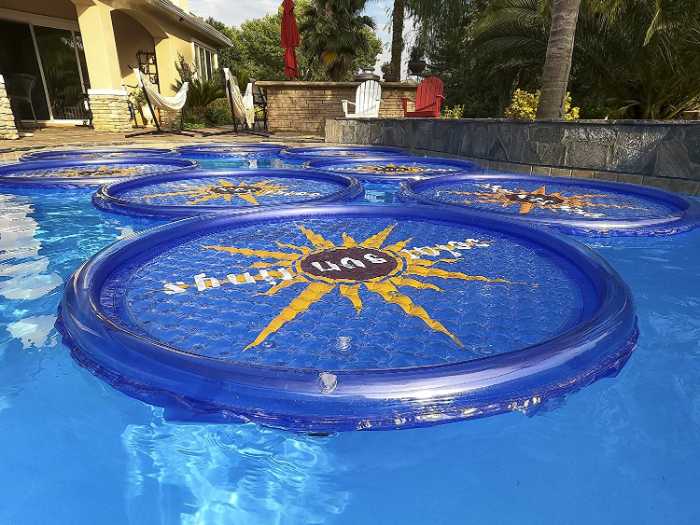 These particular rings, made by Solar Sun Rings, generate up to 21,000 BTU per ring when in the sun and have a diameter of 60-inches to float into those rounded corners of your swim pool.
The rings are pricey (a single ring retails for around $40) and the product title on Amazon is misleading ("pool heater" is included—these are not heaters in the literal sense) as some reviewers will be the first to tell you.
But inflating them properly, allowing them to soak enough sun, and getting enough of them to cover around 70-80% of your pool will warm your pool.
They can be purchased individually, as a six-pack, or in a pack of 12.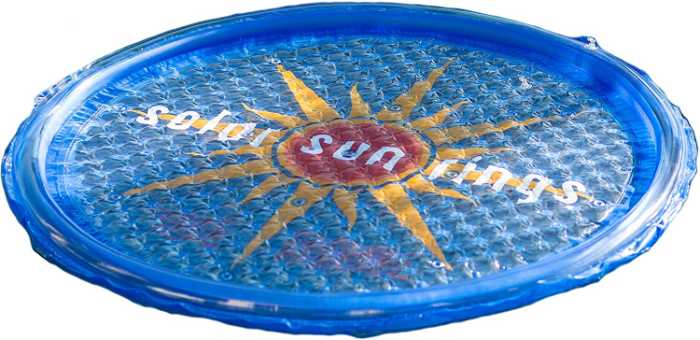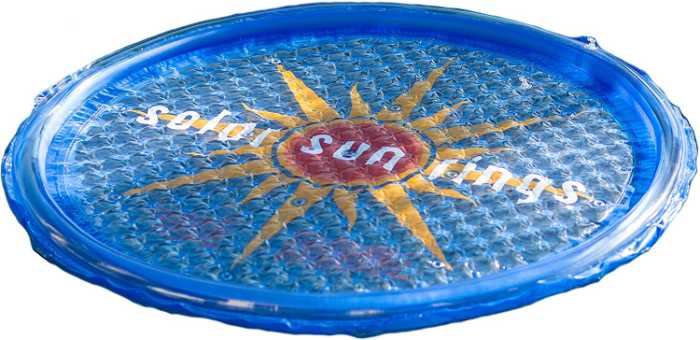 Natural Chemistry Liquid Solar Blanket
Liquid pool covers are exactly as they sound—a liquid that you add to your swimming pool. While they aren't as effective as traditional solar pool covers or solar rings (they aren't designed to suck in heat), they do perform an excellent job of retaining heat and eliminating water evaporation.
Liquid solar pool covers are a high-fat alcohol additive that locks in heat and reduces vapor by building a molecular barrier on the surface of your swim pool. (And yes, it is safe to swim in it.)
The Natural Chemistry Liquid Solar Blanket is one of the best on the market, cutting down on heat loss by up to 70% and water vapor by up to 85%.
While not as effective as pool covers, they are an excellent alternative that is also very low-cost, with a two-pack retailing for around $50 (check Amazon for current pricing and deals).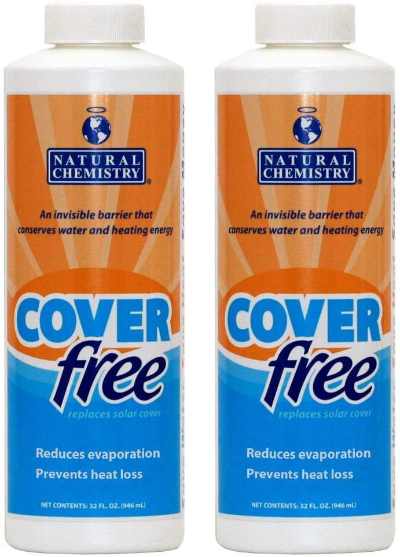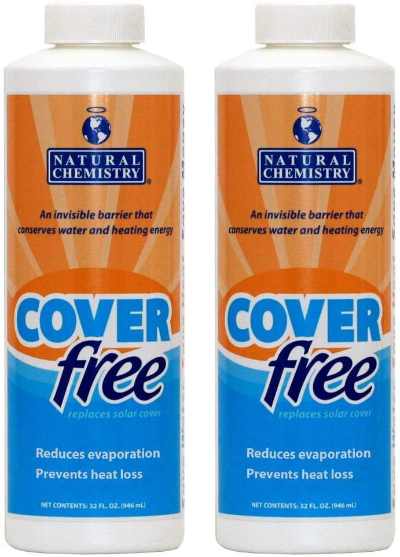 ---
Best Solar Pool Covers – FAQs
What are the benefits of using a solar pool cover?
Your swimming pool absorbs a lot of sunshine over the course of the day.
And this will warm your pool.
But not very much.
The reason is that the warming is counteracted by water evaporation.
Pool covers take that warm, sunny goodness and transfer it into your pool while significantly cutting down water vapor.
Here are five better-than-average benefits of using a solar pool cover for your backyard swimming pool.
⭐ Warms the pool.
Solar pool covers keep the temperature of your backyard pool comfortable. The bubbles on the cover trap heat from the sun and then push the heat into the water.
Depending on how much sun the cover gets, and how long you leave it on for, it's not uncommon to see temperature increases in the 10-15 degree (F) range.
⭐ Saves you $$$ on energy costs.
Heating your swim pool is expensive business. While having a pool heater is a good idea for areas where the temp drops significantly overnight, a solar pool cover can help cut down on energy bills by reducing the dependency on the heater.
A cover can reduce heat loss by up to 95% [1] according to pool equipment manufacturer In the Swim. Nothing like stealing the sun's energy to heat your pool for next to nothing.
A study done by the Michigan Energy Office found that a middle school pool reduced energy consumption by 50% when using a cover on their indoor swimming pool. The school saved over $9,000 annually on energy costs [2].
⭐ Reduces pool chemical loss.
Evaporation happens with all swimming pools. And while it looks like it's just water that's taking flight into the atmosphere, your pool chemicals are hitching a ride, too.
Repeatedly having to replenish both water and pool chemicals gets tiresome and pricey over time, and a solar cover can help reduce the evaporation of both. More pool chemicals stay in the pool, and more cashola stays in the bank.
⭐ Keeps water in your pool.
Like we just mentioned, water vapor takes flight when pools aren't covered (both indoor and outdoor). As a result, combined with a regular level of splashing in the pool, you will notice water levels drop quickly when not covering the pool.
A study done at Cal Poly [3] found that covering 12 different pools with a bubble cover resulted in pools pumping out an average of 95% evaporation control effectiveness.
Over the months and years, this can add up to a spectacular amount of water savings.
⭐ Reduces some debris from landing in the pool.
Although this isn't their primary function and shouldn't be used as a means to completely stop debris from landing in your swimming pool, a solar pool cover can help.
When you consider how much of an annoyance dead leaves, bugs and other organic matter can wreak on your pool pump and pool chemistry, every little bit helps.
What color is the best for solar pool covers?
Pool covers come in a limited number of colors, and this isn't an accident. They are primarily available in blue or clear, and the difference between the two colors comes down to thickness and light penetration.
Clear solar covers allow more sunlight to get through, heating the water faster and more efficiently. Blue covers ain't no slouch either, and are better at retaining heat.
What size mil is best for a solar pool cover?
Solar pool covers come in a variety of thicknesses. They range from 4 mil to 16 mil. (One mil is 0.001 inches.)
Blue solar covers range in size from 4 to 8 mil. Clear solar pool covers are the heavy-duty of the bunch, as thick as 16 mil.
Thicker the solar pool cover, the more heat it keeps bottled up into your pool. Thicker solar covers are also much more durable.
When is the best time to use a solar cover to heat the pool?
There is really no bad time to use a solar pool cover.
Direct sunlight to the water in your pool will warm it quickly, but all that heat speeds up water loss via evaporation. Covering your pool when it's sunny will give you the best heat-per-buck. (Obviously, cover it while you aren't using it.)
Solar covers can also reduce heat loss by radiation when left on the surface of the pool overnight. And of course, when it's covered overnight, it's also keeping stuff out of your swim pool.
Do solar covers cause algae to grow in my pool?
Algae is one of the most formidable foes you will encounter in the course of maintaining and cleaning your pool. Once it takes root, nuking it can be time and energy-consuming.
Algae blooms are primarily a result of unbalanced pool water, heavy rainfall, extreme heat, and general uncleanlinesss.
That said, solar covers can increase the heat of your pool, which can speed up algae growth. This is a secondary effect, however.
As long as the water is being regularly balanced, the pool filter is working properly, and your pool chemicals are on point, you will continue to enjoy clean pool water.
---
More Pool Gear Guides:
7 Best Accessories for Above Ground Swim Pools. Looking to make your backyard pool even more fun? Check out this guide to some great ways to crank up the good times. 
5 Best Pool Thermometers. The right pool thermometer helps keep your pool running properly and comfortably. Here's a breakdown of the best ones on the market for backyard pools and hot tubs.