Ready to crank up the good times this summer? Elevate the fun in the water and the pool with these fun pool toys.
The swimming pool is an awesome place to be. Splashing, sun, exercising—the range of activities and ways to entertain one's self are almost limitless.
But for those who are looking to go beyond the standard swimming and splashing, there is a serious line-up of pool toys at the ready, just waiting to kick things up for you in the pool.
While some of the old-school, equipment-free pool games can still get the fun rolling and rollicking (Sharks and Minnows, Marco Polo, and so on), this selection of hand-picked pool toys will keep the fun at a maximum in the water.
Quick Hits:
Our favorite pool toy for adult beverages: GoPong Beer Pong Inflatable
Favorite toy for pool sports: JOYIN Floating Volleyball and Basketball Toy
Best pool toys for kids: Fayoo Underwater Pool Toy Set
Favorite pool toy for kids and adults: Watermelon Ball
Playing around in the swimming pool is a great time.
Ten out of ten.
Whether you are jamming out with your favorite waterproof bluetooth speaker or lighting up the water with floating pool lights, or hanging out getting showered by your pool fountain, the pool is a spot for endless fun.
Here are our hand-picked selections for the best and funnest pool toys for taking the fun to an eleven.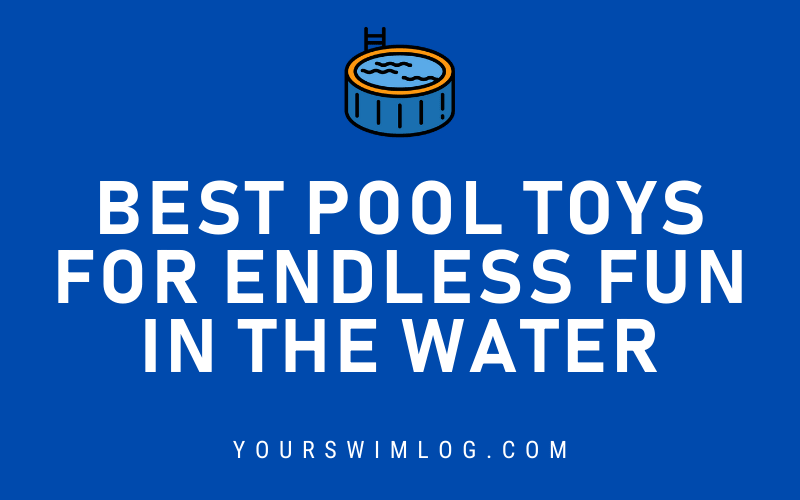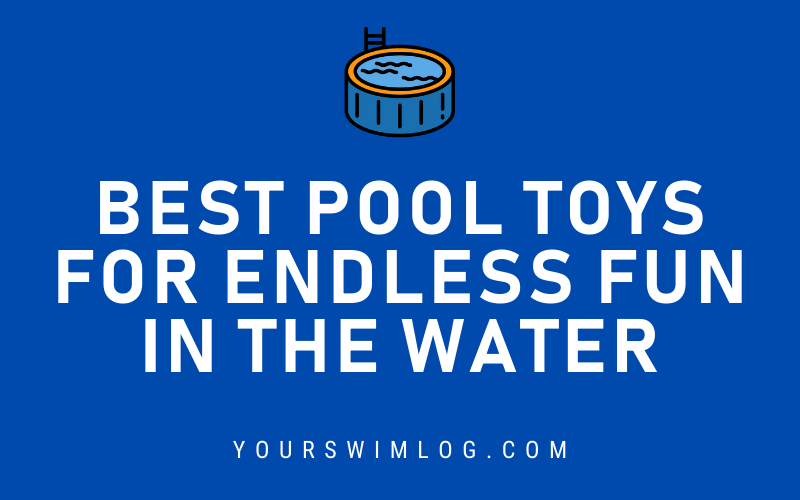 Best pool toy for adults: GoPong Beer Pong Inflatable
The GoPong Inflatable Beer Pong Floatie is always an instant hit anytime it comes out at the pool. Yup, we are taking the beverage swilling staple of house parties and throwing it into the pool.
With ten-cups aside, and four cups along the side of the six-foot inflatable (which can be used as an inflatable when not pong'ing), and six pong balls included, the GoPong Beer Pong Inflatable is a great conversation and party starter.
The GoPong Beer Pong Inflatable can be rolled up for easy travel (about the same size as an air mattress), is inflated and deflated quickly, and doubles as a drink table between rounds.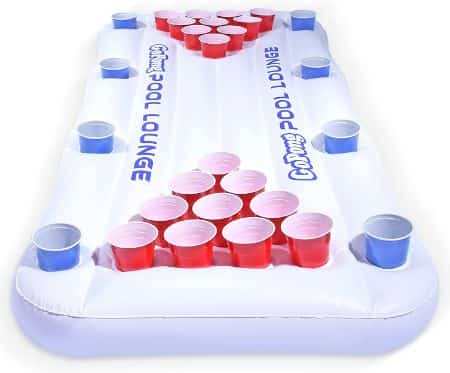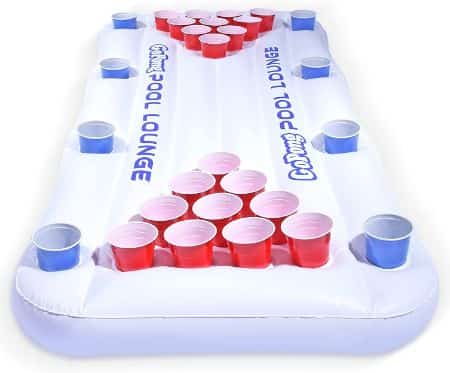 Best floating volleyball and basketball toy: JOYIN Floating Volleyball and Basketball Toy
Why play one sport in the water when you can play two? The JOYIN B-ball and V-ball set puts the joy in pool play with this two-in-one combo platter.
While the basketball net can float around without an anchor, the volleyball net can be tethered to the side of the pool, whether it's an in-ground or above-ground swim pool.
Included are two actual balls (not as heavy as real basketballs or volleyballs, obviously). The whole set is made of highly durable and inflatable raft material that is non-toxic.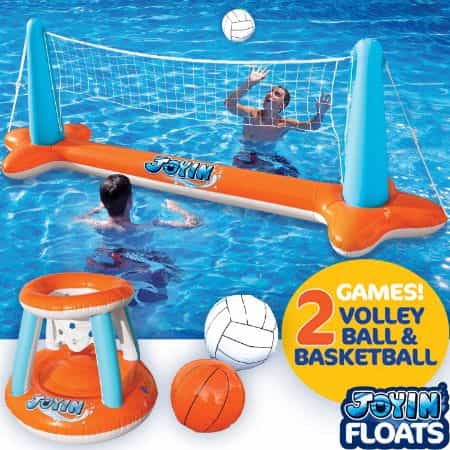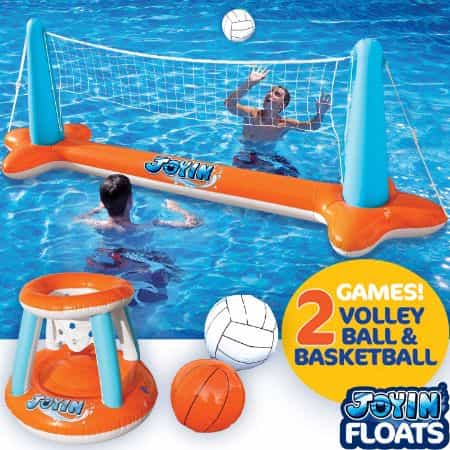 Favorite pool toy for kids and adults: Watermelon Ball
Yup. That's a watermelon. Shaped like a ball. That you fill with water. But in the hands of adults and kids, it becomes an instrument of competition and creative fun.
It's unique design and buoyancy means it can fill with water, sink to the depth of your pool, and float back, ready to be kicked, dribbled, or used like a rugby ball.
For what it's worth, over 85% percent of people who buy this thing on Amazon give is a five-star rating, which I can confirm 85% of the time never happens.
Don't underestimate the simple nature of this swim pool toy—adults and kids alike are itching for toys like this that tease out creativity and fun.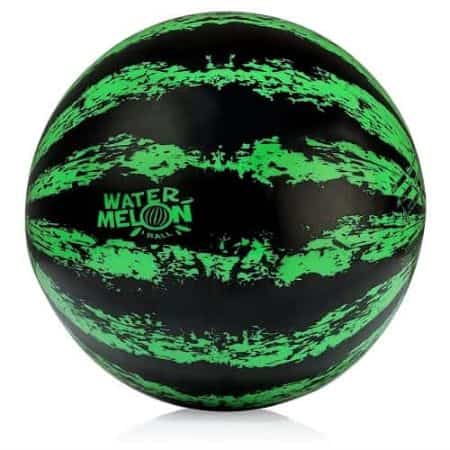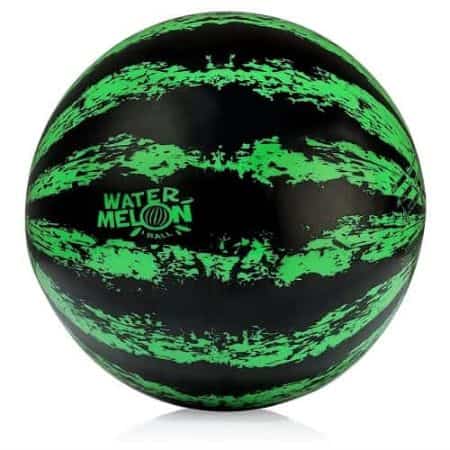 Best swimming pool toys for kids: Fayoo Pool Toy Set
It's hard to pick just one particular thing that will get kids fired up to jump in the water and play around (besides maybe yelling, "Cannonball!"). That's why I am big fan of the Fayoo 23-piece Underwater Pool Toy Set.
Why do I consider it the best swimming pool toy for kids? Cause almost all the bases are covered. You get a set of diving rings to throw to people diving/jumping in. Diving sticks to go swimming after. Pirate treasures, little rocket fishes that rip across the water, and more.
The toys can be squared away in the accompanying mesh bag, are recommended for kiddos three years and up, and will likely provide as much entertainment to the adults as they do the kids.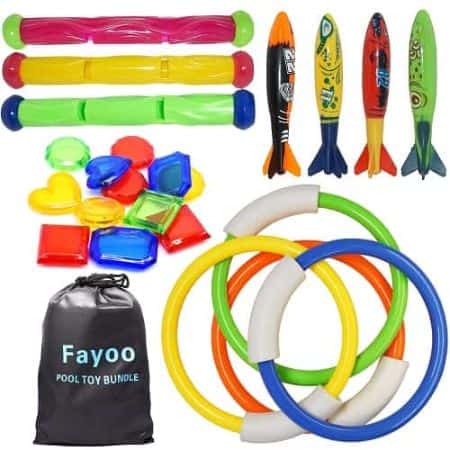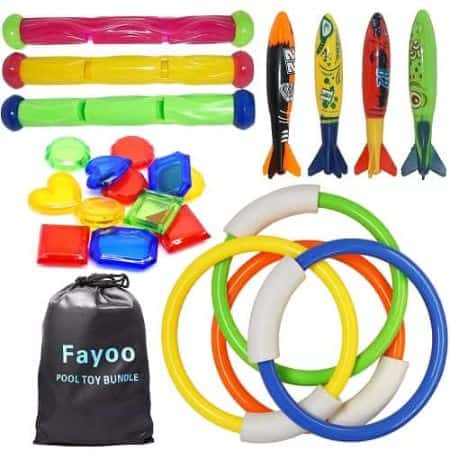 Water Sports Swim Thru Rings
Want to help improve the water and swimming literacy of your children? And also have a heap of fun while they are at it?
The SwimThruRings, a three-pack of collapsible rings that sink to the bottom and float vertically, are a great tool for teaching kids how to swim and manage their bodies in the water.
With no assembly required, you can inflate the air chambers at the top of each ring (decorated with sea animals like turtles and fish) so that the rings float or sink accordingly in the water.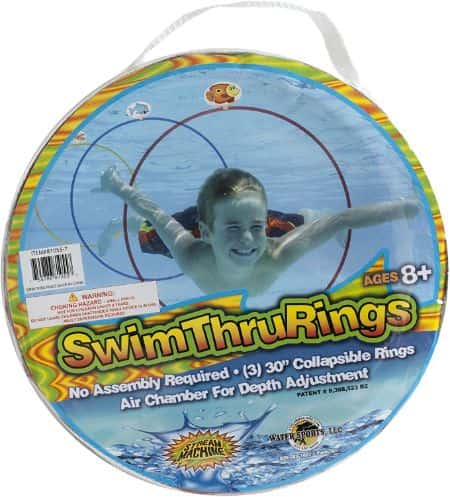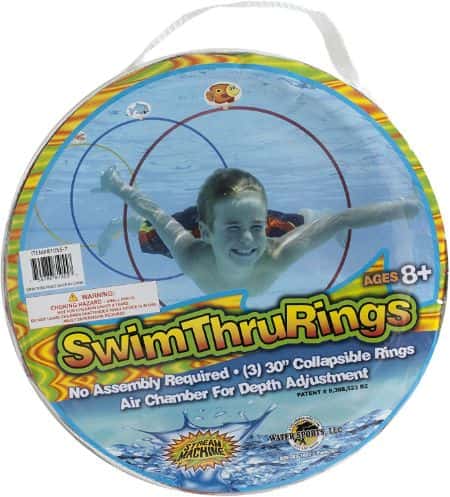 Intex Inflatable Flamingo Ride-On
While not maybe a pool toy in the strictest sense of the word, this massive inflatable Flamingo is a whole lot of fun to try and jump on, ride, and soak up the sun on. Swim floaties are popular for children and kids, so why shouldn't older kids and adults get in on the fun, too?
Made by Intex, who is one of our favorite backyard and above ground pool makers, this apex predator of the shallow end is inflated with two air chambers and extremely durable 12-gauge vinyl.
Two heavy-duty handles make it easy(ish) to take it for a ride, and in the event that you puncture that not-so-delicate pink vinyl skin, a repair patch is included.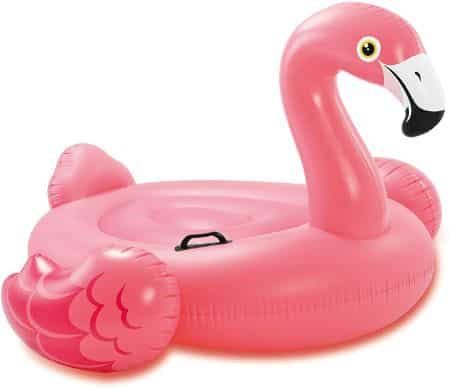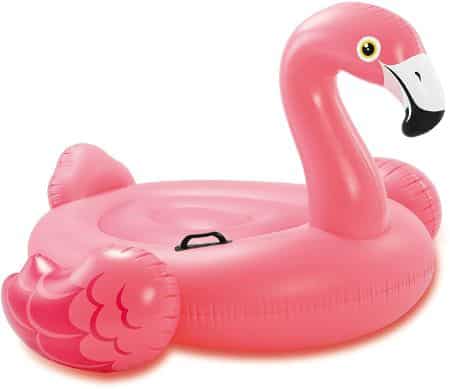 ---
 Intex Inflat-a-Bull Inflatable Swim Pool Toy
Okay, can we just drink in this tall glass of awesome piece of pool toy? Beyond the fact that its name is 97% perfection in terms of a pun, this thing is a lot of fun to play with.
Challenge your friends to see who can ride the bull the longest (hint: use a traditional swimmer's kickboard to drum up some big waves for some extra rodeo action for the rider). When it comes to our favorite pool floats for adults, this one is a no-brainer.
Made with highly durable 17.5 gauge vinyl, it has a couple of durable handles for the rider (cheating?), and has three quickly inflatable air chambers.
Guaranteed good times and laughs await at the tip of the Intext Inflat-a-Bull Swim Pool Toy.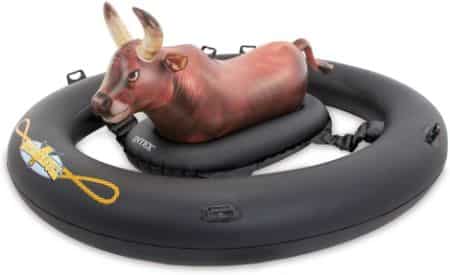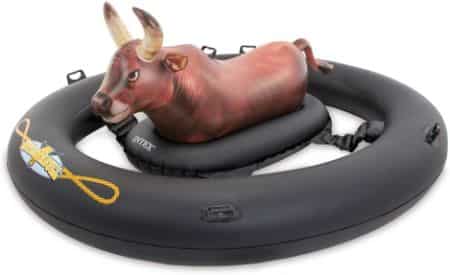 ---
More Stuff Like This
5 Best Poolside Basketball Hoops. Elevate the fun in your backyard pool with our collection of the best basketball nets and hoops for your swimming pool.
7 Best Pool Loungers for Chilling and Relaxing. Stay cool and comfortable in the water with our hand-picked selection of the best pool loungers.
7 Best Inflatable Kiddie Pools on the Market Right Now. Beat the heat this summer (and beat the crowds, too!) with this collection of the best kiddie swim pools for your backyard.
The Best Pool Slides for Endless Summer Fun. Crank up the speed with a pool slide! Here's a comprehensive look at the best slides for both above-ground and inground swim pools.