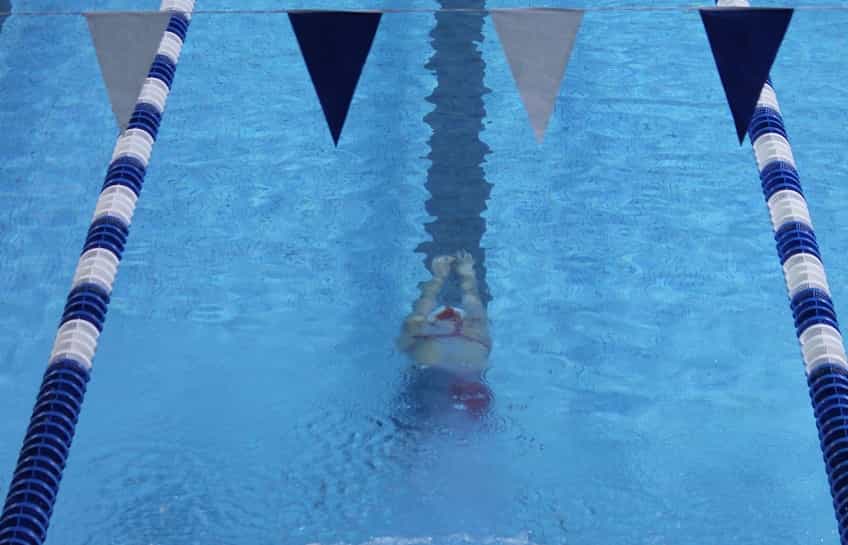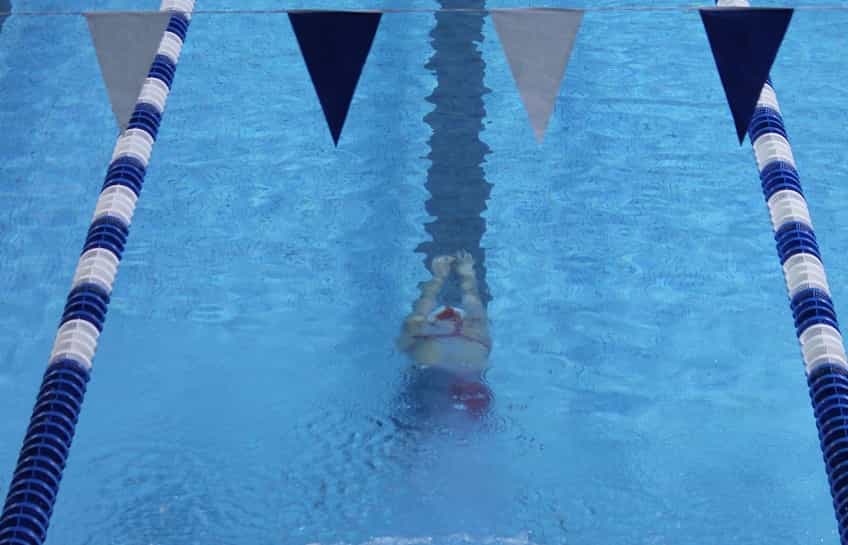 Ready to up your mental game in the water?
Below is the ultimate list of mental training resources for competitive swimmers (and swim coaches).
They are organized by topic, and were hand-picked according to the number of responses that each post or article received from newsletter subscribers and social media.
Whether you want to set better goals, get a deeper understanding of what mental training can do for you, or you want to bullet-proof your mindset on race day, there is content here that will help you on your journey to being a mentally tougher swimmer.
---
Mental Training
17 Things That Mental Training Will Do for Your Swimming. Not entirely sure what mental training can do for you? Here's just a sampling of the superpowers it gives you in the water.
5 Things Swimmers Can Do for More Mental Toughness. Want proven and actionable strategies for developing more mental toughness? Here are five things you can start doing today.
This New Mental Training Workbook Will Help You Swim Like a Rock Star This Season. Confused about mental training? Want to unleash pro mode on your swimming this year? Learn how this new mental training workbook will change your mindset and help you pummel your PB's this season.
7 Biggest Myths About Mental Training for Swimmers. Research has consistently shown how powerful mental training can be. So why do so many swimmers still resist improving their mindset?
How Swimmers Can Develop World-Class Resilience. Grit, mental toughness, fortitude—whatever we're calling it this week, is essential to your swimming success. Here's why resilience is the difference maker you've been looking for in the pool.
When Things Go Sideways, Top Swimmers Rely on Mental Training. Your mental skills are what carry the day when things don't go your way in the pool.
At What Age Should Swimmers Start Mental Training? Coaches and elite swimmers talk about how the difference is often mental when it comes to performance. Here are some thoughts and suggestions for when swimmers should start dialing in the mental side of the sport.
---
The Process
How to Master the Process of Becoming an Elite Swimmer. If you really want to accomplish your goals in the pool you need to stop focusing on them and instead work on crushing the process. Here's why.
How to Build a Killer Pre-Race Routine to Dominate Race Day. Routines are a swimmer's secret weapon for more consistent performances.
Trust the Process. If it's success you want in the pool, stop worrying about it and start focusing on it instead.
This is How Powerful a Process-Based Mindset Can Be. Your coach has likely told you to trust and follow the process. Here's an illustration of just how powerful this mindset can be when it comes to stepping up on the blocks.
The Process is What Shapes You as a Swimmer. Here's an important reminder of how the process is what defines your success and development in the water.
---
Self-Talk
How to Make Your Self-Talk More Confident. The language you use in the water has a direct effect on your effort, your confidence, and your results. Here's a simple self-talk tweak you can make today for better swimming.
3 Proven Ways Self-Talk Can Help You Swim Faster. Research has shown that the self-talk we use is tied to how we end up swimming in the pool. Here is your guide to mastering this skill so that you can self-talk your way to becoming a faster swimmer.
Pro Tip: How to Seriously Boost the Effectiveness of Your Self-Talk. Combine your self-talk with physical cues to make your self-talk even more powerful. Here's how.
How to Use Motivational Self-Talk to Boost Performance in the Water. Motivational self-talk is the more common form of self-talk that swimmers use to boost performance. Here's how to optimize it.
Caeleb Dressel and How Talking to Yourself Can Help You Swim Faster. External self-talk, literally talking to yourself, is a way to coach yourself to faster swimming in practice and competition.
Psychology of Pain: Let's Talk About Talking About Pain. The self-talk that you use when describing the discomfort and pain you experience during training has a very real effect on how much pain you actually experience.
How to Use Self-Affirmations to Boost Performance in the Pool. Affirmations are a proven way to develop a mindset that allows swimmers to get the most of themselves in practice and on race day. Here's how.
---
Visualization
How Swimmers Can Get Started with Visualization and Imagery. It's a proven and popular way of building confidence, reducing race day anxiety, and improving technique. Here are some pointers for getting started with visualization.
Confident Swimmers Use Visualization to Crush it in Competition. PB-crushing self-confidence starts with the work you do in the pool, but sharpening and maintaining that self-confidence continues with imagery and visualization.
Mark Tewksbury: How Visualization Will Help You Achieve Your Dreams. Canadian Olympic backstroke champion Mark Tewksbury used visualization and imagery to pave his path to Olympic gold.
How Michael Phelps Used Visualization to Stay Calm Under Pressure. Visualization is a proven way to build confidence and improve performance in the water. Here are some visualization tips from Michael Phelps and his longtime coach, Bob Bowman.
How Watching Your Favorite Swimmers Can Help You Improve in the Water. Level up your visualization and swimming performance by watching fast swimmers.
---
Goal Setting
The Science Behind Setting Better Goals in the Pool. If you are serious about wanting to accomplish those big, nasty goals that keep you up at night, here is why you need to start with a pen and paper.
Caeleb Dressel: Carry a Big Kick and Bigger Goals. In the spring of 2018, Caeleb Dressel completely destroyed what everyone thought was possible in the 50-yard freestyle.
This Goal Setting Exercise Will Bring Your Goals to Life This Season. Want to up your goal setting game this season? Here's a simple and powerful exercise that swimmers can do to help conquer their big goals in the water.
How to Set Goals Like Michael Phelps. We all know the importance of setting goals, but few have us have mastered it the way the greatest swimmer of all time has. Here are his tips on how to set, and ultimately achieve, your goals in the water.
How to Set Goals Like Katie Ledecky.  Katie Ledecky utterly dominated the sport of swimming at the Olympics in Rio. Here is how to set goals like the greatest active swimmer on the planet.
---
Adversity
7 Tips for How Swimmers Can Get Through Tough Times. The way you persevere is the true test. Here are some ideas for how swimmers can steel themselves for the tough times ahead.
Caeleb Dressel: How to Deal with a Bad Swim Practice. Every swimmer experiences the highs and lows during training. Here's how one of the best swimmers on the planet bounces back after a disappointing practice.
Olympic Champ Misty Hyman and the Unexpected Benefits of Adversity. Misty Hyman pulled off one of the biggest upsets at the Sydney Olympics. Her journey there was far from free of adversity.
Olympic Champion Tom Dolan: Adversity is Confidence in Disguise. The former world record holder and Olympic gold medalist had more disadvantages than most. Here's how he turned them into strengths and unshakeable confidence.
Persistence Isn't Enough. Not giving up in the face of failure is a big component of your success in the pool. But persistence isn't enough.
This Season, Try Being Grateful for the Setbacks. Incorporate some gratitude into your daily training to reduce stress, sleep better, and of course, enjoy the journey.
How to Deal with the Frustration of Being Injured. Injury is almost a rite of passage when it comes to our sport. Here's how to mentally get through being physically side-lined.
---
Get Focused
How Swimmers Can Be More Focused at Swim Practice. Being able to control your focus means you are going to swim with better technique, get more enjoyment from the process, and ultimately, swim faster.
12 Ways Coaches Can Help Swimmers Focus on What Matters. Concentration and focus are one the biggie, if not the biggiest factors when it comes to success in the water. Whether it's staying dialed in during practice, or managing outside distractions in competition, here are some ways that swim coaches can help their swimmers get and stay focused on what matters.
Natalie Coughlin: Focus Up and Turbocharge Improvement. Natalie Coughlin is among the winningest swimmers in NCAA and Olympic history. Here's how she harnessed the power of intense focus in practice to deliver epic performances on race day.
Alex Popov and Training the Way You Race. One of the greatest freestylers in history, Popov trained with a merciless eye on efficiency. Here's what you can learn from his highly focused approach to training.
How Swimmers Can Learn to Be More Present in the Pool. Being fully engaged in what you are doing helps you swim faster and more efficiently. Here's how to get started.
---
Pre-Race Nerves
The Swimmer's Guide to Performance Anxiety and Pre-Race Butterflies. Pre-race nerves happen to us all. It's how you frame them that makes the difference.
A Simple Way to Calm Pre-Race Anxiety for Swimmers. Swimmers all experience varying amounts of anxiety before big races. Here's a simple tool to help calm and center yourself when it matters most.
Olympic Champion Summer Sanders: Don't Fear Pre-Race Nerves. Pre-race nerves are often misunderstood. Here's Olympic champion Summer Sanders on how pre-race nerves don't mean anything until you give them meaning.
This One Trick Can Make Anxiety Work for You in the Pool for a Change. Despite our best efforts, anxiety is an unavoidable part of competition. Here's how you can avoid choking by judo-chopping your anxiety into excitement.
Quick Tip: How to Stop Overthinking Before the Big Race. Find yourself overthinking behind the blocks? Try this simple trick to make sure that your swim stays "automatic."
---
Self-confidence
8 Ways Swimmers Can Develop Superhero Self-Confidence (Starting Today at Practice). Fast swimming means having the self-confidence to know that our best performance will show up on race day. Here are eight proven ways that swimmers can develop superhero self-confidence at the pool.
Missy Franklin and the Power of the Confidence Jar. American swim star Missy Franklin captivated the world during her reign as one of the best swimmers on the planet. Here is one of the tools she used to develop confidence in her swimming.
What's Missing from Training to Give You More Self-Confidence? It's so simple, but it's crazy how many swimmers ignore this fundamental aspect of high-performance swimming: Train under conditions that inspire confidence.
The First Thing Swimmers Need to Do to Build Confidence. Feeling confident when we need it most is a great feeling. Fortunately for swimmers, this is something you can generate. Here's how.
Training Goals are Your Secret Weapon for Building Self-Confidence. Self-confidence comes from the training that you do each day in practice. Here's how setting and tracking training goals in the pool can help you develop some serious self-confidence on race day.
Level Up Your Mindset
Developing a better mindset doesn't need to be a huge pain in the pull buoys. If you want the high-performance mindset without the confusion, check out Conquer the Pool: The Swimmer's Ultimate Guide to a High-Performance Mindset.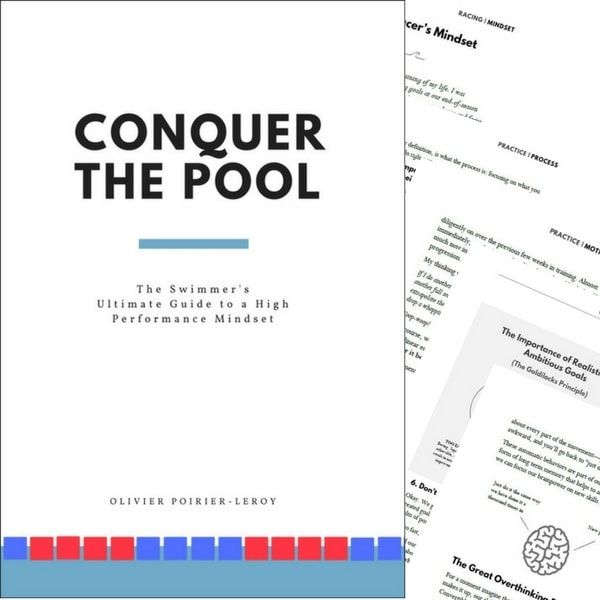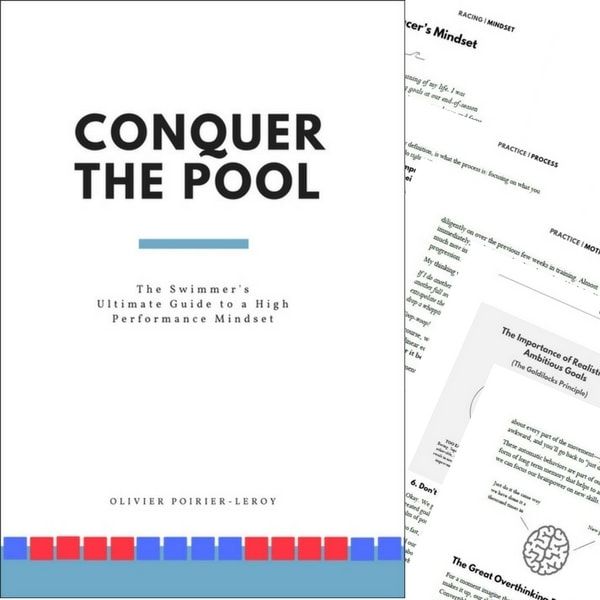 The book was written specifically for the competitive swimmer who wants to unleash a killer mindset in the pool.
More importantly, the book–full of proven concepts and strategies and put together with the input of 200+ head coaches, Olympians, NCAA champions, and former world record holders–makes the how of developing a great mindset clear and simple.
Clearer mindset = more mental toughness.
That simple.
Coaches/Teams:
For group and team orders of Conquer the Pool, we offer a team discount and can place your club's logo on the cover of the book at no additional cost.